The ACLU of Mississippi filed a lawsuit Oct. 7 challenging the state's denial of voting rights to citizens convicted of felonies. Strickland v. Clark, filed against the secretary of state's office and the attorney general, contests the state's denial of voting privileges to two Hinds County residents convicted of crimes not specifically listed in the state constitution as a crime that would take away an individual's right to vote in national elections. The ACLU is also asking that the Oct. 7 voter-registration deadline be extended for people "who have been convicted of felony offenses and are uncertain about their voting qualifications," according to an ACLU statement.
Persian Gulf War veteran Michael Johnson, who is diagnosed with post-traumatic stress disorder, is among the litigants. "I fought for my country, and I should be allowed my right to vote," said Johnson, who forged his signature on his brother's debit card in 1998. Forgery joins crimes such as bribery, bigamy, embezzlement, perjury, theft and arson on the list of convictions that can get your name knocked off voter rolls.
Jackson resident Leola Strickland said she had not even known she was purged from the voter lists until two weeks ago.
"I saw a list (of vote-purging offenses) and realized that I'm on that list. I can't vote. When I go to vote, they probably pulled my name," said Strickland, who was convicted of a felony for writing bad checks in 2001, after getting laid off from her job at the now-defunct Skytel, which was purchased by doomed telecommunications giant WorldCom in 1999.
"I was one of the ones that Skytel let go. And after losing my home and my car and everything else, the last thing I thought about was some checks that I postdated for car repairs, clinic visits and groceries. My account was empty; I got laid off. I'm 49 years old. I've never been in trouble in my life, and I'm paying the checks and the probation off. I'm paying what I'm supposed to be paying, and I just don't feel that my rights should be stripped from me."
Article 12, Section 241, of the Mississippi Constitution states that every U.S. citizen in the state, even those convicted of murder, rape, bribery, theft, arson, obtaining money or goods under false pretense, perjury, forgery, embezzlement or bigamy, is qualified to vote for president and vice president. The suit claims, however, that "defendants have directed county registrars not to allow individuals who were convicted of extortion, felony bad check, felony shoplifting, larceny, receiving stolen property, robbery, timber larceny, unlawful taking of a motor vehicle, statutory rape, or carjacking to register to vote in state and federal elections."
The suit also claims the defendants' actions "contravene the Separation of Powers Doctrine, the Equal Protection Clause of the Fourteenth Amendment to the United States Constitution, and the National Voter Registration Act."
David Blount, a spokesman for the secretary of state's office, said the secretary of state was acting under the direction of the attorney general's office in enforcing the registration denials, but acknowledged that getting back on the voter rolls after you've been kicked off is a cumbersome process.
Rep. Erik Fleming, D-Clinton, can attest to that. Fleming sits on the Judiciary B committee, which submits suffrage appeals to the House for votes. State law allows only two means of regaining suffrage once you're off the rolls: a legislative vote or gubernatorial action. Fleming says he's put only about four disenfranchised voters back on the rolls since he entered office in 1999, but says he's introduced countless bills (all voted down or never considered) making it easier for disenfranchised voters to get back on the rolls.
"I want to make it so that people, once they've served their time for offenses, can get back on the rolls," said Fleming, a Democratic hopeful running against Republican Sen. Trent Lott in the upcoming national elections. "Shouldn't we evolve with the times? Once they serve their time, we need to return to them their rights. I mean, people tried for more serious crimes, like murder or rape or whatever, a lot of those folks aren't coming back out of jail anyway. It's only the people in trouble for being poor who are suffering."
A report from the Washington advocacy group The Sentencing Project found that disenfranchised voters are to more likely to be black. In 2004, one in eight black men were unable to vote because of a felony conviction—much higher than other racial groups. The problem is particularly nasty in Mississippi, and other states like Florida and Alabama, where felony convictions bar one in four black men from voting.
Ryan King, Sentencing Project policy analyst and author of the report, "A Decade of Reform: Felony Disenfranchisement Policy in the United States," said the right to vote is "fundamental in a democracy," and argued that "one's criminal conduct should not be a factor in determining eligibility."
"(Disenfranchising felons) is a character test … based upon how we think you're going to vote judged on past behavior, which absolutely flies in the face of democracy. How they're going to vote, who they're going to vote for is simply not a factor in eligibility," King told the Jackson Free Press. "The general population is not asked, 'Would you vote for candidate X or Y,' or what kind of issue they intend to vote for. That is not a democracy. Democracy says everybody has equal access to the ballot box."
States other than Mississippi are already seeing the light, according to the report. Since 1997, legislatures in 16 states, including Nebraska, Iowa and New Mexico, have relaxed their voting restrictions on felons, some repealing lifetime bans on voting or making it easier for ex-prisoners or parolees to vote. The swell in clemency, the same report states, has put more than 600,000 individuals back on the rolls.
Of course, because the country's prison population has exploded in recent years, the number of convicted Americans still off the rolls due to felonies remains record-breaking.
Previous Comments
ID

66952

Comment

If we restore a felon's "right" to vote, should we also change the law on his inability to own firearms? Should we pass a law stating that a felony should have no bearing on the granting of security clearances by the government or in hiring someone, no matter how sensitive the job is or what type of job (law enforcement for example) it is? Should instead the list of felonies that disqualify someone be examined and maybe narrowed?

Author

Kingfish

Date

2006-10-22T10:28:56-06:00
ID

66953

Comment

I'm not a big fan of the unpunished crime, either. Also, it's ironic that they're fighting to get felons back on the rolls, when general voter apathy is at record levels. Exactly what percentage of Jackson voters elected Melton again? Like 25% of them?

Author

Ironghost

Date

2006-10-22T11:40:47-06:00
ID

66954

Comment

In the story, a convicted forgerer wants his right to vote back. As we have no ID requirement in MS, that is the last type of criminal I want voting.

Author

Kingfish

Date

2006-10-22T12:45:37-06:00
ID

66955

Comment

Another thing I noticed, one lady wrote bad checks. Knowingly writing bad checks is stealing. I handled bad checks at Kroger and Jitney when I worked for them in college. Its no different than shoplifting. People would come in and write $200 or $300 dollar bad checks. It was almost never someone who just needed a few basics to keep from starving. You know, come in, buy milk, formula for baby, cereal, the bare necessities. It was usually they came in to get whatever they wanted and to hell with having the means to pay for it. Coming into a store, buying a bunch of steaks, beer, shrimp, and other groceries with a bad check is the same thing as stuffing food in your purse and clothes and sneaking out the door with it. Too often the bad check writer would write a bunch of bad checks within a few days and stick several stores with the bills. Most, but not all obviously, of the bad check writers did so intentionally.

Author

Kingfish

Date

2006-10-22T12:59:56-06:00
ID

66956

Comment

I disagree on the checks Kingfish. I worked Telecheck summers when I was teaching, calling to collect on bad checks, and most were "oops" and they would fix it on the first call. So I would so most, but not all obviously, were just negligent bookkeeping. I don't like businesses that take post-dated checks. I don't view that as good faith. Good faith would be, come pay me the day you say you can. Although I am amazed that there was a felony prosecution for those checks. That just proves she was being honest. We had one woman come to the mall one day and take advantage of a new employee and wrote a few hundred at a time on "business" accounts (Avon I think....). We did track her down ourselves, but there was a loophole that kept us from prosecuting. That's someone working the system.

Author

emilyb

Date

2006-10-22T13:10:27-06:00
ID

66957

Comment

At Telecheck you also dealt with a wider group of customers and merchants than I did. I did it for a year each at Sack and Save on 38 and Kroger on Northside. We had our share of oops, but most of the time it wasn't an oops. I did it right when they instituted the law. Before the law, the store could do nothing but send it to a collection agency, which was useless. After the law, there was a loophole for awhile that meant you could not be prosecuted for a closed account. So if you had NSF you could be prosecuted, not for Account Closed. The ones who did it knowingly after they closed their accounts, I am willing to say were stealing. I don't mean a day or two after it was closed, I mean a few weeks or months. Would I take away her voting rights for bad checks? No, I think that would be too harsh. That is why I asked if the list of felonies that provide for the deprivation of voting rights should be re-examined. However, if someone uses bad checks to steal large sums of money, then perhaps that should be considered to be something else, not just "writing a bad check."

Author

Kingfish

Date

2006-10-22T13:24:17-06:00
ID

66958

Comment

also another thing Emily, i would always call the bank first. If they had the money in the account, I would go collect it at the bank and redeem the check and send a letter for the NSF fee. So when I actually made calls and wrote letters, the oops people had been filtered out somewhat. Sorry, I should've written that in my post.

Author

Kingfish

Date

2006-10-22T13:27:13-06:00
ID

66959

Comment

You jogged my memory. It was an account closed situation. And that was in the last two years. Does the list include felony drug charges?

Author

emilyb

Date

2006-10-22T13:59:40-06:00
ID

66960

Comment

Why is it that we don't want felons to vote? Not allowing someone convicted of a violent crime to own a gun -- thereby restricting their 2nd Amendment rights beyond the time of their sentence -- is at least tied to the crime. To me, that makes sense. But how is voting tied to a violent crime? Because convicted murders (etc.) made at least one extremely bad choice, they aren't allowed to make other choices? Out of prison, trying to fit back into society -- why aren't these voices considered? While I agree that it is a little scary to think that someone able to conduct a widespread fraud is allowed to vote, don't we have safeguards in place against voter fraud? Aren't we then saying that we don't believe in the rehabilitation aspect of prison? Not trying to be particularly naive or argumentative, just wondering . . . . Newt

Author

Newt

Date

2006-10-23T10:17:17-06:00
More stories by this author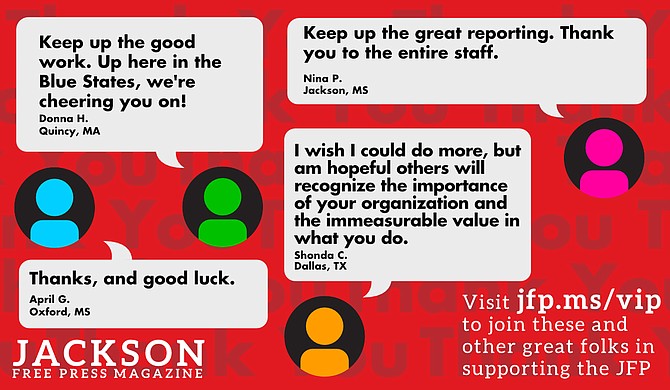 Thanks to all our new JFP VIPs!
COVID-19 has closed down the main sources of the JFP's revenue -- concerts, festivals, fundraisers, restaurants and bars. If everyone reading this article gives $5 or more, we should be able to continue publishing through the crisis. Please pay what you can to keep us reporting and publishing.