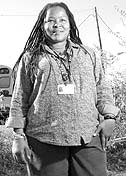 Landlords say the city hasn't got the staff to enforce a recent rental-property land ordinance the city passed last week.
The Jackson City Council approved a new rental-property ordinance on Tuesday, on a 6-0 vote. Mississippi ACORN, a neighborhood advocacy group, originally devised the ordinance that enforces pre-existing city code by exacting stiff penalties for landlords who do not get their property inspected between occupant turnovers.
Based loosely on an ordinance in Raleigh, N.C., and mimicking ordinances in nearby Madison and Ridgeland, the ordinance forces landlords to keep their property up to specifications, and charges them between $100 to $1,000 for violations. Diana Barnes-Pate, chairwoman of Mississippi ACORN, says the ordinance requires the city to fine inspection-dodging landlords $300. If they fail to get another inspection within 24 months, the fine jumps up to $1,000
"If the city is finally ready to get serious about code enforcement, then this ordinance is proof of it," Barnes-Pate told the JFP.
Ward 7 Councilwoman Margaret Barrett-Simon was the only no-show for the vote.
Ward 3 Councilman Kenneth Stokes had held the ordinance in his planning committee for weeks, saying he feared it might lead to lawsuits against the city.
"We gave 30 day's notice (to speak on the ordinance)," Stokes said at City Council.
Even Ward 5 Councilman Charles Tillman, a landlord in west and central Jackson, approved the ordinance. "This is about the children," Tillman said.
Landlords, though, say the short-staffed city can't enforce the ordinance, and that the municipal hold-up will hurt business.
"The city is understaffed," complained landlord Aaron Honeysucker. "If the city has a lack of manpower, how are they going to come out and inspect your property? This ordinance says you can't rent it out until it gets an inspection—well, what if it takes weeks to get that inspection? And if you don't pass, how long will it be before they can get somebody else back out there to inspect it for the second time? By the time they get back out there, you can't rent it. And you're not making any money off that."
"In the meantime, you might have a mortgage on the property, and that money's got to come out of your pocket. This is a bad deal," said landlord James Robinson.
"The council got their pay-off," said landlord Jean Dent. "They got a big headline saying 'Rental landlords must pay.' Their only thought was: Let's get something in the paper so people will get off our backs. They didn't know what they were signing. ... I mean Charles Tillman saying, let's do it for the children? That's just platitudes."
Ward 3 Councilman Marshand Crisler admitted that the city was low on manpower, and suggested inserting a sunset provision in case the ordinance proved too difficult for the city to manage. Council did not add the sunset clause.
Ward 2 Councilman Leslie McLemore said he also had some reservations about the city's ability to enforce the ordinance, but added that this ordinance was just a start. "We have a housing problem in Jackson. We really need to inspect these houses. No, we shouldn't pass ordinances that we can't enforce, but with the passing of this ordinance we're (having a start). We can't let people rent houses that don't meet the housing code," McLemore said last week.
At the council meeting, Mayor Frank Melton objected to the ordinance because it only addresses small property owners. "If the apartment complexes are not included in this, I'm going to exercise a veto on it, because we're not going to live through another Maple Street again in this city," Melton said.
The ordinance does not address apartment complexes with more than four dwelling units. Melton has waged a high-profile campaign against dilapidated apartment complexes, like the now-demolished Maple Street Apartments, on Fortification Street.
Council members convinced Melton to back off his veto pledge, explaining that the city didn't have nearly enough resources to police and inspect apartment complexes with a high tenant turnover. The council assured Melton that the city would eventually add enough staff to include apartment complexes in similar ordinances in the future.
Murphy said attorney Jane Jackson, who works in the city's legal department, told her that the city had found additional money to help enforce the ordinance and that it would fund itself partly through penalty fees. Jackson did not return calls to the JFP for comment, and the city had no estimate of what enforcing the ordinance might cost.
The ordinance goes into effect in 30 days, but Dent said the city would likely delay that. "They just can't do it. We're talking about tens of thousands of houses with a few thousand probably unoccupied at any time," Dent said. "If they start telling Entergy that they can't turn on the power to these homes until they hear from city inspectors, then suddenly you'll have hundreds more permit visits for a department that can't handle what it's doing now. They'll either relax the ordinance somehow, or they'll look the other way. That's what I expect of them."
The city's code services department says the city currently has only eight inspectors and three supervisors working in that department.
More like this story
More stories by this author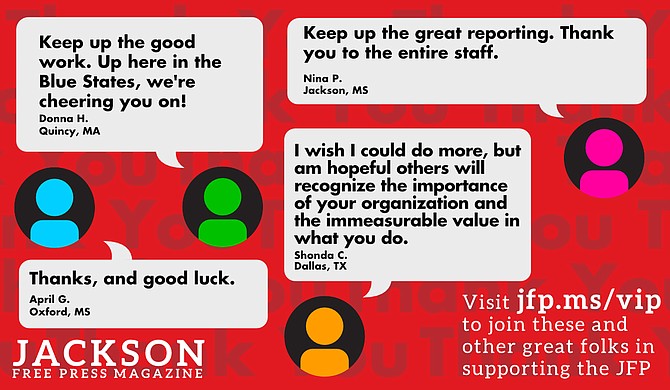 Thanks to all our new JFP VIPs!
COVID-19 has closed down the main sources of the JFP's revenue -- concerts, festivals, fundraisers, restaurants and bars. If everyone reading this article gives $5 or more, we should be able to continue publishing through the crisis. Please pay what you can to keep us reporting and publishing.