Members of neighborhood advocacy group Mississippi ACORN are growing impatient with City Council's decision to postpone a vote on a proposed rental housing ordinance.
Ward 3 Councilman Kenneth Stokes, who chairs the committee considering the ordinance, said the council should hold the item for further consideration and public review, because the ordinance had changed within the last month.
Stokes, along with Councilmen Frank Bluntson and Charles Tillman, said the proposal needed more review from landlords who had voiced opposition to the ordinance. Stokes did not return calls to the JFP.
The new proposal is less demanding than an earlier incarnation that first hit Stokes' planning committee. The original ordinance put on probation property owners whose property had fallen below city housing codes, and imposed immediate, costly fines. The second, toned-down version delays probation and gives sufficient warning to landlords before levying fines. It also allows rental property to be inspected between tenants. Landlords whose property violates codes could face fines up to $1,000.
Framed under pre-existing city ordinances, property would be in violation if it fails housing codes; if the owner neglects to repair, vacate or demolish a dwelling as commanded by the city; or if the owner ignores city citations for collecting junk cars, trash and debris on the property. The owner could also suffer probation for failing to comply with the recent "crack" drug-house abatement ordinance proposed by Stokes and adopted this year after the mayor's alleged illegal demolition of a home on Ridgeway Street.
Stokes told The Clarion-Ledger that he feared that the housing ordinance was too harsh on landlords and that he wanted to have an ordinance "that is fair for both sides." Stokes added that he wanted city attorneys to take a closer look at the ordinance, just to make sure it met legal muster.
ACORN head organizer Sonya Murphy said the city's legal team has already reviewed the ordinance and given it the go-ahead.
"The attorneys already explained that the city didn't have the resources to support or enforce the original ordinance. So we looked at other ordinances in places like Ridgeland and Madison and came up with the second version that gives the landlord fair warning. They got the new version on Friday, but the attorneys already stated that they had met with the landlords and were OK with it," Murphy said, adding that she believed Stokes was using a stalling tactic.
Murphy pointed to Stokes' cancellation of a committee meeting last week. "Last Friday he adjourned the meeting and left unfinished business. He said he'd take it up on Monday, but come Monday it was canceled. Stokes said it was not posted, but you're committee chairman. Shouldn't you ensure that your important business gets posted? If you don't show, then you have a co-chair carry on without you."
Councilman Bluntson, who favors delaying the vote, is co-chairman of that committee. He did not return calls.
"It just seems to us that we're getting the runaround here," Murphy said.
North Jackson resident Ted Orkin, who rents out low-rent property on Lanier Street in Jackson, said the ordinance could run many landlords out of business.
"As far as I can tell, no one's ever made a poor renter stay in substandard living. It's like seeing an X- or R- rated movie. If you don't want it, don't go," Orkin said, explaining that the city has already passed a costly vacant house ordinance a few months ago that is emptying his pocketbook.
"You have to pay $50 a year to register your vacant house, but if you've got 10 vacant houses that's $500 a year," Orkin said.
Other landlords like Will Chambliss argued that that the ordinance should target more than small rental-unit landlords. The ordinance currently ignores apartment houses or apartment complexes with more than four dwelling units.
Tillman, who is also a landlord, favored the ordinance in early October, though he now shows hesitation. Council members still favoring the ordinance are Councilman Leslie McLemore, Councilman Marshand Crisler and Councilwoman Margaret Barrett-Simon. Council President Ben Allen regularly speaks out against absentee landlords and calls for a heavy hand on code violations, but occasionally swing-votes with the Stokes, Bluntson and Tillman voting bloc.
Murphy says she's eager for the ordinance to come up for a vote. "We're not going back to meet anymore. I'm not going to let the members do that. They're sick of meetings," she said. "I cannot see any councilman not supporting this ordinance, because then you're saying that you don't care about code enforcement or quality of life for your constituents in your ward. It's a slap in their face."
Mayor Frank Melton has vowed to hold absentee landlords accountable during his administration, but could not be reached for comment regarding his thoughts on the ordinance.
The ordinance was under consideration by Stokes' committee as the JFP goes to press.
Previous Comments
ID

67104

Comment

Stokes, Bluntson and Tillman seem to be a part of a strategy to get rid certain bussiness folks in this community. Stokes might be doin g a better job now of keeping up his property but, he has been a "slumlord" in the past. Now Stokes is off on another tangent: No beer sales post 11p and before 7a. How stupid can we get. If someone is a serious beer drinker, he/she would know how man cans/bottles it will take to carry them through the "dry spell." This is a no-brainer and a waste of time.

Author

justjess

Date

2006-11-28T15:43:58-06:00
More stories by this author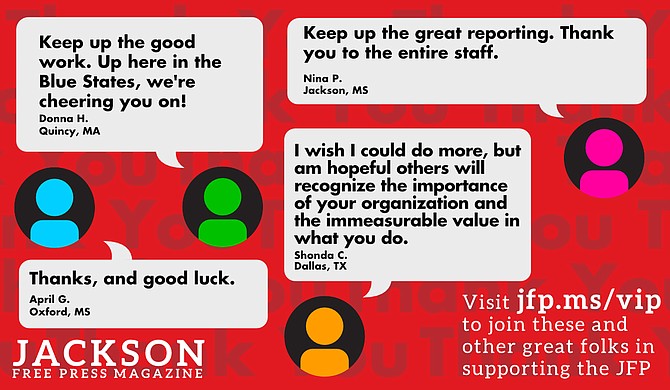 Thanks to all our new JFP VIPs!
COVID-19 has closed down the main sources of the JFP's revenue -- concerts, festivals, fundraisers, restaurants and bars. If everyone reading this article gives $5 or more, we should be able to continue publishing through the crisis. Please pay what you can to keep us reporting and publishing.