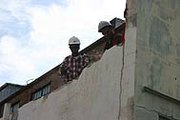 After years of waiting, construction workers were banging hammers against a building that will soon be the first new entertainment venue open for business in the Farish Street Entertainment District this Monday.
"It looks like King Biscuit is on the way," said Performa Entertainment's Vice President of Development Cato Walker. "We're moving, and I'm glad of it."
Walker joined members of the Jackson Redevelopment Authority, city government, local business leaders and a small crowd of onlookers on Nov. 13 in presenting the first signs of construction on Farish Street in months.
Redevelopment on Farish Street has been bogged down for years. Performa Real Estate, which gave Memphis' Beale Street new life, has been plagued with money and development issues. Last year, the company found asbestos in some buildings, which city inspectors had missed, and has been finding new asbestos since then. Financing issues have also haunted the program. The Mississippi Development Authority agreed to add about $5 million in state funding for the project last year, so long as Performa agreed to renovate some market-rate one- and two-bedroom housing units in the district.
Design and labor for the project also offered their own problems. The cost of labor has risen since the project was proposed during the last administration, and construction for everything in the district must conform to historic standards. The Farish Street Historic District Neighborhood Foundation, in particular, has had issues with some Performa designs, further locking things up in paper.
The city government, according to Elkington, offered some of its own challenges.
"We had a great relationship with Harvey Johnson. Everything was fine and moving along, but when the new administration came in, the rules kept changing on us," Elkington complained to the JFP in September.
"(Mayor Frank Melton) fires the head of the building department, he fires the head of planning, and we decided that we needed to pause and take a breath," Elkington said. "I mean, Jimmy Heidel is a great guy, but Jimmy Heidel is only a consultant, and he could've been gone next week. In some ways, we were afraid to act."
Melton hounded Performa throughout his first year in office, once calling Performa's Farish Street work "pathetic," last November.
Elkington had responded that "this is not a deal where you blow through and do whatever you want, unless you don't want the historical tax credits." Elkington added that he had invested more than $1 million in the project in beginning costs by 2005 and explained that "my mother didn't raise a kamikaze pilot."
Ward 3 Councilman Kenneth Stokes also kept the heat on, occasionally putting items on the council agenda calling for the city to seek a new developer.
Neither Stokes nor Melton were at the Nov. 13 demonstration.
"As long as they're making progress, we're going to continue to support them," Melton told the JFP later that day. "I'm glad we're at this point, and I hope it moves along smoothly. When you look at the work going on in that end of Capitol Street, it just fits in perfectly with the Parkway and other projects. It's just time to get this done."
"It has been a long process, but things are moving," Performa CEO John Elkington said, in a recent phone interview. "There have been some problems, but we're staying with it."
Lawson project designer at WFT Architects, was happy to describe some of the details of the work finally underway just north of Farish and Amite Streets.
"These four buildings," he said, pointing, "that one's in the best condition and its getting the most attention. The others are just shells. This one, they've started windows and erecting scaffolding to do the sides and front of the building, stripping paint off and sharpening up the bricks. These four buildings here should be ready in about a year."
Walker said Performa is moving full steam ahead with the financial backing from Trustmark National Bank earlier this year and will make great pains to stick to historical details.
"You will not see any sky cranes or bulldozers and backhoes down here. Historical restoration is more labor intensive, so you'll see more laborers taking that roof off by hand. That's why everybody feels there is no activity here. When there is activity here, you don't see it because there's no sky crane or big machinery. We have to be more careful than that," Walker said.
The rigorous demands of the state's Department of Archives and History doesn't help. Walker says Performa has to get their blessing before it replaces a window or shores up a wall. Also, an absence of specialty laborers makes historical renovation more problematic. Walker complains that no one locally does glazed windows, so it is one of the many projects that Performa must export.
The work isn't cheap, either, especially for a contractor using heavy manual labor, as opposed to rented machinery. Walker says the total cost of the Farish Street Entertainment District could be up to $15 million, whereas the total cost two years ago was expected to be no more than $12 million.
"I hate to think about that extra $3 million, but there are many reasons for that. We're always finding things unexpected that we didn't even know about. We were going to take a wall down in one of the buildings and remove some debris, and found out there was asbestos in it," Walker said.
Council members were relieved to see hammers banging as they surveyed the beginnings of renovation.
"I can tell you, I'm just glad this thing is moving on. … Things were looking close for a while," said Ward 6 Councilman Marshand Crisler, explaining that there had been no guarantee about the Trustmark loan coming through for Performa.
Previous Comments
ID

67103

Comment

This thing has been an absolute cluster**** since Melonhead came to town... But, it was moving at a snail's pace even before that. Stokes may be right... Old Capitol Green may be completed before Farish. And that would be a damn shame, considering Farish was signed off on about 7 years ago. Looks like they finally got their website up and running again...

Author

millhouse

Date

2006-11-17T11:05:16-06:00
More stories by this author
Support our reporting -- Follow the MFP.