On last night's episode of The 700 Club, the bold and courageous leader of America's progressive movement sat down with Pat Robertson to assure him that the Democratic Party opposes gay marriage.
The only problem is that it doesn't, and this isn't the first time Dean has been called on the "misstatement":
"The Democratic Party platform from 2004 says that marriage is between a man and a woman. That's what it says," Dean said on the Christian Broadcasting News program while discussing how Democrats are reaching out to evangelicals ...

This is what the DNC 2004 platform actually states: "We support full inclusion of gay and lesbian families in the life of our nation and seek equal responsibilities, benefits, and protections for these families. In our country, marriage has been defined at the state level for 200 years, and we believe it should continue to be defined there. We repudiate President Bush's divisive effort to politicize the Constitution by pursuing a 'Federal Marriage Amendment.' Our goal is to bring Americans together, not drive them apart."

"Governor Dean is wrong about what the Democratic platform says about marriage equality," NGLTF Executive Director Matt Foreman said in a May 10 statement to news media. "Disturbingly, this is not the first time he has misrepresented this important and affirming plank, and he has been asked before to correct the record and to cease making these misleading statements."

Foreman went on to say that Dean's record on GLBT issues since becoming DNC chair has been "sorely and sadly lacking" ... "Governor Dean is wrong about what the Democratic platform says about marriage equality."

Because of what he called Dean's "pandering and insulting interview," Foreman said the NGLTF is giving back the DNC's recent $5,000 contribution. "We do so with great sadness, knowing that the Democratic Party has long been a champion of our rights," Foreman stated.
Dean has always hedged his bets on the issue of gay rights. Although he signed Vermont's landmark civil unions bill into law (after being forced to do so by a state supreme court ruling), he has always come just short of endorsing gay marriage. 2008 looks like a much better year from a gay rights perspective, with Democratic candidate Russ Feingold being the first major candidate to explicitly support gay marriage (and with other Democratic candidates likely to join him on this issue during the primary phase).
His rhetoric
stands in sharp contrast to Dean's:
In a speech here Saturday night to the National Gay and Lesbian Task Force, Senate Democrat Russ Feingold vowed to help defeat the Wisconsin referendum, declaring that marriage "is not always and should not always be between a man and a woman."

Along with his state, Feingold may provide his own case study in the politics of gay marriage. Like most Democrats, he opposes a constitutional amendment defining marriage, an amendment that is expected to fail in the Senate next month.

But he has gone a significant step further and declared his personal belief that gays and lesbians should be able to marry. He is one of only four U.S. senators - and the only potential 2008 presidential candidate - to do so.

Feingold has surprised even some gay rights advocates by stating his endorsement in such plain and unequivocal language, in contrast to the personal qualms about gay marriage typically voiced by political figures who support civil unions. Along with being honored at Saturday's dinner, the senator drew several standing ovations.

"So many other politicians dodge and weave on this," said Matt Foreman, executive director of the National Gay and Lesbian Task Force.
So many other politicians, indeed.
Previous Comments
ID

105971

Comment

Dean's always been great at saying what the audience wants to hear, Tom. Reality means nothing to him. :)

Author

Ironghost

Date

2006-05-12T15:29:33-06:00
ID

105972

Comment

well, I'd like to see this thread stay alive. I have always liked Feingold for his stance against the stupid war in Iraq, and I am sad to see Dean just fading..Feingold is not perfect, good grief who is now. We can barely find anyone to care about. what to do, what to do. who is out there hello?

Author

sunshine

Date

2006-05-12T22:42:45-06:00
ID

105973

Comment

To be honest, I've always had problems with Dean. I remember saying to my progressive friends--who tended to be Deaniacs--that I thought he'd make a great president, but a lousy nominee. I couldn't quite put my finger on why, but I never donated to his campaign. I did donate to Kerry's. Now I think we've seen a taste of what he would have done in the national election (when candidates invariably dance to the center). My suspicion now is that we were probably better off with Kerry, even though he was arguably just as bad or worse on the specific issue of gay rights, simply because he was _better_ at pandering. You never would have seen Kerry kissing Pat Robertson's butt on the 700 Club. There are a few good Democrats in the race. Feingold would be my top pick. Biden could be a good choice, too. I thought Wesley Clark was a diamond in the rough in 2004--someone with immense potential who just wasn't seasoned enough at the time. By 2008 he might be ready. I think Bill Richardson is one of the most underrated candidates out there. And Warner, Vilsack, and Bayh are all viable candidates--moderates, and certainly not the first people I'd go to, but they have a proven track record of doing well in red states, and I haven't seen evidence that they actually pander very much. The Republican slate is also one of the least scary I've ever seen. Giuliani, Hagel, Huckabee, McCain, Pataki, and Romney are all social moderates whose nomination would marginalize, and ultimately depose, the socially conservative wing of the party. (And I can no longer say a single negative word about the fact that McCain plans to speak at Falwell's shindig; that's nothing compared to what Dean did.) Of the candidates who really bother me, who are anywhere near Bush in terms of strident neoconservatism, the only two who have any real chance of winning are Allen and Frist, and Frist's political star is plummeting to Earth at an impressive rate of speed. So whatever happens in 2008, I think it'll probably be an improvement over what we have now. Cheers, TH

Author

Tom Head

Date

2006-05-12T23:17:55-06:00
ID

105974

Comment

Bill Richardson is about the least scary name on the list. Of course, Guliani might be fun in office as well. :) I dunno, none of them on either side are appealing to me.

Author

Ironghost

Date

2006-05-13T08:02:32-06:00
ID

105975

Comment

I think Dean is smarter than we are giving him credit for.....I don't think he is as opposed to the issue as he seems, I think he is just playing to the Right for the Fall 06 Elections. Chess not Checkers.

Author

JAC

Date

2006-05-13T10:36:37-06:00
ID

105976

Comment

Given his history of shooting off his mouth, I'd have to vote against him being that clever. Calling Charles Evers a traitor didn't exactly play well here, if I recall.

Author

Ironghost

Date

2006-05-13T10:50:19-06:00
ID

105977

Comment

JAC writes: I think Dean is smarter than we are giving him credit for.....I don't think he is as opposed to the issue as he seems, I think he is just playing to the Right for the Fall 06 Elections. I agree, JAC--and that makes it worse. I'm sure Haley Barbour isn't personally opposed to interracial marriage, either. That's not the issue. The issue is that they're both panderers who seem to have a rapidly diminishing set of moral convictions. One of the areas where I do agree with Donna is that the "why" doesn't matter so much to me when it comes to public figures and public policy; the issue is the "how." But let's look at the "why." It's May 2006. What would possibly make Howard Dean, at this late date, go on The 700 Club and diss gay marriage in a calculated, repeat-performance "misstatement"? Why, I can't imagine. There's no other viable explanation: Dean is trying to distance the rest of the party from Russ Feingold for taking a position that most party elders secretly agree with, but aren't willing to commit to, in the name of protecting 2006 congressional nominees--and taking pressure off 2008 candidates other than Feingold who might be pushed towards endorsing gay marriage by his example. It would be sort of like if Terry McAuliffe had gone on a right-wing television program in 2003 to assure conservatives that the Democratic Party disagrees with Howard Dean when he opposes the Iraq War. Fortunately, even Terry McAuliffe had more conviction than that. Too bad about the new guy and his backbone-ectomy. Cheers, TH

Author

Tom Head

Date

2006-05-13T11:55:24-06:00
ID

105978

Comment

Ironghost, can you give me a reference on the Dean-Evers "traitor" thing? I just tried to Google it up with no success. I could find Dean's original statement which Evers spoke against (which I did not, personally, consider at all offensive--it was an anti-Republican comment, not a racist comment), but I couldn't find evidence of any counterattack on Evers. If there was one, that knocks my opinion of Dean down another few notches, and I agree that it would have been a real "Bart Simpson is sleeping with your wives" moment if he was trying to appeal to Mississippi Democrats. Cheers, TH

Author

Tom Head

Date

2006-05-13T12:00:17-06:00
ID

105979

Comment

Devil's advocate. As head of the DNC, isn't Dean supposed to operate with some duplicity on behalf of the Party? Understand that I support gay marriage, and do not consider it expendable. But if Dean goes into Republican territory and lies to muddy the waters, is that necessarily so awful? From a Machiavellian perspective, LGBTs have no where else to go, except of course out into the indepedent wilderness. Which they won't do because the Republicans are so scary on homosexual rights at the moment. What's more, taking the homosexual and allies' vote for granted doesn't mean the Dems will actually change the platform to match Dean's lies. If they did that, we'd be in serious freakout territory. Instead, they will continue to oppose these horrible constitutional amendments. If they can draw in reasonable evangelicals, might they not take a few of the Southern states Dems need to win? Might it not be worth it?

Author

Brian C Johnson

Date

2006-05-13T14:13:49-06:00
ID

105980

Comment

I'm sure that's the argument Dean would make if I had him sitting across the table with a cup of coffee, but the truth is that he lied about what was in the 2004 Democratic platform--no "misspoke" to it, he lied. I also wonder how effective it really is as a strategy. Only 51 percent of Americans oppose gay marriage, and the number is dropping (it was 63 percent in 2004); and to blow off lesbians and gays in an unlikely bid to pull in right-wing evangelicals is a poor strategy, since Republicans are just better at appealing to the homophobe vote. I'm also bothered by Dean's hypocrisy. His entire 2004 campaign was based on the idea that Democrats pander, move to the center, too much--that stating an honest liberal view with conviction and sincerity is far better than stating a moderate view in an insincere and deliberately vague way. Here are a few choice quotes from Dean: "I think it's pathetic that I'm considered the left-wing liberal. It just shows how far to the right this country has lurched." On the Vermont civil unions referendum: "Once in a generation, an issue comes along where there can be no compromise when you either have to figure out, do I stand up for the principles I believe in or am I simply keeping this seat warm?" "The time is now to present a very different vision and stop trying to say 'me too' to the Republicans." On the Democratic Party (2003): "They're consumed by the notion that they have to win, whatever the cost is. And that's why they don't win." "I don't think the religious right and I have much in common, and I wouldn't expect them to vote for many Democrats." "The way to beat this president is not to be like him." "I truly, honestly believe that my directness and my unwillingness to bend for the most part for political reasons is going to be a quality that I'm going to have the corner on the market on out there." "Be proud of who you are and stand up for what you are and who you are, and that's how we can beat George Bush. And I don't think the other guys from Washingtoon are going to be able to do that." "The president's not popular because of his issues, so we should stop co-opting those issues. The president's popular because people think he's a strong leader." Cheers, TH

Author

Tom Head

Date

2006-05-13T17:20:08-06:00
ID

105981

Comment

i don't think he lied--the 2004 party platform is as evasive as you claim dean to be. though it puts the words "full inclusion of gay and lesbian families" near the words "marriage has been defined at a state level," it does NOT say "full inclusion of gay and lesbian families includes marriage on a state and federal level." while i personally believe it should say that, it does not, and howard dean knows what he's doing by telling the people who need (want) to hear it that marriage will continue to be between a man and a woman. this by no means excludes civil unions, nor should it. and if we'd like to continue with devil's advocate, it is up to the church what marriage should be, as they're the institution where it was founded, and separation of church and state (whether bush wants to believe it or not) is still a fundamental element of our government. okay that's it.

Author

Margaret

Date

2006-05-17T15:30:58-06:00
ID

105982

Comment

mcahoon, be that as it may, think about this: You know what the platform says. I know what the platform says. How could the DNC chair not know what his own platform says, particularly when the distinction between civil unions and gay marriage was one of the central defining issues of his earlier tenure as governor of Vermont? I don't think Dean's that incompetent. Cheers, TH

Author

Tom Head

Date

2006-05-17T15:46:50-06:00
ID

105983

Comment

(Also worth bearing in mind: Dean had been corrected on this before...)

Author

Tom Head

Date

2006-05-17T15:47:38-06:00
ID

105984

Comment

From a Machiavellian perspective, LGBTs have no where else to go, except of course out into the indepedent wilderness. Sure we do. I "stayed home" in 1996 because of what Bill "where the hell is my spine?" Clinton did with the DOMA. And if the DC Board of Elections and Ethics was halfway competent, I'd have voted for Nader in 2000. I did vote for Kerry in 2004, but Kerry was a candidate I could vote for not only because of his support for LGBT issues in general (even though he opposed gay marriage), but also because there were much more pressing issues at stake. If they can draw in reasonable evangelicals, might they not take a few of the Southern states Dems need to win? What Dean is doing now is not going to appeal to "reasonable evangelicals." He's pandering to the wingnuts. And that'll never work; there's no point. Might it not be worth it? If it had the SLIGHTEST hope of working, it might be. But it doesn't, so it isn't. Best, Tim

Author

Tim Kynerd

Date

2006-05-17T18:48:12-06:00
ID

105985

Comment

Kerry was good on LGBT issues. His very first piece of Senate legislation was an antidiscrimination bill--doomed to failure, but it showed us where he stood. I agree on the idiocy of Dean's strategy; it will not work. If the 700 Club crowd ever shifts to the Democratic Party, it will not be because they like Howard Dean. If his dream for the party was that it would jump to the right and appeal to right-wingers, he should have stepped aside and let someone who wasn't perceived as a liberal firebrand take the reins. There is absolutely no reason why Howard Dean should be doing this. His history alienates the people he's pandering to, and his pandering alienates the people who supported him because of his history. And agreed on Clinton in '96. I voted for him, but if Arlen Specter had gotten the Republican nomination, I would have happily given him my vote. Never a big Clinton fan. Cheers, TH

Author

Tom Head

Date

2006-05-17T20:20:21-06:00
ID

105986

Comment

I actually agree with both of you, Tim and Tom. In my book, Clinton made two unforgivable mistakes during his administration. One was welfare reform and the other was DOMA. Both were political expediency of the worst kind, and we do not need Democrats to do Republicans' work for them. The Democrats should consider the Republicans' strategy: bribe your base. Instead of soft-pedalling issues like gay marriage, they should embrace it and encourage their base to turn out. By no means would this deprive the Democrats of spin. I think they should present themselves as the party of financial responsibility and social tolerance--you know, the suburban people who are too cool to take homosesuality very seriously. You know, all those people who watch Six Feet Under and the Sopranos. We will win on this issue because as entertainment acclimates people to homosexual themes, the idea of two men kissing becomes increasingly banal. The Christian-right has that much figured out. The Democrats really can argue states' rights, and take the libertarian stand that the government has no business injecting religious moral codes into a public covenant. That is the court case that will ultimately turn all of these cynical state constitutional amendments into scrap paper. Churches will remain free to recognize marriage on their own terms entirely. No Southern Baptist will ever have to recognize the marriage of two men or two women. But those couples will enjoy the full rights of marriage as defined by the law. How much do the Democrats' really have to lose by taking this stand? Or rather, how much do they have to gain?

Author

Brian C Johnson

Date

2006-05-17T21:05:12-06:00
ID

105987

Comment

An excellent point, Brian, and agreed. Opposition to gay marriage is already down to 51 percent, which puts it in the same ballpark as abortion. Now is not the time for party leaders to mislead people, to try to create the impression that the platform is less pro-gay than it is. Now is the time to move to the left on gay marriage, energize the base, and leave the Republicans to make the increasingly silly-sounding argument that allowing lesbians and gay men to marry threatens the sanctity of marriage. This will become easier if we get Democratic governors in New York and/or California, because in both cases a Republican governor is the only thing standing between the status quo and legislatively-approved gay marriage. Pataki is retiring, and Spitzer is already a clear frontrunner in New York. Schwarzenegger is polling badly in California. Six months from now we may be set for gay marriage in America's two most populous states. And then that 51 percent number will start hitting the floor--just like it did in Canada. Cheers, TH

Author

Tom Head

Date

2006-05-17T21:44:38-06:00
ID

105988

Comment

Tom, I hope you're right, but they ain't got crazies in Canada like we got crazies here. Except for Quebec. Really, it's appalling that Dean went on the 700 Club. I have to admit to some fascination with Pat Robertson, even though he is deranged. But going there and playing nice with him is disgusting.

Author

Brian C Johnson

Date

2006-05-17T21:55:00-06:00
ID

105989

Comment

Brian writes: I hope you're right, but they ain't got crazies in Canada like we got crazies here. Except for Quebec. You're probably right, but I think it'll floor out at 35 or 40 percent--which will make it an inadvisable right-wing wedge issue. Really, it's appalling that Dean went on the 700 Club. I have to admit to some fascination with Pat Robertson, even though he is deranged. But going there and playing nice with him is disgusting. Agreed. And after people in his party had just finished whaling into John McCain for speaking at a Jerry Falwell function at that. I mean, come on... Cheers, TH

Author

Tom Head

Date

2006-05-17T22:58:09-06:00
ID

105990

Comment

Just saw this: This is the guy Dean just risked alienating his party to hang out with. Excerpt: "If I heard the Lord right about 2006, the coasts of America will be lashed by storms," Robertson said May 8. Wednesday, he added, "there well may be something as bad as a tsunami in the Pacific Northwest." If I heard the Lord right, it's time for ol' Pat to get a CAT scan. Cheers, TH

Author

Tom Head

Date

2006-05-18T03:31:15-06:00
ID

105991

Comment

Please, Tom! This is Pat Robertson! :D The end of the world hasn't happened yet, and he's upset. He fabricates his own reality to suit himself. Gives his son nightmares, I'm sure. Pat's a loon, pure and simple. He lost the holy rollin' TV biz to the Crouches. They know that prosperity sells better on TV than doom&gloom...

Author

Ironghost

Date

2006-05-18T09:05:30-06:00
ID

105992

Comment

Hey Tom! http://www.drudgereport.com/flash5no.htm. Drudge is reporting a story that it seems Dean and Co worked against Nagin, in support of Landreau in the NO Mayor's race. Curious, if it pans out.

Author

Ironghost

Date

2006-05-21T19:58:16-06:00
ID

105993

Comment

Wow. Thanks for this, dude--Drudge isn't always right, but this sounds very plausible. And if it's true, Dean should resign. No question. To work to unseat an incumbent Democrat, especially in an election where there is already some concern regarding the disenfranchisement of black voters, is completely inappropriate for the DNC. I have no doubt that Mitch Landrieu would be a promising national politician if he was able to take credit for rebuilding New Orleans. I also have no doubt that this is dirty pool. Cheers, TH

Author

Tom Head

Date

2006-05-21T22:21:04-06:00
ID

105994

Comment

To be fair, neither side would play nice if they could. But this does call into serious questions about Dean's motives.

Author

Ironghost

Date

2006-05-22T08:45:02-06:00
ID

105995

Comment

Assuming this report is true, Dean's motive is that he or his inner circle consider Nagin an embarassment and made a political calculation (perhaps with the help of Sen. Mary Landrieu) that the numbers from the primary would favor Mitch in the runoff, that Nagin's support would be exclusively black and not enough to overcome the combined votes from other candidates assumed to back Landrieu. The only embarassment here is Howard Dean himself, continuing his pattern of misreading Democratic networking in the South.

Author

Jeff Lucas

Date

2006-05-22T11:31:59-06:00
ID

105996

Comment

Agreed, Ironghost. African-American support would have been enough to easily carry the election for Nagin four years ago, but with white voters settling near New Orleans and black voters more likely to go to Jackson, Houston, or Atlanta, with no satellite voting stations set up in those cities, tens of thousands of black voters who voted for Nagin four years ago are no longer in the picture. That's the only reason Mitch Landrieu was a viable candidate in the first place. If this pans out, it will be the first time the Democratic Party has supported candidates based on, and attempted to directly benefit from, black voter disenfranchisement since enforcement of the Voting Rights Act. We are witnessing, I think, a Dixiecrat resurgence in the party that is based on racism (including no small amount of antisemitism), populism, and xenophobia, and I don't like it a bit. ejeff, I think it's more than misreading Democratic networking. Landrieu almost won--it was a razor-thin margin. And if he had won, the strategy would have worked and we might have seen him on a national ticket in 10 years. I'm not completely sure Dean did this, here again, because Drudge's batting average isn't that great. But it makes too much sense to be a pure fabrication. Cheers, TH

Author

Tom Head

Date

2006-05-22T17:04:51-06:00
ID

105997

Comment

Drudge is reporting now that the DNC has denied the charges. I think it'll end up a case of Good Rumor, but no solid evidence. I'd love to say Dean's not that stupid, but... I read Drudge because you get stories like that. :D

Author

Ironghost

Date

2006-05-22T19:26:27-06:00
ID

105998

Comment

Well, bear in mind how many times Drudge's rumors don't pan out. Unsubstantiated is unsubstantiated.

Author

DonnaLadd

Date

2006-05-22T19:32:50-06:00
ID

105999

Comment

True. It would be so neat to see an archive of stories that "didn't work". It's fun to read, nevertheless.

Author

Ironghost

Date

2006-05-22T20:09:22-06:00
ID

106000

Comment

Hey, I look at it from time to time, too. ;-) I like his collection of links. I just don't pass along his unsubstantiated stuff until ... well ... it's substantiated. ;-D

Author

DonnaLadd

Date

2006-05-22T20:29:46-06:00
ID

106001

Comment

Hmmm. A vehement denial from Dean would be better, but I'll take this. Agreed that Drudge's stuff is hit and miss, but after the 700 Club business, I didn't know what to expect from ol' Dr. Dean. The Dixiecrat resurgence is still a very real problem--I have actually seen Democrats land on Bush in recent weeks for being too soft on immigrants, which sends shivers down my spine--but I'm glad to hear that the DNC has denied this, at least. The burden of proof does rest with Drudge to prove his allegations. Cheers, TH

Author

Tom Head

Date

2006-05-22T22:22:20-06:00
ID

106002

Comment

I should have known this was a false story, coming from Matt Drudge, the poster boy of a right-wing political hack. His site is the front line for conservative talk radio, and I'm sure they jumped on this story as a way to paint Dean as a racist. I still think Dean is too cozy with Dixiecrats at the expense of African-American support, and it will cost the Dems if they aren't careful.

Author

Jeff Lucas

Date

2006-05-22T22:40:55-06:00
ID

106003

Comment

Agreed on the final point. When Dean made his famous comment about wanting us to be the party of guys with Confederate flags on their pickup trucks again, I assumed it reflected New England cluelessness about the Southern Strategy--which was understandable. But every now and then he does something that makes me wonder. Cheers, TH

Author

Tom Head

Date

2006-05-22T22:49:03-06:00
ID

106004

Comment

And agreed on the earlier points, too. There's a lot to get riled up about with Dean right now, but Drudge no doubt put that article together intending to get exactly the effect he got. I fell for it hook, line, and sinker. Cheers, TH

Author

Tom Head

Date

2006-05-22T22:50:04-06:00
ID

106005

Comment

Tom, one point about drudge is that he reports rumors. He's not the Republican's PR firm. He'll catch a good one everyone once in a while and bust a story open before everyone else does. The rest of the time, it's a wash. It's what makes it fun.

Author

Ironghost

Date

2006-05-23T08:37:06-06:00
ID

106006

Comment

Iron, the problem is the two words "reports" "rumors." Uh, those two words don't fit together well. He's a rumormonger, and the courts have slammed him for it. It's not like he or any other blogger is above libel/defamation laws, or should be. There are times to "report rumors," but it requires much more sophistication than Drudge shows. For instance, Mr. Melton wanted very badly to talk about the rumors with him as far back as February 2005, when he challenged me to look into them. I still had to be very careful about how I approached that story, but being that there were police reports and investigations, it was a legitimate story. And I allowed him the full ability to respond to them. That's way different from rumormongering, and I don't find it responsible to pass along rumors as Drudge does. He represents the worst of the blogosphere. He passes along a rumor without merit, then it becomes a meme. It's unethical and irreponsible, but he hides behind the fact that someone is a public figure and gives him more attention if they sue. Truth is, public figures can sue just like anyone else; the standard of proof is slightly higher, but they are still protected under the law. We as citizens, however, should never pass along unsubstantiated rumors and urban legends. We become part of the problem when we do that, even if it's just for fun.

Author

DonnaLadd

Date

2006-05-23T10:12:24-06:00
ID

106007

Comment

I don't think I've seen him carry a story past the "didn't pan out" stage. Most either get rebutted, which he'll run as with the abovementioned story, or simply dumped.

Author

Ironghost

Date

2006-05-23T16:10:18-06:00
ID

106008

Comment

Yep, and this pisses me off more than anything. It doesn't matter if they go back later and issue a retraction on page seven, or mention that it was a mistake at the end of the news broadcast. It. Doesn't. Matter. Once somebody hears these lies, the talking heads and conservative talk radio a-holes run with it. It's how Drudge works. Doesn't matter if it's not true. Doesn't matter if it's unsubstantiated. Once they say it, it becomes facts in the sheeple's brains. "Have you heard what's going on over there? ...we gotta go get them sumbitches!" Media Matters is now reporting that Rush, Imus, and Tucker Carlson all threw this story out there like it was true, even after Drudge issued a retraction. ( http://mediamatters.org/items/200605230010 ) It doesn't matter if they all issue retractions now. It's out there and in the people's heads. They believe it's true now, because of course none of these guys would lie.

Author

Tre

Date

2006-05-24T16:49:26-06:00
ID

106009

Comment

Tre is right. This is bad stuff.

Author

DonnaLadd

Date

2006-05-24T16:50:48-06:00
ID

106010

Comment

Heck, Gallo mentioned it locally, and I would bet Sean Hannity (aka Rush Jr.) probably made mention of it. That was one thing I realized when I used to listen to national right-wing radio, that they all use Drudge Report as a source for talking points. Drudge is a rumor monger whose main claim to fame was exposing the infamous blue dress while the mainstream news outlets were debating about whether to run with it or not. The guy's a hack of the highest order; the only reason his site has credibility is because 85% of it is hyperlinks to legitimate news sites.

Author

Jeff Lucas

Date

2006-05-24T18:07:13-06:00
ID

106011

Comment

Yes, Drudge is a moron. Hell, even Fox News fired him! It's irresponsible and reckless to publish rumors, making people who will believe anything coming from the right think it's fact. Even if he comes back later and says he was wrong, or was given bad information... it's wrong. I agree with Keith Olbermann, who calls Drudge, "an idiot with a modem." Gallo (locally) is an idiot too. If a guest or caller has an opinion that doesn't exactly mirror his, he will talk over them and cut them off (like O'reilly does nationally). Back when the war first started though, I emailed a LONG letter to Gallo, and he actually read the entire thing on the air. I was shocked when I heard him reading it on the radio when I got in my car that morning. He followed it up by asking if I would call in and apologize when the WMD were found. (...still waiting) I sent a follow-up two years later and he didn't reply.

Author

Tre

Date

2006-05-25T12:52:35-06:00
ID

106012

Comment

Tre, I did the same thing with Larry Nesbit a few years ago because of was sick of his Harvey-bashing and wrote him a letter to call him on it. He actually read the entire letter on the air before he responded to it with his usual dismissive fashion, but I was surprised to know that he actually read a letter critical of him at all.

Author

Jeff Lucas

Date

2006-05-25T13:57:01-06:00
ID

106013

Comment

Tom, Have you read "Stranger at the Gate?" If you haven't you really should. I have a copy at the house and I plan to bring it back to Jackson when I move back on mid-August. You're more than welcome to borrow it, but I found it quite uplifting and felt it was relevent to today's post.

Author

Alice

Date

2006-07-26T13:12:25-06:00
More like this story
More stories by this author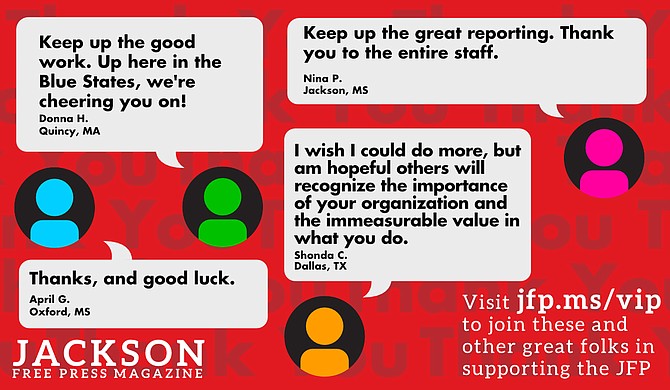 Thanks to all our new JFP VIPs!
COVID-19 has closed down the main sources of the JFP's revenue -- concerts, festivals, fundraisers, restaurants and bars. If everyone reading this article gives $5 or more, we should be able to continue publishing through the crisis. Please pay what you can to keep us reporting and publishing.