In a move calculated to force a showdown on abortion rights in the state, the Mississippi Legislature declared war on Roe v. Wade last week after Rep. Steve Holland, chairman of the House Public Health and Human Services Committee, added language to Senate Bill 2922 that would effectively ban legal abortion in the state.
"The time may have come to have an up-down vote on this issue," said Holland, D-Plantersville. "I just threw the snake out there, and it crawled around and got slung around pretty good, and this bill was what we got."
The bill will likely be a hit in the conservative-minded Senate, where Republicans may seek to grab the item as a political banner to rally around. Mississippi joins South Dakota and more than 10 other states where legislators are looking to push an outright abortion ban. On March 6, Gov. Mike Rounds of South Dakota signed the bill intended to ban most abortions in the state, which will likely set up a challenge to the U.S. Supreme Court decision, handed down in 1973, that legalized abortion in all states.
SB 2922 could be Mississippi's own Roe v. Wade bullet, aimed at the Supreme Court and designed to provoke a court showdown that could eventually lead to the reversal of Roe v. Wade, or so supporters hope.
The state Senate sought to add restrictions to the state's policy on abortion, but the House committee, under Holland, struck all of that language and replaced it with an outright ban, except in cases of incest or rape, or when the life of the mother is in danger. The last exception is required by a 5-4, Supreme Court decision from 2000 that struck down an earlier attempt to restrict abortion.
Mississippi American Civil Liberties Union Executive Director Nsombi Lambright called the bill a shock, saying she wished legislators had consulted with people before releasing the bill from committee.
"I was surprised that it came up so quickly and legislators did not go to their constituents to talk about this issue before they brought it up. I thought there would be some kind of movement to talk to their constituents," Lambright said.
Lambright said she was ready to challenge the bill in court if it is passed by the Senate and Gov. Haley Barbour. Barbour, one of the country's most extreme-right governors, is very likely to sign it. Republicans, who have low approval ratings in national polls, have made use of social issues like abortion to unite conservative-leaning voters.
Republicans used the issue of gay marriage to unite disenchanted voters in the 2004 nationwide elections, helping President George Bush (currently with a record-low approval rating of 34 percent according to a Feb. 26 CBS News poll) win in 2004.
Holland said he saw the "wedge issue" coming and introduced the bill to steal Republicans' thunder.
"Conservatives have been beating up moderates on this issue for some time now, and they had every intention of making that an election issue this year, and the old yellow dog beat them to the punch line this year," Holland said.
"They can rally all they want, but a Democrat brought this to them."
Terri Herring, president of Pro-Life Mississippi, said her organization had not supported this type of legislation in the past, knowing it would be struck down by a court decision.
"Until now our fear was that a bill like this would only be re-affirming Roe v. Wade, so we never encouraged passage of legislation like this. Since it came out of the House committee, we're now taking an opportunity to let the pro-life groups evaluate if this is the time to finally move this forward," Herring told the Jackson Free Press.
"We're not supporting it or opposing it at this point."
Herring said political opinion might allow the reversal of Roe v. Wade. An October 2003 Washington Post-ABC News poll found a majority of Americans and Catholics believe abortion is "morally unacceptable," and a December poll conducted by Zogby International confirms that, by a 53 percent to 36 percent margin, the public supports the statement, "abortion destroys a human life and is manslaughter." However, a recent poll released by Fox News found that 59 percent of Americans oppose legislation similar to the new South Dakota law for their own states.
Mississippi has only one abortion clinic, though, and some of the most stringent anti-abortion laws in the nation, with laws requiring parental consent and waiting periods before the procedure can be done. The state's only clinic services between 3,000 and 4,000 women a year.
Herring said the state's social system would support the extra 3,000 to 4,000 babies likely born to poverty-level mothers, if the state succeeded in banning abortion.
"There are many, many more unplanned pregnancies that are not ending in abortion. To act as if women cannot deal with an unplanned pregnancy is inaccurate. I don't think it's an issue," Herring said.
"I'm thinking it's very sad when the best alternative we have to poverty is to make sure the poor kill their children. We've had Roe v. Wade for 30 years, and the poor are still with us, so abortion has not ended poverty and will not end poverty."
Sheila Hailey, president of MS NOW, said Herring's assessment favors mid- to higher-income women to the detriment of the poor.
"It's easy for (Herring) to say that, but middle-class and upper-class women always had access to abortion. Everybody knew doctors who would perform them if you had money to go to a family doctor. Lower-income women were left to their own devices, which were horrible, or to back-alley abortions."
Furthermore, abortion-rights organizations do not advocate abortion as a means of relieving poverty, and legal restrictions on abortion may have little effect. A March 6 analysis by The New York Times found that parental notification laws had little effect on either pregnancy or abortion rates.
Holland also inserted a dirty little tag-along in the bill for Senate Republicans—a requirement that women turned away from abortion get the benefit of state money to help support their baby until the child is 19.
"Our GOP buddies are interested in life from conception to birth, but we Democrats are interested in giving them a good foundation until they're on their own so we put that in the bill. Let the Republicans vote it down if they want to," Holland said.
Previous Comments
ID

65473

Comment

Rep. Holland writes: Holland said he saw the "wedge issue" coming and introduced the bill to steal Republicans' thunder. "Conservatives have been beating up moderates on this issue for some time now, and they had every intention of making that an election issue this year, and the old yellow dog beat them to the punch line this year," Holland said. "They can rally all they want, but a Democrat brought this to them." For anyone who thinks that the abortion bill is in any way an honest attempt to do anything other than dishonestly draw in conservative voters, I present Exhibit A, ladies and gentlemen. This is exactly why I thought Reps. Holland, Fleming, and so on voted for the bill, but I'm surprised to see anyone in the state Democratic Party actually admit to it. Y'know, folks, you are rapidly converting me to the Green Party. Cheers, TH

Author

Tom Head

Date

2006-03-08T20:49:18-06:00
ID

65474

Comment

I hear you, Tom.

Author

DonnaLadd

Date

2006-03-08T21:13:48-06:00
ID

65475

Comment

does anyone know of any other medical procedures/surgeries that are forbidden or regulated on a state by state basis?

Author

jp!

Date

2006-03-09T01:34:18-06:00
ID

65476

Comment

Interesting column by Charlie Mitchell of the Vicksburg Post today about this abortion "trick": Any abortion-related discussion is complicated and emotional. Most columnists avoid the topic. There's a good reason for that. The "a-word" causes people with hard and fast beliefs on the matter to react viscerally to any statement they believe questions what they've already decided. Still, it did come as something of a relief when state Rep. Steve Holland, D-Plantersville, said he was weary of the niddling and decided to call the question. Mississippi has passed 14 - count 'em 14 - laws gnawing around the edges of Roe v. Wade, the Supreme Court's 6-3 decision in 1973 that invalidated Texas statutes making abortionists punishable as felons. Each of the 14 has added, or attempted to add, incremental obstacles for women seeking to end pregnancies. With two new justices on the U.S. Supreme Court, Holland, an often-bombastic 22-year lawmaker and chairman of the House Public Health and Human Services Committee, said, in essence, "Look, if we think we can do away with legalized abortion and that's what we want to do, let's just do it." Toward that end, legislation has been advancing toward Gov. Haley Barbour's willing signature. Regardless of any final bill passed here, in South Dakota or any other state, by the way, Roe v. Wade will be the law of the land unless or until the Supreme Court changes it. But back to this notion of abortion and money. First, it's cold - brutally cold - to consider what putting Mississippi's only provider of this procedure out of business will have on the public purse. In fact, it's a topic that shouldn't even arise in civil discourse. But members of the Mississippi Legislature don't have the luxury the rest of us do when forming our individual views. We can couch our personal thoughts in morality, but they are the elected keepers of the treasury. If they decided to double the penalty for robbery, for example, the added expense to the Department of Corrections must be calculated. It can't be known exactly, of course, but if the studies are even close to accurate, ending abortion could translate to least 1,000 children more per year for public assistance services.

Author

DonnaLadd

Date

2006-03-19T13:54:53-06:00
More like this story
More stories by this author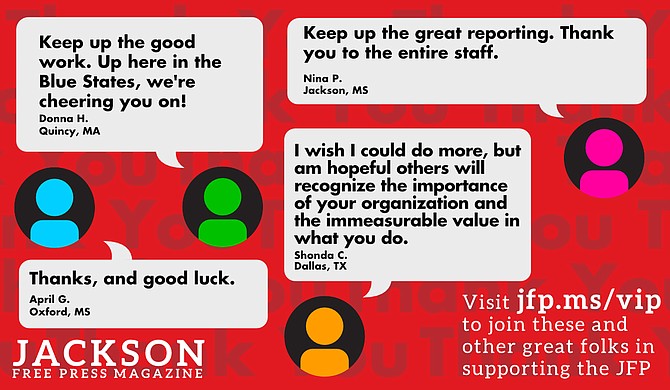 Thanks to all our new JFP VIPs!
COVID-19 has closed down the main sources of the JFP's revenue -- concerts, festivals, fundraisers, restaurants and bars. If everyone reading this article gives $5 or more, we should be able to continue publishing through the crisis. Please pay what you can to keep us reporting and publishing.