May 9, 2006
Want to know how far The Clarion-Ledger/Gannett Corp. is willing to go to control the competition? Keep reading.
This past Monday, I sat down in Cups in Fondren with Lee Warmouth, the circulation director of The Clarion-Ledger, so that he could tell me about an "exciting new service" that his company has devised for free-distribution papers like the Jackson Free Press.
Called The Distribution Network of Central Mississippi (TDN), The Clarion-Ledger's service offers merchants in the area a special 12-cubby plastic box to put in front of their stores, thus eliminating the "clutter" of individual boxes and racks—weekly papers, monthly magazines, real estate guides, classifieds shoppers—that we find outside a lot of gas stations and retailers around town. There's a solution for grocery stores and other retailers in town who have a proliferation of racks inside their stores, too.
Of course, there's a catch. In order to get the rack, the retailer signs a one-year contract giving The Clarion-Ledger/Gannett Co. the exclusive right to control the display of free-distribution publications. Once you become a TDN stop, no one—including the Jackson Free Press—is allowed to put their own rack or box on the premises, even if it's already one of our popular drops. We're evicted.
That is, we're evicted unless we pay for the "right" to place ourselves in their rack—to distribute in places where we used to distribute simply with the permission of the manager or owner.
I understand that the Mafia in New York City has a similar system.
In the meeting with Warmouth, it became clear to me that this "service" was, in fact, not really aimed at the needs of local publications, but more about promoting The Clarion-Ledger's own growing stable of free publications while punishing anyone who dares to compete with them.
For instance, how's this for "service"? Although Warmouth told me I would receive an eviction letter soon stating that we had 30 days to remove JFP racks from retailers that had signed on to the TDN network, he had only a partial list of those locations to hand me so that I could decide if it was worth it to join the network.
Also, the agreement between The Clarion-Ledger and the free-distribution publications isn't complete. When I asked a question about it, he told me he hadn't really looked at the contract closely in a while, and he'd have to sit back down with the boys in legal.
When I asked if I could see the contract that The Clarion-Ledger has the retail establishments sign to join TDN (and, thus, kick us out), he declined.
When I asked the dimensions of the slot available to the JFP if I were to take his "offer" for the service—he wasn't sure. He did tell me that the window in the front of the slot available to me wouldn't display a full tabloid cover such as the Jackson Free Press—his solution was to make small color copies of our cover to slide in there so that everyone would know that we had a new issue out.
He was, however, able to outline the exact price that I would be asked to pay for each TDN location where I wanted my paper, as well as what I would pay if I had The C-L's drivers distribute my publication for me—if I get the JFP to them two days ahead of time.
You business owners and managers out there, help me with this one. Does this sound like a salesman with his customers' needs in mind? Is this a vendor that you would be doing cartwheels to work with?
I kept waiting for him to slip and call it "protection money."
Back in the office, we called business owners and managers we know who were on the list I'd been given of "new" and "available" distribution spots in the TDN network. Of five calls we made, two told us they hadn't heard of TDN and two said they'd been contacted but hadn't signed anything and didn't plan to. Yet they were all listed as "available."
One said they had signed the agreement, but they were under the impression that the Jackson Free Press could still be distributed in their business. It turns out that The Clarion-Ledger sold them on TDN using a sales sheet titled "Rack Placement Agreement Schedule A" that has the Jackson Free Press listed as one of the "Accepted Free Distribution Publications" along with a number of other popular free publications in town.
For the record, we haven't accepted a damn thing from the Clarion-Ledger, and we don't intend to start now.
A little surfing shows me that this scheme is not an in-house brainchild of The Clarion-Ledger, but its parent company, Gannett Co, Inc. In Greenville, S.C., for instance, the eponymous "The Distribution Network (TDN)" was launched between Christmas and New Year's Day in 2004. According to a story on our newspaper association's Web site, retailers who signed onto TDN were later surprised to find that the newsweekly in that town and other publications were suddenly no longer able to be distributed to their customers because those publications couldn't afford the fees that the Gannett-owned daily was charging.
If you're a retailer who has been approached by The Clarion-Ledger or "TDN," please read the contract carefully and know that the purpose of the agreement is to force smaller publications to pay The Clarion-Ledger (which is also a direct competitor for these publications) in order to continue to reach your customers.
And if you're a reader—whether you enjoy the JFP in particular, or you simply believe there should be a multitude of print "voices" in the community—please tell the locations that you frequent that you appreciate the JFP (or any of the other local free publications), and you'd like that retailer to continue distributing us for your convenience.
One more thing … you know the ironic thing about the "clutter" of boxes? Look closely at the publications in front of, for instance, the Backyard Burger across from UMC on State Street. Five of those 10 boxes are owned or managed by The Clarion-Ledger and/or Gannett Co.
Maybe they should just clean up their own mess—without making independent, locally owned publications pay for it.
Previous Comments
ID

170361

Comment

Sounds like the Ledge is a bit short on cash, eh ... or perhaps readers??? Needless to say, the JFP is not part of this scheme and any indication that we are is a misrepresentation.

Author

ladd

Date

2006-05-09T20:06:04-06:00
ID

170362

Comment

Typical C-L stuff.

Author

mrthadjones

Date

2006-05-09T21:05:58-06:00
ID

170363

Comment

That's really crappy and I doubt/hope many business owners would sign something that says they can't do something in their establishment. Especially for a free weekly or whatever the Ledge has planned. ON the other hand, in a larger city like Atlanta or Dallas the independent newspapers could band together the same way and shut out the daily or make them pay to stay if store owners wanted. They better be careful with their tactics as they could backfire in more ways then this one example. Could you imagine if the travel rags in XYZ City did something similar that would keep the local daily from being available in a hotel or outside their lobby? Ha!

Author

pikersam

Date

2006-05-09T21:51:14-06:00
ID

170364

Comment

This is actually worse than "typical," mrtha. This is a bald attempt to evict us from our distribution spots. It's truly amazing how desperate they are. I would suggest doing real reporting if they're worried about dropping circulation. Be a good newspaper. It's not brain surgery. However, this is a very serious threat for locally owned media. Goliath doesn't have any moral center as far as I can tell, and will stomp out anyone they can. I urge you all to take this very seriously and speak up if you value local media. We'll be back in touch shortly with specific ways you can help, but the main thing now is to Spread. The. Word. The people of Jackson need to know just how far this mega-corporation is willing to go to squelch competition.

Author

ladd

Date

2006-05-09T22:21:10-06:00
ID

170365

Comment

I was going to add something about them just focusing on reporting and circulation may go up. These other efforts are wrong, won't work, and have to take away from the quality they could provide as a daily. I hope this is not successful, and that the business owners that are approached by the CL Circulation department tell them they will decline and continue their right to put whatever publication out in front of their store or in it.

Author

pikersam

Date

2006-05-09T23:11:38-06:00
ID

170366

Comment

A lot of times when you guys write about the 'ledge, I think that you are just being paranoid- this thing is different. It really does seem like an attempt to shut down the little guys. FWIW, you can tell the man at Madison Cellars (where I get my copy of JFP), that if he gets rid of the JFP stand in front of his liquor store I will join AA- which will probably force him into bankruptcy. See, us suburbanites know how to take action when need be....

Author

Rico

Date

2006-05-10T08:23:07-06:00
ID

170367

Comment

Hey Rico, why not tell the man at Madison Cellars yourself? He may listen to you, his faithful customer. This is very very digusting. I am so pissed right now. Why can't people *give* away papers without someone else charging them money to do so...this is screwed up

Author

Izzy

Date

2006-05-10T08:31:32-06:00
ID

170368

Comment

Rico, Laurel makes a good point. Please tell him yourself that you value the JFP. We need every reader right now to fight Goliath's disgusting tactics.

Author

ladd

Date

2006-05-10T08:35:34-06:00
ID

170369

Comment

OK, next time I'm in there, I'll say something... Hope that others will do the same.

Author

Rico

Date

2006-05-10T09:05:58-06:00
ID

170370

Comment

The big boys get mad when somebody smaller is kicking their asses. I'm not surprised. They're jealous of y'all. They want your bases, too. Greedy bastards. I hope this motivates you even more to beat their tails to the stories and the truth.

Author

Ray Carter

Date

2006-05-10T10:08:24-06:00
ID

170371

Comment

I'll also talk to Madison Cellars...they are "my" liquor store as well. ;) I also happen to know a few of the guys that work there enjoy my column. One was reading it one day when I went in to buy some wine. He didn't recognize me, but pointed at the column when I approached the check out and said "She's hilarious!" I giggled. I thought it was great. :)

Author

Lori G

Date

2006-05-10T10:27:34-06:00
ID

170372

Comment

I forgot the most important part....Um, isn't what the Ledge is doing illegal/

Author

Lori G

Date

2006-05-10T10:37:17-06:00
ID

170373

Comment

People can contract to anything as long as it's not illegal or against public policy. I bet they checked with their lawyers and are making sure they're legal. Maybe on the fringes but probably not over the line.

Author

Ray Carter

Date

2006-05-10T10:43:28-06:00
ID

170374

Comment

even if they had the JFP on their list & the JFP didn't consent?

Author

Izzy

Date

2006-05-10T10:48:11-06:00
ID

170375

Comment

If the JFP didn't contract (offer, acceptance and consideration) then they don't have a contract with JFP.

Author

Ray Carter

Date

2006-05-10T10:52:42-06:00
ID

170376

Comment

Well, we're working on the legal part. Meantime, though, let me be perfectly clear about what they did: They started going to many of our distribution spots before ever talkign to us telling them that they were going to clean up the "clutter" by providing them these big, ugly (of course; it's Gannett) racks for free. They gave them a list of "accepted" publications they could choose from. They are then telling the publications that if we do not agree to pay the Gannett Corp. to display our papers, then Gannett will give us a 30-day eviction notice. Businesses are telling us they believed that we had signed on. Yet, we did not even know they were passing around a list with our publication's name on it. The other publications we've talked to did not know, either. Let's just say that locally owned media are livid at this corporate ploy to cheat their way into our business. Apparently, they are not simply willing to compete, fair and square. Fine, everyone needs to know that. We all know how much goodwill The Clarion-Ledger has to lose these days. Idiots.

Author

ladd

Date

2006-05-10T11:03:08-06:00
ID

170377

Comment

You business owners and managers out there, help me with this one. Does this sound like a salesman with his customers' needs in mind? Is this a vendor that you would be doing cartwheels to work with? no. and again, no. This sounds like a tragically bad shake down episode from The Sopranos. Since I frequent many area establishments that have the JFP racks at their business, I'll be sure to voice my concern to other Managers/Owners regarding this shady scheme. FYI - As if it needed repeating - these folks are hideous creatures - I have been going around in circles for weeks, trying to get the CL to stop littering my yard with their free Northeast Section - they just won't take me off the list. They won't even respond to my emails or take my calls anymore. The cahoonas these slimeballs have continues to amaze me. While I consider this as littering on my private property, I am sure their boys in legal have them covered should some crazy person, who is tired of going around in circles with them, attempt to take further action. I'm just sayin'.

Author

bryanms

Date

2006-05-10T11:36:21-06:00
ID

170378

Comment

Bryan, I heard there was a campaign mounting in Belhaven to get them to stop doing those forced-circulation. Anyone who wants to go on the record about this, please call Brian here at ext. 7. (362.6121). Sounds great for PublicEye. Clearly, the company is desperate. But that doesn't mean that Goliath isn't dangerous, all. Spread the word about their schemes.

Author

ladd

Date

2006-05-10T11:42:45-06:00
ID

170379

Comment

And don't forget: They're picking on papers much smaller than us, too. We're the largest weekly in Jackson now. But some of these papers are really small, and rather helpless. We're standing up for them, too. We believe in actual free enterprise.

Author

ladd

Date

2006-05-10T11:47:11-06:00
ID

170380

Comment

Y'all just made me remember something else I don't like about them. Their distributors have painted up my neighborhood street. If you subscribe to the paper no mark is made in front of your house. If you don't subscribe or quit subscribing like I did, they place this ugly mark in the streets in front of your house. I got up early several days trying to catch the person with the marker. I had planned to earn assault charges but I never saw the person. Doing this can't be right. I will mention it at our next homeowners association meeting.

Author

Ray Carter

Date

2006-05-10T11:55:32-06:00
ID

170381

Comment

i live in belhaven, and flipped through the first two "NE Ledger" copies that landed, unwelcome, in my yard. i figured it would be a nightmare to opt out, but one call took care of it. maybe it was since i called early on, before everyone realized that it doesn't even make good birdcage liner...

Author

Jay

Date

2006-05-10T12:40:52-06:00
ID

170382

Comment

Ray, You are so funny, you make my day with a laugh & I needed it. IF you get caught on assault charges you at least have someone to represent you, right? hah.

Author

Izzy

Date

2006-05-10T12:41:00-06:00
ID

170383

Comment

forgot to say: i'm going to ride around town today, telling my local haunts to say NO to this locker-style gannett distribution plan. sounds ugly, in addition to being dastardly. i'll take a menagerie of wire stands and stacks of leaflets over anything they propose, any day. i think the problem is that they can't get people to shell out the 50c to BUY the daily that will inevitably have one of the Focuses stuffed inside... the Weekend thing gives me a headache, and their new ad campaign? with those outsized quotation marks and the cat scratches? ineffective and confusing to the point of hilarity. you guys are doing everything right these days, and they can't seem to find a matching pair of socks, much less get their reporting on track. i love it.

Author

Jay

Date

2006-05-10T12:46:06-06:00
ID

170384

Comment

I know. It's a HUGE compliment. However, we still need y'all to be proactive on our behalf, and that of all the other LOCAL publications. Load your slingshots, friends. BTW, anyone hear that Eric Stringfellow moved to the 'burbs?

Author

ladd

Date

2006-05-10T14:48:52-06:00
ID

170385

Comment

Eric moved out of Jackson? I was wondering about the cold front waaay down below. :) I'll mention the CL's new shakedown tactic when I'm out too. Anything to stick it to Gannett.

Author

Ironghost

Date

2006-05-10T15:12:19-06:00
ID

170386

Comment

I don't know for sure. Someone who knows him told me that. That would be sad, if so, considering that he's the one who writes mostly about the city.

Author

ladd

Date

2006-05-10T15:17:11-06:00
ID

170387

Comment

Then again, there is no safe place in the city anymore, what with Albritions being robbed in Highland Village. It's sad how far Jackson has fallen.

Author

Ironghost

Date

2006-05-10T17:32:14-06:00
ID

170388

Comment

That sounds a bit fatalistic, Iron. I don't find Jackson especially threatening; all big cities have crime. That said, I do feel it getting worse. You're hearing crime stories from everyone right now; more than I've ever ever heard in Jackson. And it's just not comforting that city officials don't seem very concerned about it—unless you're in the Wood Street Players.

Author

ladd

Date

2006-05-10T17:34:21-06:00
ID

170389

Comment

"And it's just not comforting that city officials don't seem very concerned about it—unless you're in the Wood Street Players." Ladd Maybe if we wrote a letter to our councilperson! ;-)

Author

pikersam

Date

2006-05-10T17:37:50-06:00
ID

170390

Comment

You are all talking about two different things. Yes, overall crime stats have gone down nationwide and therefore in Jackson during the past decade. But I do know for a fact that during the last months of Johnson's administration, officers were not told to "water down" crime incidences by choosing the less serious offense when making their reports. This has been reported on in several instances and I have talked personnally to officers who have told me this. I am not accusing Johnson of having been the person who instigated this policy but someone in a position of authority did so. Also, you need to be aware that five months does not a trend make. Having said all of that, I am disgusted with the lack of leadership Melton has shown. We really have to attack the crime situation in a more informed and comprehensive manner. There are plenty of cities that have done this and there is absolutely no reason other than lack of public outcry why Jackson's elected leaders continue allowing our City to waste away.

Author

realtime

Date

2006-05-10T17:56:26-06:00
ID

170391

Comment

his has been reported on in several instances and I have talked personnally to officers who have told me this. realtime, I usually delete defamatory statements, which this is. However, I'm going to deal with it. EVERYTIME I've asked someone for the evidence of this statement, it doesn't pan out. Ever. People spread the rumor, but NO ONE can ever substantiate it. If they could, I assure you the Jackson Free Press is the paper that would report it. Who else? Think about it. And, uh, where has it been reported -- other than the local-corporate media repeating unsubstantiated accusations by political folk? (Which is bad journalism without attempting to get at the truth of it, one way or the other.) Help me out. Really. Let's prove this accusation, or put it to rest. Throwing it around without providing evidence is execrable.

Author

ladd

Date

2006-05-10T18:00:38-06:00
ID

170392

Comment

Let's put it this way: Repeating the rumors about "cooked" statistics has no more credibility than the rumors about Mr. Melton's activities with young men (which I talk about only because he has been eager to). I will not believe those rumors until and unless they are proved true to me (and would never stoop to "It is my opinion that ...." thinking that protects me somehow). Likewise, it is ludicrous to go around stating as fact that crime stats were "cooked" without providing evidence. If you want to ask the questions, ask them. If you want to talk to the people accused of the serious crimes, talk to them. But, DO NOT use my Web site -- or anywhere, if you're ethical -- to spread such awful rumors as "fact" without providing the evidence. That's unconscionable.

Author

ladd

Date

2006-05-10T18:04:57-06:00
ID

170393

Comment

The ledge had a chance to maintain a degree of dignity earlier in the game but they chose to suck up behind Melton and do the soft stories. If the public wanted easy reading they probably would have chosen to read the Readers Digest or mayby even National Geographic. They (CL) appear to have come up with a slick way of saying "we've been outdone" by introducing this little trick and hope that we cannot figure it out. From the first time that I read the JFP, I knew that the winds of change had arrived. I believe that the CL felt the same way, but they wanted to come to a gunfight with a knife.

Author

lance

Date

2006-05-10T19:21:12-06:00
ID

170394

Comment

Can you give us a list of the places that stock JFP? I'd like to call every single one to voice my opinion. I've already called McDades. When I read this it made me sick to my stomach.

Author

tiffitch

Date

2006-05-11T15:38:01-06:00
ID

170395

Comment

I agree Lance. The first time I read a JFP issue I said "ain't no way in hell anybody from Mississippi is doing this magazine." I didn't see the usual .... I was so impressed I got the editors' autographs just in case they left town or was run out of town before I got to see another issue.

Author

Ray Carter

Date

2006-05-11T15:44:49-06:00
ID

170396

Comment

One place that needs to hear from everyone is the Piggly Wiggly on Meadowbrook. That is one of our best spots and with the lack of grocery stores farther west, it is a place where many people read us. They are on the Gannett's hit list to kick us out of there. Also, the Super Stops -- including the Conoco at Lakeland and North State where we go through hundreds of papers. Otherwise, I'll see what kind of hit list of our own we can put together for y'all. Hang tight.

Author

ladd

Date

2006-05-11T15:48:52-06:00
ID

170397

Comment

Just found out that Piggly Wiggly is managed locally. We urge anyone who lives in the area to please tell the manager that you want to continue to see the JFP there. That is a major distribution spot for us. Or, should anyone really be inspired, try a petition. ;-)

Author

ladd

Date

2006-05-12T13:04:42-06:00
ID

170398

Comment

You know, "TDN" is such an obviously slimy tactic that I wonder why Gannett hasn't faced any antitrust suits. If you had near-monopolies in other industries attempting to control access to their competition...well, Microsoft did, and you know how that went for them. Cheers, TH

Author

Tom Head

Date

2006-05-12T13:15:26-06:00
ID

170399

Comment

One thought that just crossed my mind: Wouldn't the C-L be especially interested in suburban dropoff locations, for the obvious reasons? Cheers, TH

Author

Tom Head

Date

2006-05-12T13:16:34-06:00
ID

170400

Comment

Yeah, well, Gannett is not above "slimy." Have you read that book about their tactics? People around Jackson are reading it now; I keep hearing about it. We read it years back, so we know what they're capable of. That's part of the reason I've never gone easy on them. I have no respect for that company. The book: "Chain Gang: One Newspaper Versus the Gannett Empire"

Author

ladd

Date

2006-05-12T13:17:44-06:00
ID

170401

Comment

I read that one (or one like it)years back. Awesome reading.

Author

Ironghost

Date

2006-05-12T15:37:34-06:00
ID

170402

Comment

Hey, check out this column by Lott from a while back. He hates Gannett, too. Maybe he'll join our campaign against Goliath.

Author

ladd

Date

2006-05-12T15:54:59-06:00
ID

170403

Comment

Hey, just a shout-out to all you supporters of real local media and free enterprise. Our phone is ringing off the hook from readers and businesses pledging support against this Gannett onslaught. We're getting offered new spots for distribution, and everywhere I go people are telling me that they are telling local businesses how much they appreciate access to the JFP and other local publications. And businesses themselves are telling us how many people they're hearing from. My favorite call came yesterday and was a bit formal: "Donna, we have heard what The Clarion-Ledger is trying to do. On behalf of the management of Xxxxxxxxx, we would be honored to offer the Jackson Free Press a spot for distribution at the front of our business." Thank you, all. This has only just begun. Please keep it up. It's heart-warming, and it shows how a community can come together when threatened by an outside monster who cares more about its appetite than the community it's decided it wants to control. Cheers, friends. And remember speak up for our other brothers and sisters as well.

Author

ladd

Date

2006-05-12T16:39:20-06:00
ID

170404

Comment

The late and great Dennis Brown said in one of his songs, "I would never be greedy because the greedy dog saw his shadow in the water and he wanted that bone too."

Author

Ray Carter

Date

2006-05-12T16:45:39-06:00
ID

170405

Comment

Why not be greedy? I'm thinking that the 'Ledge might have some purty new plastic newspaper racks for sale soon- never been used... Maybe Ms Ladd should think about buying 'em up- and charge a small fee to other publications to share the space based on the size of the organization of course...

Author

Rico

Date

2006-05-12T18:21:56-06:00
ID

170406

Comment

All, remember this weekend to thank everyone who distributes the Jackson Free Press and other locally owned publications. Tell them that you don't want to see the Gannett Corp. push out independent media. We're hearing all the reports coming in about the grass-roots work everyone is doing out there, and we really appreciate it. Please keep it up. Be sure to hit gas stations and convenience stores in the suburbs as well. Even if they don't carry the JFP, it will help the other locals if you mention that you want to see them all still there, and wouldn't mind seeing the JFP added to their business. We will be INCREASING our distribution as a result of this scheme. So any spots y'all can let Todd know about would be great, as well as any great stories about conversations you're having. We're hearing many already, and they're heartwarming. Thanks!!! Distribution suggestions/stories: [email][email protected][/email]

Author

ladd

Date

2006-05-13T11:21:31-06:00
ID

170407

Comment

Rico, my comment wasn't about the behavior of JFP. It was about the Clarion-Ledger's behavior, or anyone trying or desiring to monopolize everything for their advantage.

Author

Ray Carter

Date

2006-05-15T09:10:46-06:00
ID

170408

Comment

Oh, I knew that- it is the Ledge being greedy. I just thought that maybe JFP should be greedy right back at 'em!

Author

Rico

Date

2006-05-15T09:30:03-06:00
ID

170409

Comment

Great, time to go ask the Kroger on I-55 management to not sign up for this deal. I pick it up there on my weekly grocery run.

Author

Pilgrim

Date

2006-05-15T11:04:59-06:00
ID

170410

Comment

We will be INCREASING our distribution as a result of this scheme. -Donna WOW, that'll show them!!!

Author

Izzy

Date

2006-05-15T11:13:36-06:00
ID

170411

Comment

Please do, Pilgram. Thanks, all

Author

ladd

Date

2006-05-15T12:03:52-06:00
ID

170412

Comment

This is a process typical of bussiness outside of MS that is used often to influence cultural spending inside MS. It is also a tactic used by many city and state governments to rid themselves of "the unwanted".

Author

wade G.

Date

2006-05-15T15:46:04-06:00
ID

170413

Comment

That stinks. :(

Author

Heather

Date

2006-05-15T19:47:13-06:00
ID

170414

Comment

Woo, hoo: The media begins ont his! First, go look at the top of the AAN Web site for our first official pick-up of this Gannett scheme. Then: Sit tight. (No, actually, don't sit tight. Go see those businesses. Piggly Wiggly on Meadowbrook is high on the list, as are the Super Stops around town, especially Lakeland at North State.)

Author

ladd

Date

2006-05-16T10:57:19-06:00
ID

170415

Comment

His column is also featured right now on front page of the AltWeeklies site. Again: sit tight. No, don't.

Author

ladd

Date

2006-05-16T10:59:59-06:00
ID

170416

Comment

All, be sure to watch WLBT news tonight ... at 6 p.m., as I understand it. ;-)

Author

ladd

Date

2006-05-16T12:16:23-06:00
ID

170417

Comment

Maybe the Northside Sun would let you put a stand at their place. That would be an interesting contrast but should enhance both!

Author

ChrisCavanaugh

Date

2006-05-16T12:58:43-06:00
ID

170418

Comment

Well, Madison Cellars (the liquor store where I trade) has said that they weren't changing anything. Don't know of any other locations out this way- is there a list?

Author

Rico

Date

2006-05-16T14:12:45-06:00
ID

170419

Comment

I'm glad JFP ain't sittin idle on this one. I love this publication and would never take the CL over this one. (besides, they're really only good for the classified section anyway) Yes, people let's spread the word, becuase once people find out the true meaning of TDN, the CL won't have a chance in hell of competing with the JFP.

Author

jan2006

Date

2006-05-16T14:13:43-06:00
ID

170420

Comment

(As if they already do!)

Author

jan2006

Date

2006-05-16T14:14:09-06:00
ID

170421

Comment

The JFP isn't one to sit idle, jan2006! Maybe the home office up north thought they were dealing with a bunch of dumb-ass hicks down here, but I guess they'll learn. Carry on, folks! And thanks for all the support. Rico, I'll see what we can do about publishing a list. Rumor has it a petition will be available for download by the end of today. Meantime, if you see the JFP in a business, any business, thank them for carrying it and tell them to please not buy into the Gannett corporate scheme to control independent media distribution.

Author

ladd

Date

2006-05-16T14:20:47-06:00
ID

170422

Comment

"The most common way people give up their power is by thinking they don't have any." — Alice Walker

Author

ladd

Date

2006-05-16T14:22:53-06:00
ID

170423

Comment

I saw you stand filled with non-JFP magazines at the Mexican restuarant on Fortication near I-55. I can't remember the exact name of the restaurant.

Author

Ray Carter

Date

2006-05-16T14:23:24-06:00
ID

170424

Comment

The JFP isn't one to sit idle, jan2006 Don't i know it, you all are like the superwomen/supermen of publications 'round here.

Author

jan2006

Date

2006-05-16T14:25:06-06:00
ID

170425

Comment

Thanks, Ray. We'll check it out. It may be because we're running out so quickly these days. Then others put their papers in our racks. I don't get too bent about that -- unless they are a Gannett corporate publication, of course. Those schmucks better not touch our papers, or our racks. Just sayin'. BTW, all, another thing you can do is look out for the other independent pubs. These are small businesses with families and workers who help the local economy, too. Help straighten the racks if you see them messy, or put their papers back in their racks, as I did Saturday at Banner Hall. Folks like: Jackson Christian Family, VIP Jackson, American Classifieds, the other real-estate pubs, Metro Business Chronicle, etc. We'll publish a full list of the ones that are not Gannett-owned, so everyone knows who all is under attack here. Sit tight. No, don't. (grin)

Author

ladd

Date

2006-05-16T14:26:45-06:00
ID

170426

Comment

Don't i know it, you all are like the superwomen/supermen of publications 'round here. Grin. I guess you could say we believe in what we're doing. All of us. And there is incredible energy associated with this paper. Most of it young and tireless. I'm the old lady of the bunch. ;-) What can I say? Don't mess with determined young Jacksonians. Really.

Author

ladd

Date

2006-05-16T14:28:41-06:00
ID

170427

Comment

Wow. Good on WLBT to cover this! I've got it set to TiVo. Y'all are turning into the Bennifer of local media, you know. ;o) Cheers, TH

Author

Tom Head

Date

2006-05-16T17:07:44-06:00
ID

170428

Comment

Tom, Bennifer is so last year. Brangelina is the new rage. Catch up on your celebrity trash gossip. I'm disappointed in you.

Author

Lori G

Date

2006-05-16T17:09:17-06:00
ID

170429

Comment

Well, Tom, some former employees used to call Todd and me "Dodd." Ahem. Note the emphasis on "former." ;-D I guess I should go ahead and mention that Todd will be a guest on the Kim Wade show on WJNT Wednesday to talk about this as well. And there's more. But I will roll them out slowly.

Author

ladd

Date

2006-05-16T17:15:50-06:00
ID

170430

Comment

great interview with Todd on WLBT. I didn't know the Clarion Ledger was trying to forcibly remove some of the free stands. It also doesn't sit well with me that the Clarion Ledger chose not to comment on the story.

Author

c a webb

Date

2006-05-16T18:13:04-06:00
ID

170431

Comment

Yes, they're telling us that if we do not sign on to pay them to be on their racks, that they will send us 30-day eviction notices, and have the right to remove our racks themselves. Agreed, great segment. Cheers to WLBT. Notice that their online poll is going to be about this, so go weigh in. (I just looked, and it wasn't up, yet.) And tune in Wednesday for the Kim Wade show. And, of course, watch for the JFP tomorrow. ;-D

Author

ladd

Date

2006-05-16T18:15:13-06:00
ID

170432

Comment

Peeps, the WLBT poll is live; so far, two-thirds are giving The Clarion-Ledger the finger ... so to speak.

Author

ladd

Date

2006-05-16T18:39:58-06:00
ID

170433

Comment

We just heard that the hate-boys are e-mailing everyone they know in North Jackson to tell them to vote on the WLBT site in favor of The Clarion-Ledger charging all the small publications in town to be distributed—whether Jackson Christian Family to the JFP to all the classifieds papers. They are, in effect, trying to stack the ballot box, we hear. I guess that why the voting went from 70 percent against the Ledge scheme to over 50 percent for in an hour. Fine, boys, we know what you're up to: The idea of "free enterprise" only applies to the corporations you adore—and nothing supercedes your hatred of a marketplace of ideas that entertains thoughts that you disagree with. We're onto y'all. LOL. BTW, all, don't miss page 2 of the JFP Wednesday.

Author

ladd

Date

2006-05-16T20:29:01-06:00
ID

170434

Comment

Well, I'm sending my 700 blog readers that way. Surely the people of NE Jackson are not such blooming SHEEP.

Author

tiffitch

Date

2006-05-16T21:02:18-06:00
ID

170435

Comment

Thank you, darlin'. I assure you, the hate-boys don't have 700 readers. They're lucky if they have seven. ;-)

Author

ladd

Date

2006-05-16T21:14:02-06:00
ID

170436

Comment

Just did the poll @ WLBT. What the hell would make 43% of WLBT's viewers think ALL LOCAL INDEPENDENT PAPERS should have to pay the Clarion Ledger? BIZARRE. What is in the water?

Author

kaust

Date

2006-05-16T22:00:38-06:00
ID

170437

Comment

A '79 Cabernet. Cheers, TH

Author

Tom Head

Date

2006-05-16T22:10:22-06:00
ID

170438

Comment

It looks to me like they shut down the poll. Probably caught one of our well-scrubbed friends trying to thump the numbers. Cheers, TH

Author

Tom Head

Date

2006-05-16T22:13:10-06:00
ID

170439

Comment

It's still working for me. Clearly, some folks are piling on. How could anyone, not in the employ the Ledge, answer that question with "yes," while maintaining a straight face!?! Anyone see Modisett's "Sound Off" just now? Weird. Tapdance, anyone?

Author

ladd

Date

2006-05-16T22:32:05-06:00
ID

170440

Comment

Weird to say the least.

Author

Lynette Hanson

Date

2006-05-16T22:39:01-06:00
ID

170441

Comment

Oh, duh. I was looking under the article page. Y'all: The poll is on the main site. If you scroll down past the first page, you'll see it. Re the poll numbers: I think somebody has obviously loaded a script to select "yes," and my suspicion is that it's somebody in N-JAM rather than somebody employed by the Ledge. But it'll be interesting if WLBT looks at the poll data tomorrow, determines that most of the "yes" votes came from a single IP, and reports on that salient fact... Cheers, TH

Author

Tom Head

Date

2006-05-16T22:54:04-06:00
ID

170442

Comment

Up in Vermont, they're worried about Gannett pulling the same stunt. Sigh. Just put out a good newspaper, you goobs. This strategery is incredibly shortsighted. ;-)

Author

ladd

Date

2006-05-16T22:54:39-06:00
ID

170443

Comment

I'm sure it happens all the time, Tom. It's not a scientific poll. The whole point is to get people to the site, which is fine. That's business. ;-)

Author

ladd

Date

2006-05-16T22:55:50-06:00
ID

170444

Comment

No, but it'd be neat for them to say "IP address XX.XXX.XX.XXX, or in plain English, the Blah IP account belonging to so and so attempted to influence the poll by repeatedly voting." Hell, I'd pay money for them to say that. BTW, I did visit the Kroger on I-55 and spoke to the manager on duty Monday night and said I hoped they would not sign the CL's TDN contract. He looked at me like I was from Mars, but if you shop there, go let 'em know its an important issue.

Author

Pilgrim

Date

2006-05-17T09:09:44-06:00
ID

170445

Comment

I am so glad that WLBT did a story on this. Very disturbing approach the CL is taking to gain control and $$$. I have to say that by watching the newsclip on-line...that the bins being promoted by CL did look neater...and anyone who does not get the full impact of this situation might think the CL is doing a good thing....if the perspective is only on appearance. BUT...the idea of CHARGING independents to use this bin...not only charging but REQUIRING THEM TO by contracting with business owners is such a low level thing to do.... I surely hope ignornance about the ramifications of this kind of set up will not propel it into a reality.... My vote was NO at the WLBT poll......and I wondered why it results were so close...than read the above comments..DUH...I should have known! BKS

Author

BKS

Date

2006-05-17T09:30:12-06:00
ID

170446

Comment

"I may not agree with what you say but I'll fight to the death to defend your right to say it." Voltaire Okay, I'm not going to really fight to the death over this issue but I'm willing to tell store owners in advance that I don't want to see them go to any distribution system that hurts any of the independent newspapers. And if they go ahead and put in a C-L rack, I'm willing to tell the store manager that I'm taking my business elsewhere. There's just something about a big business trying to bully the smaller guys that doesn't sit right with me and I'm willing to speak with my wallet if any of the local stores go along with this plan.

Author

FrankEzelle

Date

2006-05-18T11:18:26-06:00
ID

170447

Comment

A similar Goliath scheme in Sioux Falls, their ABC affiliate reports. And thanks, Frank, for standing up for the little guys.

Author

ladd

Date

2006-05-18T12:29:28-06:00
ID

170448

Comment

BTW, WLBT's poll is running 71 percent against the Gannett scheme right now. ;-)

Author

ladd

Date

2006-05-18T12:31:11-06:00
ID

170449

Comment

As of Saturday, May 20, the WLBT poll is running 76 percent against Gannett, 21 percent for, 3 percent undecided. Thanks WLBT, and your viewers, for support local business and free enterprise.

Author

ladd

Date

2006-05-20T09:30:39-06:00
ID

170450

Comment

I'm new to this posting. I think it (TDN) abhorent in it's genesis. However, the big fishes can do whatever they want, unless the little fishes (and their consumers) get together a plan. A plan could consist of the following: consumers complaining to their local stores, writing letters to editors, banding together against TDN, having non-CL papers put together their own boxes, causing some type of "ruckus" (a day of protests). The possibilities are endless. The "frees" and "privates" only need to put their heads together. It would be such fun to see them outwit the CL and Gannett. Sincerely, HDMatthias, MD

Author

HDMatthias, MD

Date

2006-05-20T09:40:17-06:00
ID

170451

Comment

Thanks, Doc. Great ideas. There are things happening, and more on the way. See page 2 of this week's JFP for an open letter to the C-L publisher signed by 10 independent publishers. We also urge readers to get in touch with both the Ledger, the distribution points and businesses any way they feel comfortable to express their discomfort with such "competitive" tactics. The main thing is that the public needs to let the distribution sites know they do not want to see Gannett force small pubs out. Secondly, let the Gannett Corp. know that they support local businesses and local media voices. We have a petition on our front page that people can download. However, feel free to call and e-mail yourself, or however you feel comfortable. Everyone can play a role no matter how small. It *all* matters. If you thank the business where you pick up the JFP or Jackson Christian Family or the others and tell them you want them to keep carrying our papers, then you're helping fight Goliath. Every single time that happens matters. Meantime, I do really think this stunt is shining a light on problems in the local media market. Thank you all for the myriad ways you're voicing supports for the JFP and our brothers and sisters in the local independent media market. One of the best things that is coming out of this is the brotherhood of getting to know the other small publishers -- all hard-working business people in the community with families that can be put out of business by this Gannett Corp. plan. I truly believe the independent media market will be stronger as a result of this ill-conceived idea. Thank you to all you. Jackson is a very special place.

Author

ladd

Date

2006-05-20T10:14:12-06:00
ID

170452

Comment

To put this scrap with the "local" daily newspaper in perspective, here's a transcript of that company's first quarter 2006 earnings report. And to jog everyone's memory about the company: Gannett Co., Inc. is a leading international news and information company that publishes 91 daily newspapers in the USA, including USA TODAY, the nation's largest-selling daily newspaper. The company also owns nearly 1,000 non-daily publications in the USA and USA WEEKEND, a weekly newspaper magazine. Gannett subsidiary Newsquest is the United Kingdom's second largest regional newspaper company. Newsquest publishes more than 300 titles, including 17 daily newspapers, and a network of prize-winning Web sites. Gannett also operates 21 television stations in the United States and is an Internet leader with sites sponsored by its TV stations and newspapers including USATODAY.com, one of the most popular news sites on the Web.

Author

ladd

Date

2006-05-20T11:07:13-06:00
ID

170453

Comment

This is why I have GOT to get the Internet back at my house. I've been missing all the action, and I can't pull up this site on my mobile phone. ;-( I hardly watch WLBT, so I just found out about the news segment and when to the Web site to see the video clip. (Yes, I voted too.) Tood, good job! I printed out a petition too, so I'll get some folks I know to sign it for me. I hope there will be a podcast of the WJNT interview.

Author

L.W.

Date

2006-05-20T16:54:05-06:00
ID

170454

Comment

I plan to podcast the WJNT interview, L.W. I was out of town and haven't heard it yet! They were supposed to record it, though, so I'll try to get it up next week. Thanks! Yes, "Tood" did a wonderful job. ;-D

Author

ladd

Date

2006-05-20T17:38:44-06:00
ID

170455

Comment

OH, NO!!! I'm usually so careful. I think I've gotten used to scrolling through letters on my phone.

Author

L.W.

Date

2006-05-20T18:08:11-06:00
ID

170456

Comment

Here's a story about an almost-identical scheme in Massachusetts a couple years back. It seems that the daily -- the Republican -- backed down due to community pressure. Nice. But, note the similiarities with our Gannett mess! How did business owners and managers come to sign these contracts? For openers, some didn't read them all the way through. "Did I read the contract? No," said Richard Calligan, director of the South Hadley Public Library, who was dismayed when he learned later what was at stake. "They said, if you want a new rack, sign here. "I need my Advocate and my Town Reminder," Calligan insisted. "They're the papers we run out of before any others. I don't want the Republican deciding which newspapers we have here." Calligan said he had no intention of honoring the contract, and since the library is public property, it may have little meaning there anyway. The issue is different for private businesses, but at least one manager we spoke to plans to ignore the agreement. "I'm going to renege [on the contract]," Carol Barrett, manager of the Quality Inn in Northampton, said last Friday. Barrett, whose hotel displays the Springfield Journal, the Reminder and free supplemental editions of the Daily Hampshire Gazette, did read the contract and saw the clause about renting space. But she said the Republican Company told her the free publications were "receptive" to its plan. That claim has no basis in fact. The Advocate asks the managers of local businesses not to sign these contracts, which will eliminate the Advocate from their premises, since the fee is prohibitive for us. We ask our readers who are accustomed to picking up the Advocate at their favorite restaurant, bookstore, shopping mall, convenience store or other dropoff point to urge businesses not to sign them. What's at issue here is not competition. It is an action in restraint of competition that never would have gotten this far if it had been fully and accurately represented to the targeted businesses.

Author

ladd

Date

2006-05-21T17:47:50-06:00
ID

170457

Comment

Well, I have to say that IF they had been honest and forthcoming with those they tried to get to sign on to the plan rather than intentionally misrepresenting their agreements with the Independents, I wouldn't have taken issue with this. As it is however, it seems they blatantly lied to some of those they were trying to sign up and fraud is NOT kosher in my book. They deserve no harbor from the storm that is brewing because of that fraud.

Author

Liberty Dog

Date

2006-05-21T19:40:16-06:00
ID

170458

Comment

Well, I suspect the problem with it, Dog, is that if they came to us all first so they could have a real list to show the businesses, we wouldn't do it. What's in it for us, after all? Nothing. So it would then be hard to go to the businesses and convince them that they are going to make 25 percent of the fees we pay if none of us have signed on. And why are we going to sign on if they can't show us all the contracts for distribution spots that have signed up (provided we would anyway)? The first hint of a rotten plan is when you need to fool the participants to get them to sign on. And Mississippians aren't as stupid as they might think we are up in the home office in Virginia. Doh. It's hard to imagine this helping anyone but Gannett. And with the great job they do on upkeep of their own racks and boxes, where is the evidence that they're going to manage all the free publications well. The other thing is that the box they're selling is an ugly, tacky monstrosity. It's amazing that anyone would want it. And don't forget the part that the JFP doesn't fit in the display window. Thus, we are, uh, being evicted from our distribution spots because we won't agree to pay $8 per box to be in a big-ass plastic thing that we don't fit into. Uh-huh.

Author

ladd

Date

2006-05-21T21:06:19-06:00
ID

170459

Comment

Fight fire with fire. You and other independents should come up with your own box to reduce the clutter. Or you should come up with one yourself and sell it to the retailers. Or provide it for free. Your choice. Design one that will show them off and carry half a dozen publications or so. CL will love that one.

Author

Kingfish

Date

2006-06-04T17:32:32-06:00
ID

170460

Comment

Good to know you're still alive, Jimmy. You're the greatest guitarist to ever live.

Author

Ray Carter

Date

2006-06-05T08:44:20-06:00
More like this story
More stories by this author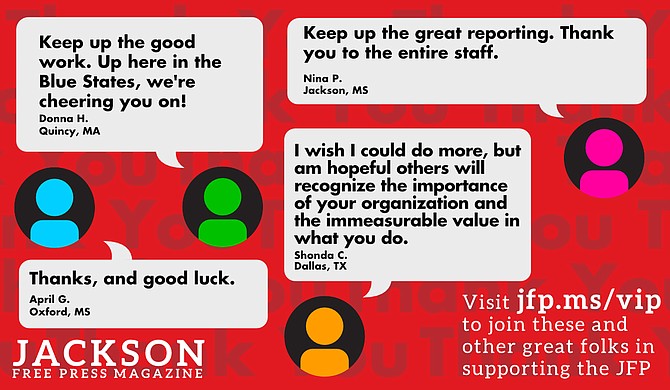 Thanks to all our new JFP VIPs!
COVID-19 has closed down the main sources of the JFP's revenue -- concerts, festivals, fundraisers, restaurants and bars. If everyone reading this article gives $5 or more, we should be able to continue publishing through the crisis. Please pay what you can to keep us reporting and publishing.