July 20, 2005
One question I'm asked frequently about the Jackson Free Press is why we call ourselves "alternative." It's a good question—with an easy answer that I don't even have to think about anymore. We're the alternative to the (tired, old, gray, craggy) daily newspaper.
Of course, the reasons we consider ourselves the alternative to The Clarion-Ledger are a bit more complex. But, ultimately, they're the same reasons that the circulations of weekly papers around the country have shown impressive growth over the past two decades, while the daily newspaper has been on the decline. It's about today's younger adult reader, the constant march of technology and the limitations of the top-down corporate-owned newspaper.
The strengths of the Jackson Free Press—which are also the items that we're constantly working to improve—are in-depth investigative journalism, fact-based reporting on local issues and quality entertainment/culture coverage.
First, we know that our readers can get all the national news they need from online sources, not to mention radio and (God forbid) television. The Web is particularly important in this equation, because the more tech-savvy and plugged in you are, the less you need a dead tree on your doorstep every morning to tell you what happened yesterday. That's why we specialize in in-depth, local features instead of just regurgitating the stuff you read on Yahoo! yesterday afternoon.
Second, we know that the most frustrating thing about what I affectionately call "corporate news" (Donna calls it the "lamestream media"), is that it's all about finding two opposite sides to any story and then reporting both of those sides as if that's the entire picture. Noted Sky Scientist Dr. Bob McObvious says, "The sky is supposed to be blue," but Robert O'Foolery, president of the Society of American Handstanders says, "The sky is supposed to be brown, with patches of green."
There—both sides. Corporate "journalism" at its finest.
What the Jackson Free Press has the freedom to do—and what we strive for—is real journalism at its best. We tell the truth. Does it mean we do our homework, check the record, show up at all the meetings, attend the functions and really spend time with our sources (and source materials) to get the story right? Yup. And we do it with approximately 17,000 fewer tons of dollars than The Clarion-Ledger has. Which is sad—the dwindling resources that are put into investigative stories and narrative features is one of the reasons that younger, educated readers are tuning out from the daily paper.
That and the six-word paragraphs.
Third, the stories we do are written for Jacksonians and folks who are interested in what's going on in Jackson, regardless of where they live in the Metro or beyond. We've got Jackson in our name because we're about the people of the capital city—leadership, entrepreneurs, individuals and neighborhoods. We have the distinction of being the only weekly that's actively distributed in all neighborhoods of the Metro, from Clinton to Brandon, Byram to Madison, and Westland Plaza to Dogwood Festival. (And, yes, Vicksburg, Hattiesburg and college towns when classes are in session.)
And that local focus means supporting local business, too. When we introduced "Think Global, Shop Local" to the local venacular three years ago, we meant you should seek out and patronize locally owned businesses for clothes, gifts, sundries, groceries, dining and gear.
When The Clarion-Ledger says "shop local," they mean check out their Gannett-owned ShopLocal™Web site that displays online reprints of the Office Depot circular online. (I'm not kidding.)
People read us here because they want to know what's going on here—and not just what's already happened in the news, but what is going to happen about town—and what the cover charge is, and whether or not it's a hot band or a good book or a great plate lunch or a fine bottle of wine.
There's a theory behind our focus on culture and entertainment coverage, too: We believe that a community that plays together, works together. The better Jackson is for relaxation and recreation—the more replete is it with "third places" for gathering and community building—the more successful it will be as a town. (And it'll attract growing businesses and youthful professionals.) If we all stay in our own clubs and communities and music genres and neighborhoods, we won't get much of anything figured out in Jackson.
I said three things—but there's a fourth: talent.
A good alternative newsweekly news feature unfolds like a good book or movie script. That's narrative non-fiction, an art form practiced by some of the best journalists (counting quite a few Mississippians among them) in the past decades. It's a tradition that the alternative newsweekly is a large part of, and it's something that our editor, Donna Ladd, has practiced extensively for years. It's also something she continues to teach others to do in her regular writing classes. (For a great example of just that sort of narrative—see this week's cover story starting on page 14.)
And that narrative is backed up by excellent photography, illustration and eye-catching design, all of which works together as a coherent whole to serve the reader.
So, call it a formula if you must—fact-finding, truth-filled, local, entertaining and enlightening writing—with a hefty dose of "what's going on this week" thrown into the mix. But it's a formula that has not only weathered a variety of other interesting attempts at "alternative" that have come and gone (and come again) in the Jackson market, but it's also the formula that's kickin' a little McPaper butt. Well … that and Google News.
Oh … we're also free. So save yourself two bits and turn to the Jackson Free Press every week for real news and culture coverage by really talented local writers. If you like what you see, let them know—no doubt you'll see them out in a local bar or museum or restaurant having a great time.
Previous Comments
ID

171162

Comment

"Thatís why we specialize in in-depth, local features instead of just regurgitating the stuff you read on Yahoo! yesterday afternoon." - Todd It's not regrugitation... It's aggregation. ;-)

Author

kaust

Date

2005-07-20T16:09:57-06:00
ID

171163

Comment

Preach on, Todd... good work.

Author

millhouse

Date

2005-07-20T18:46:51-06:00
ID

171164

Comment

Go 'head now! Nothing wrong with tooting your own horn - you deserve to. Keep it up!

Author

L.W.

Date

2005-07-20T19:33:00-06:00
ID

171165

Comment

Todd: "So save yourself two bits..." And two mouse clicks - the C-L's webpage ain't no better! Way to go!

Author

tortoise

Date

2005-07-21T14:47:56-06:00
ID

171166

Comment

I like a lot of what JFP does, but the non-stop criticism of the C-L is starting to wear on me. The differences in scale between the C-L and JFP is so vast, that it almost seems unfair to make comparisons. C-L is trying to appeal to as wide of a demographic as possible (a little something for everyone, so not done as well), while JFP has a very defined focus. I agree with many of the criticisms of the C-L, but I don't think that their demise will make things better. JFP does have good reporting, but it only comes out once a week and often focuses on hot-button political stuff. This is fine, but I also need the mundane information(news of water bill increases, street closings, obits) that I think a daily is best at providing. I probably like newspapers too much, but the C-L serves as my daily oatmeal, bland but reliable. Then I get the more focused perspectives from JFP, the N'side Sun, and The Advocate. Reasons why I remain a C-L subscriber: - Daily state/local news delivered to my driveway -Some good writers (R Cleveland, G. Pettus, Emily W Pettus, the religion writing) -Marshall Ramsey - insane but entertaining letters to the editor - Orley (so bad, it's good)

Author

ironsides

Date

2005-07-22T09:03:13-06:00
ID

171167

Comment

It's not about their "demise," Iron; it's about holding their feet to the fire to do good journalism. And if they don't start doing it, then the corporate TV outlets here certainly aren't going to. Their pitiful coverage of the city elections, and refusal to do certain stories, is a perfect example of where they must be called out. And The Clarion-Ledger set the agenda on Perception-Gate, which is going to have very far-reaching effects. One very important job of an "alternative" is to shine a spotlight on what the lamestream isn't, or refuses to, cover. We take that job very seriously because it's so important to the community. But it's not our only goal, of course. ;-)

Author

ladd

Date

2005-07-22T09:07:59-06:00
ID

171168

Comment

What the Jackson Free Press has the freedom to doóand what we strive foróis real journalism at its best. We tell the truth. Does it mean we do our homework, check the record, show up at all the meetings, attend the functions and really spend time with our sources (and source materials) to get the story right? Yup. This comment is very debatable. All the C-L bashing is karma. they need to be banished instead of bashed so what JFP is doing is ok by me.

Author

Jocelyn

Date

2005-07-22T09:39:24-06:00
ID

171169

Comment

I could have sworn one of the rules of debate was never spend time on your opponent or his views. In that, all the anti-CL is getting old. I mean, we all know JFP doesn't like the CL. Yay. Could we carry on now?

Author

Ironghost

Date

2005-07-23T11:52:30-06:00
ID

171170

Comment

Iron, we're not in the business of debate, although we promote it. We are in the ALTERNATIVE newspaper business. And a major part of that mission is to promote something called "media literacy"ówhich, in large part, means spotlighting the deficiencies of the corporate media. And are perfectly capable of doing that in direct and indirect ways, even as we present the best cultural and entertainment cover in the city, the most detailed narratives, the most in-depth reporting, and the most positive coverage of the emerging creative renaissance happening here. Fortunately, we find if there is anything that most people around here, regardless of political or cultural beliefs, tend to agree on, it is that we have really bad daily media. The key is to encourage that daily media to do a better and more complete job both by pointing out the weaknesses ourselves, as well as encouraging media consumers to do the same. I spoke to a graduate class the other night about this very thing. It seems that so many people feel powerless against the media. But you're not.

Author

ladd

Date

2005-07-23T11:59:53-06:00
ID

171171

Comment

Now I'm not defending the CL by any stretch, and will easily agree that they're lazy in covering things, unless it's old miss sports. I just get weary of hearing about them here, if that makes sense. :)

Author

Ironghost

Date

2005-07-24T14:11:28-06:00
ID

171172

Comment

I get what you're saying, Iron. No worry. I'm just trying to explain to you why we believe it is important to continue to critique The Clarion-Ledger on the site and in our pages, along with other corporate media. Fortunately, we have a boatload of content that has nothing to do with the Ledge, so you'll be able to always find something you dig, too. ;-)

Author

ladd

Date

2005-07-24T14:16:15-06:00
ID

171173

Comment

I have to tell y'all. I was just looking at a story on the Ledge site, and a big banner ad was flashing on the right from Kraft (as in the mega-food-corp.), about "Great Food Ideas from Kraft on ShopLocal.com"óthe Ledge's bizarrely named attempt to promote retail conglomerates that have outlets in the area. It's not local just because you call it local. Argh.

Author

ladd

Date

2005-08-08T16:24:41-06:00
ID

171174

Comment

Well one can only aspire to justify such flattery as being referred to as the most "negavite peice of journalistic mediocraty" in print in the metro area. Hooked on phonics worked for me!

Author

grinder

Date

2005-09-12T16:37:34-06:00
ID

171175

Comment

You actually make a wonderful point, Prof. ;-) It reminds me of the time a couple years back when an Ole Miss student wrote us a letter ripping us a new one for being so awful. It was so riddled with errors and bad grammar that I wanted to run it exactly as it was, but I didn't. Some things speak for themselves, I suppose. My favorite part is that the JFP-haters seem to think that just because they declare something about us, everyone believes it's true. They tickle the holy crap out of me with this stuff. Uh, want to hurt us? Ignore us, you goobs. But you can't, can you? ;-D To others, we suddenly had an infestation of baby troll(s) who shared the same IP address (and brains, apparently). See our trollblog to keep up with their tantrums; moving there now. We also like to call it "the daycare center."

Author

ladd

Date

2005-09-12T16:47:15-06:00
More like this story
More stories by this author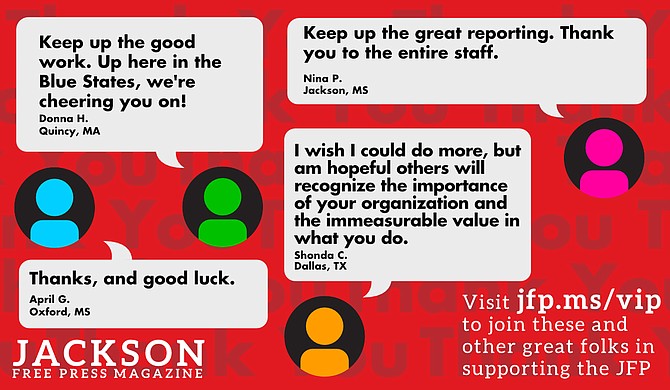 Thanks to all our new JFP VIPs!
COVID-19 has closed down the main sources of the JFP's revenue -- concerts, festivals, fundraisers, restaurants and bars. If everyone reading this article gives $5 or more, we should be able to continue publishing through the crisis. Please pay what you can to keep us reporting and publishing.