July 5, 2006
Get up to speed on The Clarion-Ledger's scheme here. Or, see Darren Schwindaman's TDN cartoon primer.
Editor & Publisher magazine—a national industry bible for journalists, newspapers and news magazines—has a story in its current issue about the free distribution schemes that Gannett Corp. newspapers are implementing around the country. The story focused in large part on TDN ("The Distribution Network") in Jackson, Miss., spearheaded by the Clarion-Ledger.
The Clarion-Ledger's current publisher, John Newhouse, must not be very proud of the TDN scheme—he won't talk about it. He seems to have submitted to E&P the same statement that he sent to the Mississippi Business Journal, which he'd previously released after he got a slew of calls about TDN.
But a Gannett Corp. spokeswoman did speak to the magazine—and made it clear that TDN decisions are being made locally, right here in Jackson.
A few months ago, Clarion-Ledger distribution staff began going around to local businesses offering them a nine-slot outdoor box. The idea of the box, they said, was to clean up the "clutter" of free-distribution papers they had in the front of their stores. All the merchant had to do was sign the TDN contract, and the box would show up on their stoop. Many even got a list of the names of "accepted" publications that included the JFP.
The contract gives the Clarion-Ledger exclusive control over the display and distribution of free publications. Armed with these contracts, the C-L then came to local publishers and gave us the bad news—to continue to distribute in those signed locations, we would have to pay the C-L; over the course of a year, the cost could reach into the tens of thousands of dollars for each of us.
In my opinion, the plan is not designed primarily to clean up storefronts—it's designed to use The C-L's vast resources to control the means of distribution of its competitors. The C-L has observed that free distribution (along with "forced circulation" whereby they throw Litter-Ledgers in your yard) is one of its few remaining avenues for growth.
I've railed often in these pages about The C-L's clear lack of commitment to the ideals of community journalism, which can be defined as a newspaper that offers give-and-take with its readership, taking very seriously the responsibility that its own coverage of events has in shaping them.
A community-driven newspaper puts as many resources into investigative journalism as it can afford—and then a few more. It looks for—and prints—solutions to problems. It speaks truth to power. It doesn't "balance" truth with fiction. It does all those things that we fondly remember about the firebrand publishers of yore, our heroes such as Hodding Carter Jr. and Hazel Brannon Smith.
The Clarion-Ledger doesn't work that way. My experience with the C-L is that its management will do whatever will lead to more profits for its corporate parent—and then—perhaps—bother to come up with excuses for public consumption.
It's the corporate mindset in all its glory. After all, how can Mr. Newhouse—who has been in town less than a year—be expected to bring himself to answer a reporter's phone call and honestly explain how the community benefits from his TDN plan when, in fact, the plan is about improving The Clarion-Ledger's profitability by limiting choices?
He can't, so he doesn't. He just sends out his statement again.
Well, if the C-L can't pull off the community thing, it's up to the rest of us—publishers and readers. In forming the Mississippi Independent Publisher's Alliance (MIPA), we've learned that community-oriented publishers still exist—and they work hard. We fill important niches for both commerce and information—niches and cracks the C-L is too big to squeeze into.
The most telling experience I've had has been in talking to locally managed businesses who were convinced to sign a TDN contract. I've learned that a number of our MIPA publications are in high demand, and these managers know it (one told me, ironically, she signed the TDN contract so she could get the JFP). In convenience and grocery stores around the Metro, these managers are asked many times a day about our publications—The American Classifieds, The Apartment Guide, Metro Christian Living, the real estate guides and, yes, even the Jackson Free Press.
Those discussions have helped MIPA to formulate its mission—something for which we actually have The Clarion-Ledger to thank. What MIPA represents are the free publications that community members in the Jackson Metro overwhelmingly want to read.
The Clarion-Ledger, on the other hand, has a box, an exclusive contract and an image problem.
I call on The Clarion-Ledger to make a change as their TDN plan goes forward—do what's right for the community. Please continue to distribute all your new, free publications in a single, well-organized box. And please make the open slots in that box available to small, local publications that lack the infrastructure to distribute themselves—for a fair fee, if you like.
Just drop the word "exclusive" from the contract with the retailer. Don't use legalese to limit the merchant's choices to allow us to distribute, too. Show a willingness to co-exist just as the rest of us do.
Until The C-L brings itself around, however, know that MIPA is on the streets, improving distribution relationships and forging new ones, offering choices to meet the needs of local businesses—not just one take-it-or-leave-it option. And here at the JFP, we've just bought a new round of 50 high-capacity racks that will be deployed like little storm troopers around the Metro, giving you that many more options for picking up the newspaper. Call me at the JFP if you would like to distribute the JFP or other MIPA publications.
And a note: The Gannett Corp. spokeswoman also confirmed to Editor & Publisher that The Clarion-Ledger is letting businesses out of contracts here in Jackson. Your grass-roots efforts to talk to retailers and request media choices are paying off. Thanks for your support and encouragement!
Previous Comments
ID

170854

Comment

And a note: The Gannett Corp. spokeswoman also confirmed to Editor & Publisher that The Clarion-Ledger is letting businesses out of contracts here in Jackson. Yay!!! Go team! I am excited for the JFP and other locals. Good deal. Let's keep it up!

Author

Izzy

Date

2006-07-07T12:22:13-06:00
ID

170855

Comment

Yes, good news comes in every day on this front. I can't tell y'all enough how much difference you're all making. Every time you mention this to a business owner, it matters. *They* are telling us that. They want to offer services that their customers want. Thank you, thank you, thank you.

Author

ladd

Date

2006-07-07T12:29:32-06:00
ID

170856

Comment

Update: It seems that in their quest to "clean up the clutter" of free publications in Jackson, The Clarion-Ledger is now adding back their bright-orange Make & Model boxes to spots that already have the big-a$$ green box -- even though it has all those open spaces where non-Gannett publications have refused to be warehoused. Intriguing way to clean up clutter. I wonder how this fits with Mr. Newhouse's released statement?

Author

ladd

Date

2006-07-10T12:09:14-06:00
ID

170857

Comment

I'm so glad you guys are making progress!

Author

L.W.

Date

2006-07-12T20:13:17-06:00
More like this story
More stories by this author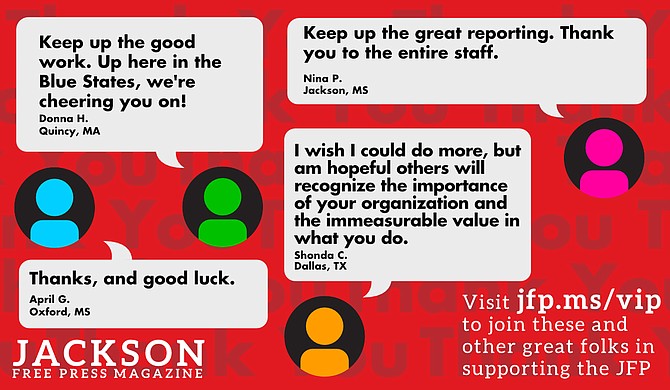 Thanks to all our new JFP VIPs!
COVID-19 has closed down the main sources of the JFP's revenue -- concerts, festivals, fundraisers, restaurants and bars. If everyone reading this article gives $5 or more, we should be able to continue publishing through the crisis. Please pay what you can to keep us reporting and publishing.