A state union organizer is seeming to do an about-face when it comes to support of city employees.
More than a month ago, Mississippi Alliance of State Employees President Brenda Scott announced to members of Mississippi AFL-CIO, Communications Workers of America and numerous other unions that organizers had managed to collect union interest cards from more than 50 percent of Jackson's city workers. On Jan. 17, Scott took the news to council members, explaining that the union is looking to cover full-time city employees not in management positions.
"I'm pleased to announce to you tonight that based on the list provided to MASE-CWA by the city's Human Resource Department that 50 percent plus one of the employees eligible for union representation have expressed their desire to have the Mississippi Alliance for State Employees and CWA be their exclusive bargaining agent by signing a representation authorization card," Scott told the council members.
The majority of council members reacted well to the news.
Council President Marshand Crisler said he supported unions and would stand behind city worker's efforts to unionize. As council president, Crisler was the first council member to be given a document requesting a signature of support.
"You will have 140 percent of my support," Crisler told a council chamber stocked with about 100 union members wearing purple CWA t-shirts. "Make sure the record reflects that I am a union man, and I want everyone to know that I was the first one to sign that document."
Though Mayor Frank Melton was not present at that part of the council meeting, Scott told council members that the union had Melton's full support.
Ward 1 Councilman Ben Allen, while not overtly opposed, expressed bewilderment that he did not see the unionization attempt coming, complaining that Crisler and others had received better notification.
"I didn't know anything about this," he said to Scott. "You called me about four or five months ago, said you were getting some people together. I said 'fine, I'll be happy to meet with you, but how's it going to help the taxpayers of the city of Jackson? Can you tell me what you're going to do?' And I haven't heard from you since. You haven't invited me to the picnic. Now I walk in here with a document that I'm supposed to sign?" Allen asked, pointing out that unresearched signatures from the council could cause trouble.
"My point is I need to know more about it. Who's organizing this? Who can strike? Who can't strike? I have no clue what's going on here."
Crisler called Allen's concerns "admirable."
"He just needs to make sure he's got all the information, but I applaud you," Crisler assured Scott.
Ward 2 Councilman Leslie McLemore said the unionization effort came at a good time, considering Mayor Frank Melton's mass firings in the city's Department of Planning and Development last month and his dismantling of the 10-member Crime Prevention unit last October.
"Now more than ever we need our city workers to have a voice, because right now they don't seem to have one," McLemore told the council.
McLemore's confidence might be misplaced, however. Scott—an avid supporter of the mayor during his campaign—made no outcry during either of the department sackings. Her reaction to the dozens of people fired from Planning and Development was curiously indifferent last December.
"It's bad that you have to hit one department, but where were they (Planning and Development employees) when the Crime Prevention people were let go? Or a couple of people in the detention center were let go? See, everybody wants to sit back and wait until it comes to their door, but oftentimes, that's too late to do anything about it by then," Scott said, neglecting to mention that she herself made no protest when the Crime Prevention unit got nailed weeks earlier.
In fact, when asked about the unit's elimination, Scott argued that the fired city workers had been treated better than state employees working at Parchman penitentiary.
"(Parchman employees) were terminated and given their paycheck and pink slip the same day, and they were escorted off the grounds. You weigh those two situations, and I think the Crime Prevention unit fared better," said Scott, adding in the same interview that Melton was probably firing people to correct budget shortfalls.
"I'm sure the other administration left the financial situation in shambles, so I think the mayor and his administration is doing a pretty good job straightening it out," she said.
Scott and other union supporters like Rep. Jim Evans, D-Jackson, husband to city attorney Sarah O'Reilly-Evans, drifted to Melton's camp, claiming unions did not fair well under the Johnson administration.
Scott said Johnson had not honored union commitments made during his two campaign runs.
"It doesn't take me four years to get educated, OK? So now I don't even bother with the mayor," Scott said of Johnson last year.
Evans, a champion of unions, also said Johnson had shrugged off a campaign commitment to AFL-CIO division, The Central Mississippi Building Trades Council.
"Most of the Building Trade was upset because the mayor had signed a project labor agreement with labor four years ago, and there hasn't been one man-hour put into it since then," Evans said during Johnson's 2005 campaign. "Both of those organizations endorsed him unanimously (in his first campaign), but listening to what the members said, the Johnson administration has since been non-responsive and arrogant."
Melton has since worked to orchestrate a new city deal with the Central Mississippi Building Trades Council, which wants to train troubled youths in building skills at union's facility in Pearl.
David Newell, president of the Central Labor Council, is working as a liaison between the city and the national AFL-CIO in that endeavor. Newell could not be reached for comment.
Previous Comments
ID

65120

Comment

The Johnson administration did sigh a collective bargaining agreement with the fire department. Melton agreed to sigh one with the police. what has happened to that? Is the city in negotiations with the police union now? The rest of the employees need to get with Tony Davis he can help them get a contract with the city.

Author

jada

Date

2006-01-25T19:32:10-06:00
ID

65121

Comment

Adam you are a good investigative reporter go ask questions about this Union thing. You might find some very interesting answers. Check with the former mayor and see what he has to say about the union efforts.

Author

jada

Date

2006-01-25T19:37:37-06:00
ID

65122

Comment

"I'm sure the other administration left the financial situation in shambles, so I think the mayor and his administration is doing a pretty good job straightening it out," she said. How in the heck would she know? That is the most biased uninformed statement I've ever heard as of late. Who died and made her Peyton? What a Melton homer. I can't believe Marshand let that statement pass as it looks bad on the City Council since they are the ones who approve the budgets.

Author

pikersam

Date

2006-01-27T15:51:41-06:00
ID

65123

Comment

Yeah, that statement pretty much proves to me that Ms. Scott seems more interested in mayoral politics than workers. If she doesn't like that characterization, she needs to prove otherwise. Especially being that it is a patently false statement.

Author

DonnaLadd

Date

2006-01-27T15:55:30-06:00
ID

65124

Comment

"I'm sure the other administration left the financial situation in shambles, so I think the mayor and his administration is doing a pretty good job straightening it out," she said. Thanks Donna, for pointing out that the above is a "patently false statement". Every Administration in the State of Mississippi, not just Jackson, is required by State Law to turn over at least 1/2 of the Budget to the new Administration. This definitely occurred when the Johnson Administration turned over the City of Jackson's coffers to the Melton Administration. These constant 'blame the former Administration' attacks are wearing thin to me. The Budget, Accounts, Crime Statistics, etc. should be open to the Public through its Press. The Press is an intricate part of our 'checks and balances' in my opinion. A bad (overly biased) or lazy press contributes to the problems and not to the citizens' ability to correct same. This union organizer has some frighten ideas about our City and we need to watch very closely every move her group is making. The only way we can observe their behavior is through an open and diligent press. Jackson is reaping what has been missing in our community (with the exception of the JFP).

Author

ChrisCavanaugh

Date

2006-01-29T07:21:30-06:00
More stories by this author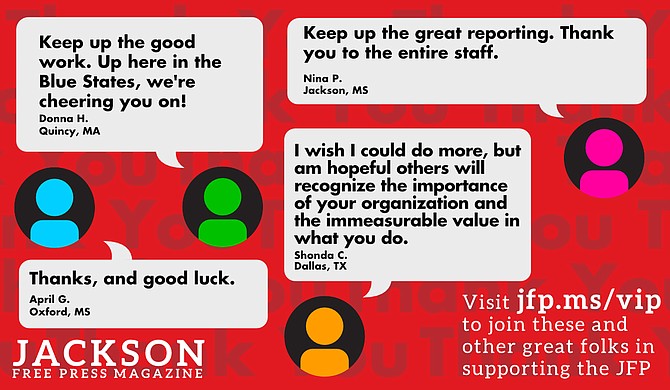 Thanks to all our new JFP VIPs!
COVID-19 has closed down the main sources of the JFP's revenue -- concerts, festivals, fundraisers, restaurants and bars. If everyone reading this article gives $5 or more, we should be able to continue publishing through the crisis. Please pay what you can to keep us reporting and publishing.