They were in response to the follow up article regarding LaLee. The woman in the Delta who was the focus of the documentary the 'Legacy of Cotton'.
This is one of them. I'm posting the whole letter because I think we all should read it.
As we have all heard, "A picture is better than a thousand words." Such was the case with the Feb. 12 article ("Poverty: No bright side in Wallace's life").
No bright side? Laura Lee "Lalee" Wallace had a stroke and is still alive to pursue her remaining years. Isn't that a bright side?
The squalor around her trailer perimeter begs for her attention. How about her buying a can of bug spray for the roach infestation in her refrigerator?
We waste our time and money trying to help people who won't exert some effort to help themselves.
Government handouts are not the answer to poverty. We need fewer programs and less government. If people won't accept responsibility, then it must be forced upon them.
Tough love, remember?
As West Tallahatchie Principal Iva Houston put it bluntly, "Basically, books go into the lockers, and they (students) pick them up in the morning."
The parents don't place much value on education. The school district receives twice the state coverage in federal funding, while the school's PTA chapter is inactive.
Isn't that enlightening enough as to one of the main problems creating poverty in the area? Stupidity reigns, along with drugs, promiscuity and laziness.
Bob Malone
Jackson
Here is the other one which is more horrendous, although shorter.
"Poverty: No bright side in Lalee's life" your Feb. 12 headline said.
Front page, yet. That is news?
Just how do you figure the garbage and filth got in the front yard?
My grandmother never lived in a home of her own that had running water, and would have made Lalee look rich. But she would have died of shame to have had garbage in her yard.
Lalee might just find her dignity somewhere out there under one of those piles of trash.
I'll bet she threw it out with the KFC bucket.
George Edward Wilkerson
Brandon
The KFC Bucket?
THE KFC BUCKET?
I want to be really flip and sarcastic and funny about the two of these guys. But, I can't.
I'm horrified.
I'm guessing they didn't get the whole "Legacy of Cotton" idea. The entire point the story was trying to make regarding the creation of "cultures". Cultures are dynamic and over time morph into other forms dependent upon the political and economic climate of this state. There is no truly independent "culture". There is nothing that is happening in the Delta of this state that isn't the fault of the entirety of its culture, its history, and its citizens.
That being said, Mr. Wilkerson, how about you go help her pick up that KFC bucket? Seems to me that your predictive response to blaming Ms. Lalee hasn't worked in the past 100 years, so I was wondering if maybe you thought we should do something different?
I'm assuming that thought never crossed your tiny little mind.
Sorry for the piss and vinegar folks , I only have one thing left to say and I've said it twice already... a KFC Bucket???
I'm assuming he was going for a "joke" here. Well, I'm the QUEEN of the written humor in these here parts (If you'll excuse me for saying so)...and that joke wasn't funny.
The last time a KFC bucket was funny to me was when a US Weekly story said Britney's husband was leaving her, she was depressed, and KFC Buckets were littering her Beverly Hill's mansion.
Now, that's funny.
He isn't being funny. He is being a small-minded, hateful man.
Before these letters were printed, Stringfellow wrote a column about addressing the problems in the MS Delta. Basically the lack of employment, the undereducation of the population.
Its a difficult area. I should know. I was raised there. I was also the step-daughter of a cotton farmer for most of my formative years. I know cotton. I know cotton farms and I know the families that work cotton farms.
They've usually been working them for years. By its very nature agricultural work is transient and seasonal. Families work for part of the year, and try to stretch that for the rest of the year. This is if they don't file for seasonal unemployment benefits due to "lack of work" in the off season.
All in all, there aren't going to be any easy answers to the problem.
What I wanted to know is...if these letters are truly taking the "temperature" of the citizens of this state with regard to The Delta and if they are...how do you think the current temperature is going to help the uphill battle we have in that region?
Previous Comments
ID

104953

Comment

Both of those men can kiss my white a$$. I'd hate to be them, or their young'uns. The Clarion-Ledger truly attracts tripe, doesn't it? Shudder. Yeah, and you know what fried-chicken and "chicken-picker" jokes are sure signs of. Thank God those people are becoming relics for some Museum of Dumbasses.

Author

DonnaLadd

Date

2006-02-21T13:52:39-06:00
ID

104954

Comment

Ladd- I just thought maybe people wouldn't be so blatantly hateful and racist, then PLACE THEIR NAME ON IT and have it sent to a vasy majority of the homes in MS. But, there I go "thinkin'" again.

Author

Lori G

Date

2006-02-21T13:57:25-06:00
ID

104955

Comment

Well, to be honest with you, I prefer people who are honest about who they are. Reminds me of Dr. Ley, who signs his real name to all his screeds. The sad part, though, is that I bet you to a person, these guys would not think they are saying anything hateful or racism — even the pathetic fools who make chicken jokes in public. Hell, members of the Citizen's Council, the KKK and even slave owners -- and now the Council of Conservative Citizens that Repubs pander to -- thought they were doing everybody, including blacks, a service with their separate system that kept everyone in their rightful places. But, I tell you this, don't put this bullsh!t in front of my face, or in the daily newspaper, and then tell me with a friggin' straight face that all "that stuff is behind us." We've got work to do, people, and it ain't over until it's REALLY OVER. Settle in for the long haul.

Author

DonnaLadd

Date

2006-02-21T14:01:03-06:00
ID

104956

Comment

I saw a little of the documentary and hated I didn't see all of it. Like lots of people Bob and George wanted to see pretty and clean poverty. But I can tell you that lots of rich and middle class homes wouldn't be cleaned either if poor folks didn't do it. I bet Bob and George would further like to see happy and satisfied poverty-stricken people just as Slaves used to pretend to be. Had Lalee cleaned up the garbage and sprayed for roaches, Bob and George would have then said if she can pick up garbage and spray for bugs why can't she fix up the house? Had she fixed the house, too, they would have said since she has carpenter's skills why ain't she working somewhere doing carpentry work? Had she done the carpentry work and remained poor just as people do who work on the line at McDonald, the "good ole boys" would have likely said she should have gotten a good education despite her childhood situation. Good Ole Boys, whether young or old, educated or not, will always be themselves. You ought to see them nutting up when misfortune befalls them.

Author

Ray Carter

Date

2006-02-21T15:16:25-06:00
ID

104957

Comment

Wasn't Bob Malone the guy who wrote an article a while back complaining about "garish" house paint and cars up on bricks, and calling on the FBI to go after the ACLU? What a maroon. I'm frankly troubled that the C-L publishes so damned many of these letters. Cheers, TH

Author

Tom Head

Date

2006-02-21T15:30:01-06:00
ID

104958

Comment

BTW- Good posts, all. Especially yours, Ray. Yeah, I'd like to see any of these boys babble on about how they "picked themselves up by their bootstraps" if they were in a situation like Lalee's. They say that the first sign of civilization is a healed leg, because people with broken legs can't take care of themselves and that means somebody was there to help. The law of the jungle, of the selfish gene, was overturned. Folks like Bob and George are, I think, fresh off the trees. They haven't evolved a whole hell of a lot. They're still basically living off their primal impulses. I broke my ankle a couple of years ago. Had to be in a cast for eight weeks. Other people had to make dinner for me, bring me stuff to drink, and so on. Maybe I should have refused the "hand-outs," but I would have gotten mighty hungry. Cheers, TH

Author

Tom Head

Date

2006-02-21T15:34:24-06:00
ID

104959

Comment

You ought to see them nutting up when misfortune befalls them. I have. And they tend to be the loudest whiners -- usually about "personal responsibility" for everyone but their mighty, infalliable, privileged selves. Icky.

Author

DonnaLadd

Date

2006-02-21T15:40:22-06:00
ID

104960

Comment

Amen Ali!!!!

Author

Heather

Date

2006-02-21T16:01:36-06:00
ID

104961

Comment

I think the letters do reflect the temperture of the average citizen in Mississippi. I lived in Greenvile for 2 years upon returning to Mississippi. I was struck to see so many maids wearing those disgraceful uniforms and acting so inferior to whites. I was likewise struck by seeing so many families still working the farms and living in deplorable houses. As I would drive by the fileds and houses I often asked myself what would happen if I went out in the fields or houses and tried to talk the people into leaving. Since I had nothing to offer instead I drove right on by. I used to think that all people who lived in the Delta had more compassion for the poor since they have seen so much of it. I was wrong. I had a hard time finding place to live in Greenville as I wasn't about to be told I couldn't live anywhere I wanted to. Eventually, I foud a house for rent on Arnold Avenue near a very large white church. I lived there for about a year and had Bennie Thompson signs everywhere when he initially ran for Congress. Obviously, I was the only person on the street who had those signs instead of Hayes Dent. My immediate neighbors treated me well but miraculously knew where I worked and what I did without my telling them. One monring I woke up and saw a german-styled symbol burned in my yard but nothing more ever happened to me or us. I wasn't scared at all. To improve the Delta, all of the legislators from that region, are going to have to build a strong block and force something to happen. I don't see how there is any room for further division up there among anybody. Strangely, I enjoyed watching the crops grow and seeing it harvested by machines; not humans on their feet.

Author

Ray Carter

Date

2006-02-21T16:30:27-06:00
ID

104962

Comment

Ah, Ray. Greenville. My illustrious home town. I try NOT to return as much as possible. ;) I grew up staring at poverty. I somehow ended up on the "compassion" end of the spectrum. I'm not really sure how. Maybe an intense belief in the saying "There but for the grace of God go I." (someone mark it down, Ali used the word "God" and meant it)

Author

Lori G

Date

2006-02-21T16:37:08-06:00
ID

104963

Comment

In addition to the role the legislators from the Delta must play, the members of the Delta Council, will have to start looking beyond race when negotiating and making deals to bring business to the area. I once was able to go to one of their meetings as a result of knowing some people who knew Mike Espy who was speaking to the group. Mike was quite unoffensive to them with his speech. I think Mike, Owen, the senator, and I, were the only blacks present. No surprise here. A year later, a new Sheriff was in town, and his name was Bennie Thompson. I didn't get to go to Bennie's first meeting with them, but my boss (the senator) told me that Bennie looked the members straight in their eyes and told them, a new day has arisen, everybody will be considered now, not just them. And the boss told me further that Bennie didn't blink an eye. The senator left there saying he had a new hero. Ali, despite what happened to me, I have no hatred of Greenville. I go there often.

Author

Ray Carter

Date

2006-02-21T17:03:37-06:00
ID

104964

Comment

Ali, I forgot to add, and I often tell women this, there is this one other occasion that non-believing persons, especially females, invoke the name of God and with an exclamation mark. You're smart and will clearly get it. Hopefully, Donna won't ban me from he blog for thinking out loud. SMILE.

Author

Ray Carter

Date

2006-02-21T17:33:08-06:00
ID

104965

Comment

Ray- I have to slap your hand now. *WHACK* All is forgiven. ;)

Author

Lori G

Date

2006-02-21T17:38:42-06:00
ID

104966

Comment

Ali & Ray, I'd like to not thank you two for bringing up The Delta, as I really have to exercise heroic self-discipline so as not to rant about all the horrid things I can say about it (I grew up in the Delta too, albeit the La. side - not far from Greenville, in fact). Suffice to say that even if you are white and not poor, it's a TERRIBLE training ground for reality, especially for intellectually-inclined young people. It is isloated, sheltered, and extremely monolithic where whites alone are concerned. Not to mention that it is the source of almost all my pet peeves on cultural issues I habitually bring up on this board. Like you, Ali, I don't go back there any more than I absolutely have to. Obviously I could go on posting posts the length Knol does when he's in a huff about something :-P. So for the sake of good graces, I'll have to TRY to limit my posts on this thread (not that I can guarantee success, but I'll sure as hell try).

Author

Philip

Date

2006-02-22T08:23:56-06:00
ID

104967

Comment

Philip, I would love to know in greater detail and specifics what you found wrong with the Delta and race relations other than the obvious as you grew up there. My wife is from Shelby, also the Delta. Her father was a farmer, one of few blacks farmers who survived the demise of the black farmer. I realize all farmers were hit hard. I would also love to know how you think the problems of poverty, under-development, lack of good jobs, et al, can be fixed. The plight or situation of the Delta is a great mystery to many. Take away the Blues what else can we brag about? I have to be in court and visiting clients most of the day but would certainly welcome all comments. I' not trying to change Ali's query.

Author

Ray Carter

Date

2006-02-22T09:32:23-06:00
ID

104968

Comment

Ali & Philip, One thing I've noticed about the delta is that very few young, educated people seem to return to put that education to use. Most either had bad experiences when they were here or see no opportunities awaiting them back home. But these are just the type of people we need. Kind of a catch-22 So the delta is left with the uneducated, most of whom have been beaten down to the point where their only ambition is to make it home at the end of the day and relax before heading back to their minimum wage job. And, Ray, you asked a big question. What can we do to make a difference in the lack of jobs, poverty, etc? I think you have to look to guys like Bennie Thompson to get answers. We need men and women in office that can bring in jobs and money for education. I think Thompson tried his best but the delta is in worse shape today than it was when he was elected (not all his fault, of course.) A change in leadership couldn't hurt. My money is on Chuck Espy. Of course, changing your leaders can only take you so far. Ultimately, people on both sides of the fence have to be willing to make the effort to change.

Author

graham

Date

2006-02-23T00:49:22-06:00
ID

104969

Comment

Bob and George, Was not created by god, those two was put on earth by satin, to do his will. Don't let evil soul like Bob and George, get you mad. That what they want you to do. Because they know that their world of hate is fading away. people like you and more like you are what this world need. And satin know his time is short. So he uses soul like Bob and George. To do his work. The best thing to do, for Bob and George is to pray for mercy on their soul. And you all keep living, and doing god will.

Author

whywhy

Date

2006-03-10T10:53:24-06:00
More like this story
More stories by this author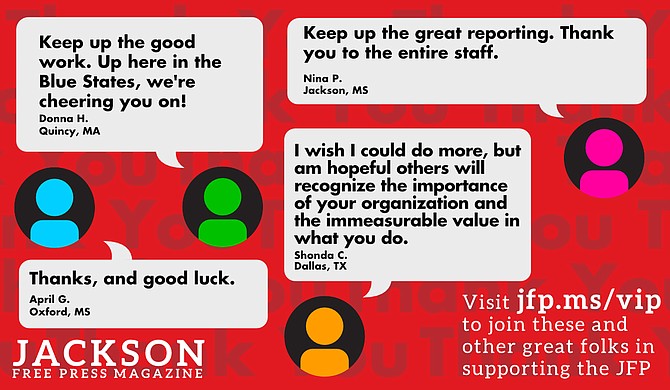 Thanks to all our new JFP VIPs!
COVID-19 has closed down the main sources of the JFP's revenue -- concerts, festivals, fundraisers, restaurants and bars. If everyone reading this article gives $5 or more, we should be able to continue publishing through the crisis. Please pay what you can to keep us reporting and publishing.