Jackson Mayor Frank Melton is suing The Clarion-Ledger for breach of contract, a story the Jackson Free Press broke on its Web site on April 18. Melton was head of the Mississippi Bureau of Narcotics for less than four months when he leaked a memo composed by then-MBN agent Roy Sandifer (now JPD assistant police chief) to The Clarion-Ledger's Washington correspondent Ana Radelat in 2003. Now, Melton is suing the paper because it ran his leaked memo without corroborating the accusations in it. The memo alleged that MBN agents were illegally transferring MBN-seized weapons and an airplane.
The confidential source in the memo, MBN agent Warren Buchanan, has since denied under oath that he made any of the accusations in the Sandifer memo against Robert Earl Pierce. State Auditor Phil Bryant debunked the memo in March 2005. Four months later, MBN agents Robert Earl Pierce and Jimmy Saxton sued Melton for defamation in a lawsuit filed in Lauderdale County Circuit Court.
In late 2005, Lauderdale County Circuit Court Judge Robert Bailey found for the plaintiffs, explaining that Melton had repeatedly lied in depositions when he had claimed that he was not the source of the memo.
In early October, Bailey will consider how much Melton must pay in damages. In the meantime, Melton is suing the parent company of The Clarion-Ledger for breach of contract.
In his suit, Melton claims the newspaper had an obligation to corroborate facts presented in the memo. "The Defendants had an independent duty and obligation to follow standard journalism practices and principles … to properly substantiate allegations prior to publication," the suit says, alleging that the defendants were "negligent and violated these standard journalism practices and principles." Furthermore, the suit claims that The Clarion-Ledger article did not "accurately and fairly reflect the substance of the information contained in the memo."
The suit against The Clarion-Ledger may be the last hope Melton has of recouping financial losses that could cost the millionaire dearly. Bailey struck down an attempt by Melton's attorneys late last year to claim that the state was responsible for Melton's actions as a state employee. Then the Mississippi Supreme Court threw out an attempt by Melton to reconsider Bailey's August 2005 motion against Melton, which he argued had deprived him of an adequate defense. Even Melton's insurance company is suing Melton to avoid any liability, arguing that they should not be have to cover Melton's losses through his two $300,000 policies and one $1 million policy because he lied in depositions.
Radelat's attorney, John Sneed, argued that Melton's complaint has no merit. "The newspaper has always taken the accurate position that it is entitled to publish the contents of an official document, such as the so-called Sandifer memo, without independently verifying all of the facts in the memo. That is black letter newspaper media law. It is exactly the same thing as (the Jackson Free Press) writing the story about Melton's complaint filed against The Clarion-Ledger," Sneed said. "As long as your story fairly and accurately summarizes the complaint filed in circuit court, then you don't have to independently verify that what Melton says in that document is accurate."
If Melton's suit proves successful, it could cause trepidation among the media, threatening a new precedent forcing them to corroborate information sent out by government agencies like the city of Jackson or the MBN.
Sneed describes Radelat as an employee of Gannett Satellite Information Network Inc., a subsidiary Gannett Company. Radelat also does writing for Gannett News Service, which is a newswire service similar to the Associated Press. If Melton's suit is successful, Sneed says it could also complicate the flow of news from wire agencies like the AP to smaller, local papers who re-publish wire stories.
Pierce filed a similar suit against The Clarion-Ledger, seeking $35 million in compensatory and punitive damages. Pierce's initial suit claimed the memo Melton leaked contained "unsworn, unconfirmed, unsubstantiated allegations of alleged wrongdoing," and that the paper printed a "false story that defamed the plaintiff's reputation." An amended suit goes further, claiming that if Radelat did have an oral contract with Melton to corroborate the memo, then Pierce was a third-party beneficiary—even though he wasn't aware of the contract.
Federal Judge Tom Lee has not yet ruled on Pierce's claim. Attorneys for The Clarion-Ledger have filed a motion to dismiss the suit.
Mississippi College School of Law Professor Matt Steffey said if Melton were going to make his breach-of-contract case, he would first have to convince the court that the contract exists between himself and Radelat. Even then, however, it would be an uphill battle.
"First he would have to establish that this agreement between himself and this reporter existed, but then he would have to establish that The Clarion-Ledger or Gannett ratified the contract, because a reporter can't just make deals on the behalf of the newspaper like that. Then you would have to tell a judge why the First Amendment rules are different in contract rather than tort, and then he would have to show how his reputation was actually damaged. It's a big hill he's going to have to climb, in my opinion," Steffey said.
Previous Comments
ID

65953

Comment

Looks like Melton is trying to get some help from the CL to pay his part of the settlement of the lawsuit that he lost. You have to give it to him though, he is going for the throats of the big boys (CL) to get some financial assistance. I wonder if he even though about the fact that the reason he lost in court was not because of the content of the memo, but the fact that he repeatedly lied under oath.

Author

lance

Date

2006-04-26T16:18:16-06:00
ID

65954

Comment

The problem he has is proving that he had a "contract" with Radelat -- and, as the article says, that she had the authority to make one with him. I think this is frivolous. My biggest problem with The Clarion-Ledger's role in all of this has been, and continues to be, that top editors there knew that Melton had lied under oath about providing a memo to hurt the careers of law-enforcement officers throughout the mayoral campaign, and (a) did not tell the public about it, and (b) did not seem to take that into consideration when they endorsed him—which was the least they could have done, even if the attorneys told them they could not mention it to the public in order to protect Radelat's "confidential source" (Melton). I just don't know how you could in good conscience endorse someone who would do these things. I've seen how his charm works, and had good conversations with him -- but I still could not vote for, or endorse, someone with his ethical relativity for public office. Makes no sense.

Author

DonnaLadd

Date

2006-04-26T16:26:34-06:00
ID

65955

Comment

I totally agree, Donna. That Ledger is something to behold.

Author

Ray Carter

Date

2006-04-26T16:34:18-06:00
More like this story
More stories by this author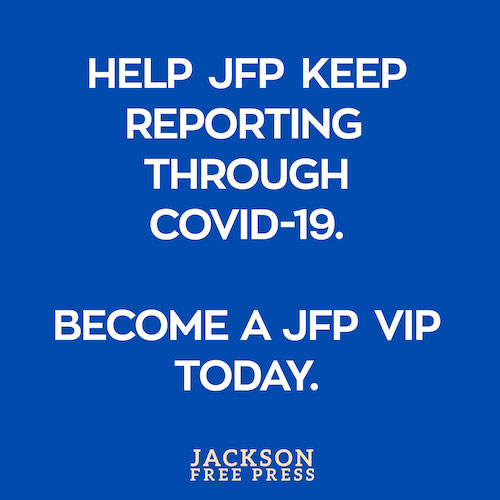 COVID-19 has closed down the main sources of the JFP's revenue -- concerts, festivals, fundraisers, restaurants and bars. If everyone reading this article gives $5 or more, we should be able to continue publishing through the crisis. Please pay what you can to keep us reporting and publishing.