The tone was tense at a hastily called Sept. 2 emergency briefing between City Council members and Jackson Mayor Frank Melton. Though slow to release public statements in the days after Katrina struck, Melton announced at the briefing that the city was under an emergency order "to give us the latitude" to address massive power outages across the city and the corresponding fuel shortage attributed to Hurricane Katrina.
Melton said the city would be sticking to a midnight to 6 a.m. curfew and that the boil-water notice for the city had been lifted (actually, it was lifted for much of the city). He also told council members that the city would have to make a place for displaced residents of New Orleans and the stricken portions of southern Mississippi, and that, since the city schools themselves were filled to capacity, the city would need to devise a parallel program to educate them in public facilities.
Ward 2 Councilman Leslie McLemore said he had problems with a parallel system, arguing that city schools themselves would have to make room.
"They say North Jackson is overcrowded, Murrah is overcrowded, Wingfield is overcrowded. I just don't believe that. I think JPS is obligated to help find space for these young people," McLemore said. JPS Superintendent Earl Watkins later announced the city could not really separate evacuated students from resident students and would make a place.
Melton also told the council that the city was in firm control of getting food, water and ice to city residents.
Some council members, inundated by calls from frightened ward residents, disputed this last announcement. Ward 6 Councilwoman Margaret Barrett Simon, arguably the least combative council member for years, verged on tears while recounting desperate calls from her own community by people who were running out of food and money, and had no means to regain either. And they were getting little-to-no help from a very quiet city.
"It's a deteriorating situation right now," said Barrett Simon, adding that she and neighbors had not had power since the storm struck earlier that week. "You have people in these neighborhoods who aren't on any particular program. They are out of gas. They have no access to any services. The businesses that provide services that sustain them are not open yet, and they're running out of food. "
Melton assured her that getting stations open would rectify the situation and agreed that food needed to be delivered where needed.
Barrett Simon called for a more efficiently organized effort by the city to make deliveries, however, saying, "I don't think we're coordinated, and these terrible things are going on all over the place in the city today."
Ward 4 Councilman Frank Bluntson and Ward 5 Councilman Charles Tillman echoed her plea for coordination and communication by the mayor's office.
"We keep getting the calls from our people asking 'who do you call, who do you call?' And I think if we had one person that coordinated this thing, then it would be a lot easier for a lot of us to get things done," Bluntson said. Tillman inquired about how to get important numbers to the general public.
To date, the mayor's office had not released emergency or relief phone numbers to the general public and had called only one press conference—at Melton's Northeast Jackson home. (A message about that press conference was left on the JFP's advertising sales line, not on one of several editorial lines.)
Barrett Simon, while denying that she wanted to sound critical of the city administration, nevertheless continued to lob criticism at the mayor.
"I would like to know what your views are about getting that food to some of these neighborhoods who need it," she asked of the mayor. "We ought to be able to just say this off the top of our heads. Everybody should know this right now. … It was Wednesday before the City Council had any word from the city about this storm. I still, as of this minute, do not have a list of emergency phone numbers of the people in this administration." (The mayor's staff quickly produced a list of emergency numbers for Council members.)
Council President Marshand Crisler rounded up the demands with his own call for coordination on a city-wide level and for the mayor to lead that effort.
"There are hordes of volunteers in this city. They need direction," Crisler said. "They need somebody to contact, and they need to be worked with. ... We have to give people the right direction, because volunteering is not enough. People need to know where to go to provide these services. We need to get the information out to the public and they need to know a certain number is provided by the city in order to direct these volunteers. As far as food, we need to get our staff coordinated."
The mayor tried to deflect the criticisms, however. "We're going to have to stop this mayor stuff because one of the questions I have are 'what are you all prepared to do?'" Melton demanded.
"Whatever you request, Mr. Mayor. We're here to assist," Crisler replied. "This is a strong mayor-council, so if you make the suggestion, Mayor, and if it is something that we are legally able to do, then it will happen."
Explaining that the city has "never faced a crisis like this," Melton suggested that "all eight of us need to take the lead role."
Ward 1 Councilman Ben Allen pushed Melton as well. "We need to work as a team. … (We should) get in touch with every neighborhood association and tell them to take care of their people." He told the mayor that his statements that day were welcome, if overdue. "I'd glad you made a statement, but frankly we need the leadership."
West Jackson resident Demetria Harris echoed the leadership plea after the meeting, saying that "somebody needs to act like a leader." Harris had driven to City Hall to demand answers of the mayor and the city when she saw the meeting pop up on the PEG Network.
"We haven't had power since that storm thing hit us Monday. My momma has to stay out of town because she can't deal with this heat. We're down to nothing in the gas (tank), and we ain't got enough to wait in one of those lines," Harris said. "Somebody needs to do something and they need to do it yesterday. This don't make no sense."
To deflect criticism, City Administrator Robert Walker told the Council that the city had been attending daily briefings with the county, Entergy and other agencies. "We've been on the mark," Walker said. "Apparently some people don't know that."
One reason they don't know that is because reporters had been blocked from attending those daily city-county emergency meetings. Walker denied to the JFP that he had ordered the doors closed to the media. New city spokesman Nash Nunnery said later that reporters would no longer be locked out of the briefings. Attendees of those meetings say that the mayor has not been at most of the briefings.
Previous Comments
ID

64723

Comment

Members of the Jackson City Council grilled Mayor Frank Melton for his delay in approving private contracts for Hurricane Katrina debris removal. "It's very frustrating when we deliberate on something and do our duty, Mr. Mayor, and the next day see you've committed to something different," Ward 2 Councilman Leslie B. McLemore said Thursday during a special council meeting. Melton reminded the council he had not said he wouldn't sign the contract, just that he wanted to look into other possibilities. He promised to work on communicating with council members but said he reserves the right to change his mind on issues. Melton has proposed allowing Hinds County inmate labor and city crews to remove debris instead of going forward with the private contracts totaling about $6 million approved by the council Tuesday for debris removal. Full story

Author

DonnaLadd

Date

2005-09-09T13:29:35-06:00
ID

64724

Comment

Long lines of confused and frustrated people seeking hurricane aid formed in Jackson on Tuesday, with some incorrectly sent into a shelter, causing it to double temporarily in size and the hurricane victims to lose their places in line. Several hundred people lined up Tuesday morning at the Mississippi Trade Mart seeking food assistance and other aid from the local Department of Human Services. "We heard if you needed vouchers for food - come here," said Phyliss Thompson, a Rankin County resident. As temperatures rose into the high 80s, Mayor Frank Melton appeared at the Trade Mart and directed many of the people in line to get out of the sun and into the nearby Mississippi Coliseum, which was being used as a Red Cross shelter. Officials said 200 to 500 people moved to the Coliseum, where some got a meal but lost their place in line for aid. "We were herded over there like cattle," said Iras Walker of Jackson. The meal that the Red Cross handed out to those awaiting answers would not help feed her in the days and weeks to come, Walker said. Phone calls to the mayor's office for comment were not returned. As people realized they would not get assistance they tried to move back to their spots at the Trade Mart. Some verbal and physical confrontations took place. Others broke down in tears after waiting hours only to lose their chance at getting assistance. Full story

Author

DonnaLadd

Date

2005-09-09T13:32:10-06:00
ID

64725

Comment

Wow, read this BusinessWeek article about Mr. Melton's "freedom march" at the Coliseum. Suddenly, national eyes are watching the mayor of this "sleepy" town: The Long, Angry Wait for Help: It was scene not unlike the "freedom marches" of the Civil Rights era. In Jackson, Miss., at the Trade Mart on the State Fairgrounds, at least 1,000 people, many of them evacuees from hurricane-ravaged communities on the Gulf Coast, lined up as the sun rose on Tuesday, Sept. 6, hoping to collect relief vouchers from the Red Cross and the Federal Emergency Management Administration. T ... Jackson Mayor Frank Melton fumed silently as people crowded around him. He tried to call the county food-stamp office to find out why they were directing people here. He never got through. Two women shouted complaints about the chaos in his ear. "The city can handle this fine," hissed Melton, nattily dressed in a black pinstripe suit. "If I can get all the other agencies out of the way." DOUBLING THE POPULATION. Striding from under the walkway of the Trade Mart, Melton, the former head of a local TV station who was elected in July as the city's second black mayor, said, 'Ya'll come on, go with me." Close to a hundred people quickly fell in line behind him. The march -- and a lot of fingerpointing, confusion, and recrimination -- began. As cities across the country work feverishly to handle the influx of refugees, some, such as Houston, appear to be managing the barrage of demands for aid smoothly. But here in Jackson, a sleepy town of 200,000 in central Mississippi, caring for the victims of Katrina is a work in progress, and it's illustrative of the challenges that the huge relief effort is facing in communities large and small across the Gulf region. ...

Author

DonnaLadd

Date

2005-09-09T13:37:02-06:00
ID

64726

Comment

MORE ON MELTON from Business Week: "LOST HIS MIND!" Melton arrived at the Trade Mart on Tuesday morning as the rumbles of discontent grew in the crowd. His plan, he explained later, was to get people out of the sun, divide them into groups of storm refugees and locals who needed additional assistance, and making the process of doling out relief more efficient. So he organized the ragtag march across the parking lot to the air-conditioned Jackson Coliseum, 200 yards away. As they walked, the crowd hooted and hollered. "Yeah!" yelled one man. A woman worried aloud that a riot would break out. Inside the Coliseum, Red Cross workers and fairgrounds officials stood flabbergasted as the mayor ordered the crowd upstairs and into the arena's seats. They trudged around cots set up for hurricane victims, weaving between suitcases and water bottles. "I'm not going to leave them out in the sun while you all get your stuff together," said Melton to Red Cross and law-enforcement officials, going back a second and third time to bring back hundreds more evacuees. One teenage girl collapsed in convulsions in the parking lot, spitting phlegm. A doctor rushed to her side. State Fairgrounds chief Mike Brinkley was furious. "The mayor has lost his mind!" he said. Added Hinds County Sheriff's Deputy Captain Charles Bullock, "He thinks he's f------ governor, but he's only the mayor." LEADERSHIP CRISIS. It's a scene that has played out before with Melton, say critics. Shortly after taking office, he forced out the city's fire chief. Then, he sent out a memo requesting the resignation of the entire city council, though he didn't have the authority to remove them. After leading the assistance-seekers to the arena, Melton stood firm. "Nobody is in charge," he says. "I pissed everybody off in order to help those people.... I have no regrets about it." Still, exactly who is in charge of the relief effort in Jackson remains an elusive question, although Melton suggested on Wednesday that he may take over the relief operation by executive order. But no expedited help arrived for the people who followed Melton to the arena on Tuesday. And the next day, many of them were back in the steamy line at the Trade Mart, waiting their turn for relief. Only this time, the crowd was even larger, the line for assistance even longer.

Author

DonnaLadd

Date

2005-09-09T13:37:31-06:00
ID

64727

Comment

For the record, MSNBC ran Business Week's piece about Melton's "leadership crisis," as they called it.

Author

DonnaLadd

Date

2005-09-09T13:41:56-06:00
ID

64728

Comment

You guys, Melton's bizarre statements and actions are really beginning to freak me out a little. I would prefer to have a Mayor who actually THOUGHT before he opened his mouth. The screaming without thinking should be left up to ME.

Author

Lori G

Date

2005-09-09T14:02:13-06:00
ID

64729

Comment

Well, let's face it. We elected a man who could scream to the heavens about municipal government. So now he thinks he's God.

Author

Rex

Date

2005-09-09T15:54:47-06:00
More stories by this author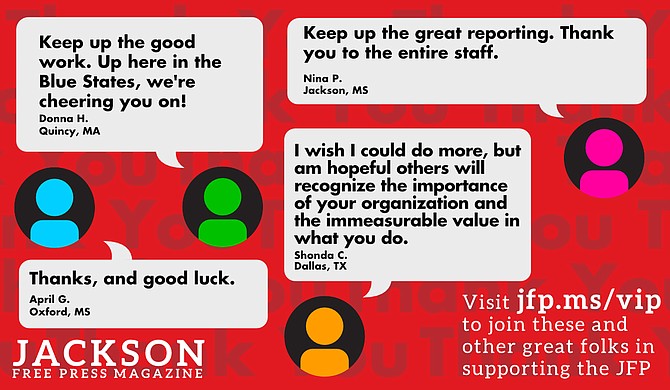 Thanks to all our new JFP VIPs!
COVID-19 has closed down the main sources of the JFP's revenue -- concerts, festivals, fundraisers, restaurants and bars. If everyone reading this article gives $5 or more, we should be able to continue publishing through the crisis. Please pay what you can to keep us reporting and publishing.