I was reading this article in the CL about the "House of Destiny" at the First Baptist Church in Florence.
Now, having seen the documentary Hell House which is about an evangelical church outside of Dallas that puts on an elaborate haunted-house-style production concerning "current threats" to the youth of our country on Halloween night, I'm not surprised its made it here.
But, I have huge problems with families walking thru scenes of blood and carnage (there is a car wreck scene) and then being asked at the end by the "Devil" if they really thought they were going to make it into heaven.
In the basement, the Gatekeeper of Hell, portrayed by church pianist Betty Sapp, welcomes a visitor into the fiery underworld with her best high-pitched cackle.
"Well, well, well ... we've been expecting you," Sapp says. "You didn't think God would send you down here, did you? What, with all those good works you've done, you thought you'd go to heaven ..."
Now, it seems to me they are trying to "scare" you into coming to Jesus. It is also the conservative Christian's answer to the "pagan" holiday of Halloween. This article states that it may be a way to get kids to reject Halloween and the evil ideals it supports
Although there is not one set evangelical view on Halloween, some Christians see the observance as a tribute to paganism and the devil, said James Bowley, chairman of the department of religious studies at Millsaps College.
"(They) see it as Satan's holiday and ... don't want to celebrate it or want to turn it into an evangelical holiday where the emphasis is saving yourself from Satan," Bowley said. "They're trying to turn (Halloween) around so it serves their own religious purposes and interestingly, they're still using fear."
Another statement about the "House of Destiny's" purpose
Many "hell houses" and "judgment houses" include graphic images in an effort to emotionally impact the audience and promote a variety of conservative Christian views on abortion, suicide and sexual orientation.

And, here's another quote that makes me giggle.
"This is a way to describe to people in vivid detail the horrors of hell and life without God and try to display how things can be without the salvation of the church," Bowley said. "They're very creative and fit into our environment. People like hands-on things, they don't like to sit down and read about hell. It's much better to walk through it."

Mainly because I beg to differ...
I'D MUCH RATHER READ ABOUT HELL THAN WALK THROUGH IT.
But, hey, that's just me.
The article closes with this sentence in response to the question of "fear" being used to bring people to Christ.
"If we want to shock them with anything, we want it to be the love of Jesus."
There are about three million smartass comments I can make about that statement.
Only one of them (the one without cussing or nakedness) being "I sure wish the government would have shocked Iraq with Jesus' love, because I sure bet they wouldn't have expected that."
Now, with that being said. I would like to offer a short little synopsis of the real origins of Halloween written by a friend who is a scholar on the subject.
The authentic roots of what is now called Halloween
derive from more ancient observances in the Celtic
world. Traditionally the various Celtic peoples
(Irish, Scots, Manx, Welsh, Cornish, and Breton)
were/are fisherpeople and agrarian. The harvest cycles
of the cultures governed everything.
Before it became a consumer-driven secularized event (read: an excuse
to buy lots of chocolate produced by the Ivory Coast
child slave camps), "Halloween" was actually rooted in
much more ancient observances known Samhuinn
(pronounced sow-en) in the Irish and Scots Gaelic.
Samhuinn is the last harvest festival of the season,
where the last of the crops are taken, leaving any
remaining portions of the crop to the spirits of the
land (sometimes spoken of as the faery people: a
mostly invisible race of beings that co-inhabited the
Celtic landscape).
Given that Samhuinn means "summer's
end," a time when the light of the earth begins to
fade, Samhuinn is sometimes called "the dark half of
the year" -- a time sometimes associated the dying
away of things, death, transition, introspection,
sacred storytelling, as well as ancestors. This
association to the spirits of the dead (ancestors) can
even be seen in the Catholic and Anglican observance
of All Souls Day or All Saints Day, adhering to the
older Celtic pattern of paying homage to the deceased.
Wow, that SO incorporates Devil Worshipping, doesn't it?
Previous Comments
ID

103382

Comment

People. Are. Stupid.

Author

DonnaLadd

Date

2005-10-27T13:06:19-06:00
ID

103383

Comment

They have been doing this for a few years, weird, just weird. I don't see why they use halloween to poke and prod about certain "threats". And since when is millsaps a staple for christian views and quotes? It seems like one of the various bible colleges in the city would offer more reliable information but that is another story. Where are all the devilworhippers on halloween anyways? Shouldn't the be marching in the streets clamoring about devilworshipper rights? I would much prefer to read about Hell.....Dante's Inferno... than to see it in Florence. With some strange old lady holding a marlboro and telling me that i'm destined dor it if i don't go to FCA at florence first baptist. Speaking of inferno, the people had to relive that which brought them there for eternity, so were the adulterers doing it the whole time they were talking to dante? Point being people's views of hell and heaven for that matter just might be different from what they actually are. Maybe hell is a place where you are buried in mud or the punishment varies by the crime..what dreams may come... Or maybe hell is where saddam is sleeping with satan....south park... If devilworshippers want to go to hell thats cool. But saying halloween is going to make christian kids face condemnation and fire is a little out there to put it lightly. Most ghost and ghouls i have talked to are pretty nice as long as you leave a light on at night. But I have yet to hear from satan or be compelled to put a pentagram on my forehead, or sacrifice goats. But that is just me.

Author

*SuperStar*

Date

2005-10-27T13:13:16-06:00
ID

103384

Comment

Okay, this is just precious: In the basement, the Gatekeeper of Hell, portrayed by church pianist Betty Sapp... I don't know why, but for some reason this strikes me as gut-bustingly hilarious. Cheers, TH

Author

Tom Head

Date

2005-10-27T13:33:24-06:00
ID

103385

Comment

I actually have a feeling that the author was TRYING to have a sense of humor about it. ;)

Author

Lori G

Date

2005-10-27T13:40:30-06:00
ID

103386

Comment

But I have yet to ... sacrifice goats. I once did... slowly... on a spit over a pit of coals... later served with mint jelly...

Author

Rex

Date

2005-10-27T13:54:42-06:00
ID

103387

Comment

Please, please, please tell me the scenes included in some "Hell House(s)" of the AIDS funeral (as God's punishment) or the "Gays in Hell" are not included or I will have to go picket this (which I may do anyway). God, it's Fred Phelps all over again. You know, I always thought "God is Love" and if you have to resort to the lowest rung on Kohlberg's Stages of Morality to scare people to Jesus...that's just sad.

Author

MANGUM

Date

2005-10-27T14:55:53-06:00
ID

103388

Comment

MANGUM!! Where ya at? Where ya been? Who'd ya see? I miss you. I was actually thinking about going and causing mischief. We could be GAY TOGETHER if you want. Wait, that didn't sound right Anyway, we could picket together.

Author

Lori G

Date

2005-10-27T15:07:30-06:00
ID

103389

Comment

Been very, very busy... post-katrina....outoberfest...black pride...etc. I hope to be back in the swing of things soon...speaking of HELL, you missed my 31st birthday...I got a Mohawk and some dental insurance. Viva la Protest!

Author

MANGUM

Date

2005-10-27T15:19:03-06:00
ID

103390

Comment

Saw this in the CL today. Thought it was an interesting follow up to this post.

Author

Lori G

Date

2005-10-28T10:10:38-06:00
ID

103391

Comment

I think Eddie Izzard pointed it out best: JESUS: "The rich came up to me and said they wanted to get into the kingdom of heaven, and I told them it was easier for a camel to get through the eye of a needle, than for the rich to get into heaven." GOD: "That was pretty surreal of you..." JESUS: "Well, I'd been smoking a bit that day... But the rich, they got huge blenders and they put camels into them, and they sprayed them, through very fine jets, through the eyes of needles. So they're all coming up now." JESUS: "And then I did the last supper; I gave them some wine, I told them 'drink this wine; it is my blood...'" GOD: "You said WHAT?" JESUS: "I told them, 'drink this wine; it it my blood' -- I was trying to make it a ceremony..." GOD: "But that's vampirism! Vampyric thing -- 'drink my blood' -- you got pagan things right there, in a new religion!" JESUS: "Oh, sorry." GOD: "Why didn't you say, 'drink this wine; it's a Merlot?'" JESUS: "Oh yeah..." GOD: "Did you say anything else?" JESUS: "No..." GOD: "Nothing at all?" JESUS: "No..." GOD: "Nothing about bread?" JESUS: "Yes..." GOD: "What'd you say...?" JESUS: "Well, I said, 'eat this bread; it is my ... favorite!'" GOD: "What?" JESUS: "Okay, I said it was my body, okay?" GOD: "That's cannibalism! You got vampyrism and cannibalism right at the begining of a new religion! And you dine on easter -- that's the biggest pagan ceremony, of ... ever! They'll be celebrating your death on a different date every year -- depending on the MOON! If they don't work out that that's pagan, I'll eat my hat!" JESUS: "Dad, don't worry, no-one's gonna work it out for two thousand years -- until a transvestite points it out in New York."

Author

MANGUM

Date

2005-10-28T12:12:39-06:00
ID

103392

Comment

It amuses me and saddens me how little zealots know about the faith and rituals they utilize every year while they prefer to force and fearmonger their "right ways" onto "sinners." C'mon... All the cool holidays are pagan. Gifts and trees at Xmas? Pagan. Xmas in general? Pagan. Thanksgiving? Well, can you say gluttony (even if it's Tofurky, Donna!)? Easter... Don't get me started on the whole rabbit and egg... You can twirl Christ-love all around and that simply want change the roots of Easter, Xmas, and Halloween. "Good Christians" (you know the ones better than you) have attempted and re-attempted to re-write and add-to the meanings of these holidays and have failed miserably. And when did pagan equal devil-worshipper? Hell, the Church folded these "devil worshippers" (which actually did not worship any such thing) and their practices right into their churches, villages, and ways of life... OK... Folded is probably a mild word to use to describe the forced transition to Xtianity from paganism. Torture, death, and threats are hardly a kind way to introduce Christ-love. ;-)

Author

kaust

Date

2005-10-28T14:05:58-06:00
ID

103393

Comment

I hear ya, Knol. I actually think the church was forced MORE by the people to integrate these traditional pagan holidays and customs into THEIR custom because the people were so resistant. St. Brigid in the Catholic Church was original a "goddess" of pagan religions in Ireland. Speaking of the rabbit/egg thing...I LOVE Eddie's speech about Easter and its pagan ties.

Author

Lori G

Date

2005-10-28T14:10:18-06:00
ID

103394

Comment

Eddie's awesome. Sadly, many American's just can't get his humor. Involves too many lead-ins and thought.

Author

kaust

Date

2005-10-28T14:14:33-06:00
ID

103395

Comment

My favorite Eddie line EVER when speaking about the difference between the British and Americans "You say ERB, we say HERB...Because there is an FUCKING H ON IT"

Author

Lori G

Date

2005-10-28T14:21:23-06:00
ID

103396

Comment

My favorite Eddie line is "CIAO." Which is what I say to Hell House. :) What about Heaven House? Where you see the fruits of your labo(u)rs? Now that I would go see...

Author

MANGUM

Date

2005-10-28T14:34:32-06:00
ID

103397

Comment

we will ride our scooters to hell house and smoke cigarettes and look fabulous i'm going as fiddleburt humpysticks and say(low sexy voice) CIAOOO

Author

*SuperStar*

Date

2005-10-28T14:47:09-06:00
ID

103398

Comment

Superstar, I know you had to search for you identity a bit, but I must say that your current names suits you. ;-)

Author

DonnaLadd

Date

2005-10-28T14:48:35-06:00
ID

103399

Comment

that was the highlight of my day truly, entergy is giving me such a heartache that all i want to do now is curl up with some tequila and watch eddie on the laptop.

Author

*SuperStar*

Date

2005-10-28T15:40:00-06:00
ID

103400

Comment

"...if you have to resort to the lowest rung on Kohlberg's Stages of Morality to scare people to Jesus...that's just sad." CLASSIC ONE, Magnum!!! Simply C l a s s i c. Definitely a frameable quote to hang on your living room wall, or better yet make a car bumper sticker!

Author

Philip

Date

2005-10-31T22:54:00-06:00
More stories by this author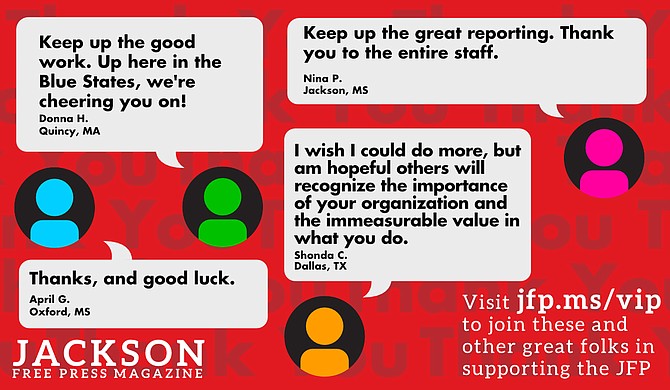 Thanks to all our new JFP VIPs!
COVID-19 has closed down the main sources of the JFP's revenue -- concerts, festivals, fundraisers, restaurants and bars. If everyone reading this article gives $5 or more, we should be able to continue publishing through the crisis. Please pay what you can to keep us reporting and publishing.