Here's your stupid Republican quotation for the day, coming from Reagan's secretary of education:
"If you wanted to reduce crime, you could -- if that were your sole purpose -- you could abort every black baby in this country and your crime rate would go down. That would be an impossibly ridiculous and morally reprehensible thing to do, but your crime rate would go down."
-- William Bennett, former education secretary, drug czar, and author of The Book of Virtues (1993)
You know, I think one impossibly ridiculous and morally reprehensible thing to do would be to suggest that genocide directed against members of a specific race would bring down the crime rate. But maybe that's just me.
Cheers,
TH
[moved from forums]
Previous Comments
ID

103039

Comment

Racist son of a b!tch. No surprise, though: Bill Bennett (co-)wrote the book on the "superpredator" myth. Literally. He, John J. DiIulio, Jr. and John P. Walters wrote a book called "Body Count," that is the source of much of the breeding-thugs racism that is bantered about. Of course, the research behind it as been thoroughly debunked. I spend a good part of a six-month fellowship figuring out the lies of the esteemed Bill Bennett and friends. Look forward to seeming more of this in the paper coming up, thanks to Bennett, and the likes of him, bubbling to the surface these days. I tell you, the Great Flood is bringing up the worst of the worst. There are simply reprehensible people out there parading as upstanding citizens. Let's reveal 'em all.

Author

DonnaLadd

Date

2005-09-30T14:46:09-06:00
ID

103040

Comment

BTW, all, state Rep. Omeria Scott is going to respond to this thug at the State Capital at 4:30 today in the rotunda. Feel free to come on up. I'm going.

Author

DonnaLadd

Date

2005-09-30T14:51:25-06:00
ID

103041

Comment

Also, it strikes me that as the governor of the state with the highest proportion of black residents of any state, Gov. Haley Barbour needs to respond to Mr. Bennett on behalf of black Mississippians. Now.

Author

DonnaLadd

Date

2005-09-30T15:02:24-06:00
ID

103042

Comment

I wasn't able to make it to Rep. Scott's speech. How did it go...? I'm actually having to read DiIulio's garbage for the criminal justice book I'm doing, and it alternates between making me laugh out loud and inducing cringes. Someone with a razor-sharp satirical wit (Ken comes to mind) should write an illustrated gift book called Superpredators and Welfare Queens: A Republican Guide to Black People. Somewhere around here I've got a copy of Farai Chideya's Don't Believe the Hype. Anyone who hasn't read it, should. Some of the data in that book literally changed my life. Cheers, TH

Author

Tom Head

Date

2005-09-30T17:28:48-06:00
ID

103043

Comment

As for Barbour: I'm not holding my breath. He would never risk alienating his base by suggesting that mass genocide directed against black folks is a bad idea.

Author

Tom Head

Date

2005-09-30T17:29:31-06:00
ID

103044

Comment

Superpredators and Welfare Queens: A Republican Guide to Black People. LOL, or I would if it weren't so damned tragic. The sequel could be called: "The Southern Strategy: How Not to Be a Racist and Still Get the Racist Vote."

Author

DonnaLadd

Date

2005-09-30T17:53:54-06:00
ID

103045

Comment

OK, I'm going to keep you hanging on about what happened at the press conference, except to say that I was the only reporter, with one camera man, who bothered to show up for their press conference, although there were many reporters in the building. And I talked to the governor about it afterward, of a fashion. But you'll have to wait to hear more about that. Can't tell you everything on the blog. ;-)

Author

DonnaLadd

Date

2005-09-30T17:58:40-06:00
ID

103046

Comment

The sequel could be called: "The Southern Strategy: How Not to Be a Racist and Still Get the Racist Vote." Hmmm...! You may be on to something here. We could even pitch this as a reality series (a la Showtime's The Candidate) called Stand by Your Klan. The concept: "It's The West Wing meets Deliverance!" Ahem. And I look forward to that article on the speech. Thanks for bumping this up to the NoiseBlog. I was doing research on my book last night, and ran across a newspaper article describing Byron de la Beckwith's quxiotic campaign for lieutenant governor in 1967 (where he openly enjoyed Klan support, among other things). The governor's race was also centered on the Evers murder--Charles Evers was running as an independent, and Bill Waller (who prosecuted both cases against Beckwith) as a Democrat. Outspoken segregationist (and future moderate) John Bell Williams won the '67 race; Waller would get it the next time around. Another candidate who ran unsuccessfully that year: a thirtysomething William Winter. Cheers, TH

Author

Tom Head

Date

2005-10-01T03:27:05-06:00
ID

103047

Comment

Here's a little bio I found of Bill Bennett; note his major appointments with Ronald Reagan, as well as the first President Bush: William J. Bennett is one of Americaís most important, influential and respected voices on cultural, political, and education issues. A native of Brooklyn, New York, Bill Bennett studied philosophy at Williams College (B.A.) and the University of Texas (Ph.D.) and earned a law degree from Harvard. He is a co-director of Empower America, chairman and co-founder of the education company K12, Inc. and the Washington Fellow of the Claremont Institute. He is also the chairman of Americans for Victory over Terrorism, a project dedicated to sustaining and strengthening public opinion as the war on terrorism moves forward. Dr. Bennett is also the host of a national radio show from called "Bill Bennettís Morning in America" which is syndicated by the Salem Radio Network. The program airs from 6:00-9:00 a.m. EST. During the 1980s, Dr. Bennett emerged as one of the nationís most prominent political figures. He served as President Reaganís chairman of the National Endowment for the Humanities (1981-1985) and Secretary of Education (1985-1988), and President Bushís "drug czar" (1989-1990).

Author

DonnaLadd

Date

2005-10-01T09:27:07-06:00
ID

103048

Comment

REID CALLS ON FORMER REAGAN CABINET MEMBER TO APOLOGIZE FOR RACIAL REMARKS Washington, DC -- The following is a statement by Senate Democratic Leader Harry Reid on William Bennett's recent comments: Yesterday, on his radio call-in show, former Reagan Secretary of Education, William Bennett made the following comment, ìÖ you could abort every black baby in this country and your crime rate would go down. That would be an impossible, ridiculous, and morally reprehensible thing to do, but your crime rate would go down.î ìI am appalled by Mr. Bennettís remarks and call on him to issue an immediate apology not only to African Americans but to the nation. At a time when so many Americans are struggling to recover from two devastating Hurricanes, now is the time to help one another, not feed the fires of racism. America can do better. The Republican Party has recently taken great pains to reach out to the African American community, and I hope that they will be swift in condemning Mr. Bennettís comments as nothing short of callous and ignorant. They are reminiscent of a time our nation is still struggling to overcome. Again, I call on him to issue an immediate apology to the nation for his insensitive remarks.î

Author

DonnaLadd

Date

2005-10-01T09:28:04-06:00
ID

103049

Comment

A good summary about the role of this "culture czar" in demonizing inner-city youth: In 1996, Osama bin Laden was beginning to make headlines, but Americans were far more worried about a homegrown threat. An influential book published that year described a new generation of "radically impulsive, brutally remorseless youngsters, including ever more preteenage boys, who murder, assault, rape, rob, burglarize, deal deadly drugs, join gun-toting gangs, and create serious communal disorders" but "do not fear the stigma of arrest, the pains of imprisonment, or the pangs of conscience." That tome, Body Count: Moral Poverty…and How to Win America's War Against Crime and Drugs, was written by three heavy hitters in conservative policymaking circles: William J. Bennett, John P. Walters, and John DiIulio Jr. It was DiIulio, an outspoken academic, who coined a new term for what had formerly been known as a juvenile delinquent: the superpredator. In fact, DiIulio, Bennett, and Walters had constructed a paper tiger. Violent juvenile crime had already begun to decline nationwide before Body Count came out and has continued to drop. Furthermore, the most famous "superpredators" -- the boys accused of the Central Park jogger "wilding" gang rape -- were eventually cleared and released. But politicians continue to stoke voters' fears about inner-city youth -- who, as the most disenfranchised of all Americans, make ideal whipping boys. George W. Bush, for example, who had wielded juvenile crime as a major issue in his gubernatorial campaign, shifted the emphasis of Texas' juvenile justice system from rehabilitation to punishment. Upon becoming president, Bush appointed Body Count co-author Walters, a longtime proponent of criminal penalties for users, to be the nation's drug czar. Full piece

Author

DonnaLadd

Date

2005-10-01T09:32:35-06:00
ID

103050

Comment

I'm doing a bit of clicking around on William Bennett and ran into this fascinating article about the shift in policy about nuclear weapons between the Reagan administration (wanted to see them banished) and the current Bush administration (wants them at his disposal). Note that both William Bennett and Haley Barbour's names pop up in intriguging ways as well. The piece starts: I. The Bush Nuclear Policy: Making the World Safe for Nuclear Weapons? "I support a zero option for all nuclear weapons . . . my dream is to see the day when nuclear weapons are banished from the face of the earth." President Ronald Reagan January 16, 1984 "The fact is, I see no compelling reason why we should not unilaterally get rid of nuclear weapons. To maintain them is costly and adds nothing to our security." Paul Nitze, former arms control negotiator, Reagan administration, New York Times, October 29, 1999 "I view our nuclear arsenal as a deterrent . . . And the President must have all options available to make that deterrent have meaning." President George W. Bush, Responding to a question about developing low-yield nuclear weapons, March 13, 2002 The Bush administrationís new nuclear doctrine represents an abrupt departure from the policies of prior administrations, Democratic and Republican alike. Far from representing "new thinking," as some observers have suggested, the proposed Bush nuclear policy represents the triumph of a small circle of conservative theorists who have long pressed for expanding the role of nuclear weapons as a guarantor of U.S. military superiority and a tool for exerting political and strategic influence. While President Bush has pledged to substantially reduce the numbers of nuclear warheads deployed by the United States, his proposed policy would dramatically expand the role of nuclear weapons in U.S. strategy. If one looks beyond the numbers to the philosophy motivating the administrationís new approach to nuclear doctrine, itís resemblance to pre-Reaganite, anti-arms control views of the role of nuclear weapons becomes clear. In contrast to Ronald Reagan, who came to believe that the elimination of nuclear weapons should be the ultimate goal of U.S. policy, the Bush administrationís posture review seeks to give nuclear weapons a new lease on life by pressing for the development of a flexible nuclear warfighting capability grounded in a reinvigorated nuclear weapons complex. Unlike his father, George Herbert Walker Bush, who removed tactical nuclear weapons from U.S. ground and naval units as a way of lessening the risk of a nuclear confrontation, George W. Bushís approach paves the way for the development, testing, and deployment of a new generation of low-yield nuclear weapons. And unlike the Clinton administration, which tried to pursue changes in U.S. nuclear policy without abandoning international arms control treaties, the Bush administration has already announced its intention to withdraw from one major agreement, the Anti-Ballistic Missile Treaty of 1972, and its nuclear plans threaten to undermine the other major pillars of the current global arms control regime.

Author

DonnaLadd

Date

2005-10-01T09:58:56-06:00
ID

103051

Comment

Still off-topic a bit, but running into interesting little tidbits. Haley Barbour is (was?) on an advisory board for the Washington Legal Foundationówhose entire goal seems to be keeping people from suing: The group's basic philosophy? "Most of the problems we have in America today, from cost-prohibitive government regulation to unchecked violent crime, can be traced back to activist lawyering by well-entrenched organizations committed to promoting an agenda through court action, new regulation, and enforcement activity, and advocacy-educational campaigns." Intriguing to see that "unchecked violent crime" is caused by "activist lawyering." I guess Bill Bennett is wrong, eh -- one would have to abort future "activist lawyers" in order to lower the crime rate, eh? What zealot idiots these are. Tom, maybe we need to start a blog just to track all the wingnuttery and how these folks are connected to idiot ideas and hateful think tanks. People have the right to know what these nuts are up to inside the beltway.

Author

DonnaLadd

Date

2005-10-01T10:09:01-06:00
ID

103052

Comment

Oh, and it's precious that Tom Delay also served on the Washington Legal Foundation to protect, uh, the world from crime. Hardy-har-har. I also see Dan Burton on the list. Sweet.

Author

DonnaLadd

Date

2005-10-01T10:12:40-06:00
ID

103053

Comment

Here's the link to the Washington Legal Foundation summary page. Here's a Bill Bennett page. (It doesn't mention the "Body County" book, however. But it is interesting to click into the list of organizations he's involved with at the bottom -- for instance, you'll see that Donald Rumsfeld was on the board of his EmpowerAmerica group (which Bennett started), which has now merged into FreedomWorks (not to be confused with FreedomFries). Dizzy, yet? If not, here's a page for Barbour. And Bennett's Wikipedia entry. (Still doesn't mention "Body Count," which is arguably his most racist effort to date, and explains why his comments this week are no reprehensible (the part about "aborting" was offensive, but the stereotypes about black children automatically becoming criminals is the truly reprehensible part that has affected public policy, all the white flying under the public's radar.) Barbour's Wikipedia listing.

Author

DonnaLadd

Date

2005-10-01T10:34:15-06:00
ID

103054

Comment

Bill Bennett is claiming he was taken out of context. On Fox: "Anyone paying attention to this debate should be offended by those who have selectively quoted me, distorted my meaning, and taken out of context the dialogue I engaged in this week. Such distortions from 'leaders' of organizations and parties is a disgrace not only to the organizations and institutions they serve, but to the First Amendment." Media Matters, however, has the full transcript and an audio file you can listen to. They also show that Bennett is lying when he says that the "Freakonomics" author (go to the links to figure out the relevance) had also discussed race: Bennett, who said that "it's true that if you wanted to reduce crime ... you could abort every black baby in this country, and your crime rate would go down," claimed that he was taken out of context, and that his comment was based on a 1999 Slate.com online discussion between Steven D. Levitt, co-author of Freakonomics (William Morrow, May 2005), and right-wing columnist Steve Sailer, in which Bennett claimed that Levitt "discusse[d], as I did, the racial implications of abortion and crime." Levitt did not. In fact, in the Slate debate that Bennett cited, Levitt said the opposite of what Bennett claimed: "None of our analysis is race-based because the crime data by race is generally not deemed reliable." It seems that the race component here is all Bennett's ó no surprise after the arguments he espoused in "Body Count." The man seems race obsessed. How about this lede on the New York Daily News story: Morality maven William Bennett was in holier-than-thou hell yesterday after the White House and just about everybody else blasted him for saying the crime rate could be reduced by aborting "every black baby in this country." The best-selling author of "The Book of Virtues" insisted he was no racist and refused to apologize. "I was putting forward a hypothetical proposition," Bennett said on his "Morning in America" radio show. But the Bush administration quickly distanced itself from the cultural conservative. "The President believes the comments were not appropriate," White House press secretary Scott McClellan said. While Senate Minority Leader Harry Reid and other Democrats demanded that Bennett apologize, NAACP chief Bruce Gordon said he was "personally offended and angry that Bennett felt he could make such a public statement with impunity."

Author

DonnaLadd

Date

2005-10-01T10:52:07-06:00
ID

103055

Comment

Reading through the news, what's frustrating about this hubbub is that the outrage is not focused on what was most heinous about Bennett's remarksóspreading the stereotype that black children are "born" criminals (much like the whole Jackson-breeding-criminals thing that Jack Criss wrote a while back). This is the same rhetoric that has been passed down through the generations in the white community, and it's right at the heart of the scientific racism arguments (espoused by the some of the same think tanks that Bennett and many other prominent Republicans are associated with). Ultimately, it's a way to pass the responsibility on for the conditions and policies that create havens of poverty where crime festers. It's not about kids being born criminals; it's about what kind of society and community they're born into -- no matter what race they are. Republican policies currently are doing everything possible to increase poverty in the U.S.óand that poverty is currently concentrated the most in black communities due to past discrimination and policies. It doesn't take a brain surgeon to be able to look at this problem and realize why crime is a problemin the black community, nor to figure out that it is going to take society to fix these problems, being that society created them. But, these guys want to pass the buck on that responsibility and spread the racist-to-the-core idea that these communities are "breeding" criminals so they don't have to do anything about it. That is what surfaced in Mr. Bennett's racist comments. And I'm glad it surfaced; these beliefs are at the core of the modern Republican Party, and this cancer needs to be excised. In order to do that, the ugly stuff has to come to the surface. And it is, of late. It is. Here are comments from a conservative who gets what the real outrage is here. Power to her: Michelle D. Bernard, senior vice president of the conservative Independent Women's Forum, said Bennett's remarks underscore why many African Americans distrust conservatives even if they share similar values on some social and religious issues. "In choosing to use the hypothetical genocide of black children as a way to reduce crime . . ., Bennett shamefully traded on the pervasive stereotype that it is African Americans who are responsible for all of the crime in the United States," she said. "People wonder why black people don't trust . . . notions such as compassionate conservatism, and Bill Bennett just added fuel to the fire the Bush administration has worked hard to put out."

Author

DonnaLadd

Date

2005-10-01T10:59:25-06:00
More like this story
More stories by this author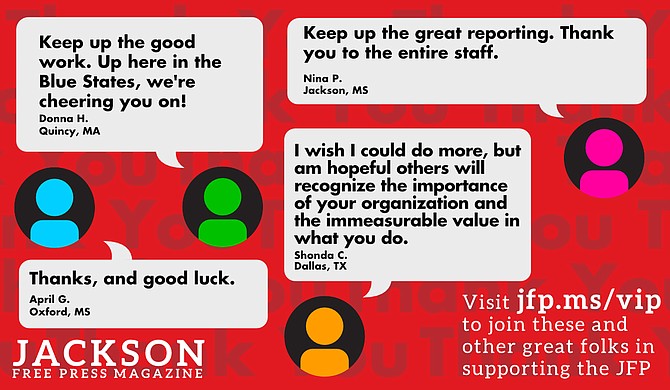 Thanks to all our new JFP VIPs!
COVID-19 has closed down the main sources of the JFP's revenue -- concerts, festivals, fundraisers, restaurants and bars. If everyone reading this article gives $5 or more, we should be able to continue publishing through the crisis. Please pay what you can to keep us reporting and publishing.