When Gov. Haley Barbour called the special session into order, education supporters noted hotly that education funding was not among the original six issues to be voted on. Sam Bounds, executive director of the Mississippi Association of School Superintendents, joined education supporters last week in calling for the 2005 Mississippi special session to include public school funding.
Bounds said education should have been one of the top priorities of the session. The issue went unresolved during the regular session due to philosophical gridlock between the House and Senate regarding revenue increases, among other disagreements.
State residents, Bounds said, have assumed that their own priorities are the priorities of the special session, which he said does not seem to be the case.
"(If) you ask 10 people across the state of Mississippi the necessity of the special session, they'll say the budget and education, yet it's not even in there," Bounds said May 18. "People are saying it's our priority; yet, they're not doing anything. It's something we're just not getting to address."
Bounds said he has heard no elected officials in either the House or the Senate say directly that education was not a high priority but added that "their actions are speaking louder than their words."
"We're seeing wonderful support from the House, Speaker (Billy) McCoy, Cecil Brown, and others, and we're very appreciative, and we have about 21 senators who are standing firm in their position. But there are several who are in lockstep, and they're not doing what we think is best for the future of the state," Bounds said. "The state's focus on the future should be on education and on the people who have earned (the attention), and that's the elderly and the needy. If any state is not focused in on education K through 12 and the elderly, then it needs to change its focus."
Winning swift Senate approval early in the special session were bills to extend the state's no-call list to curb telemarketers for three more years and a bill to protect vulnerable adults with a new fund. Senate Bill 2006 added fees of 50 cents to $15 on traffic citations to help finance law enforcement and prosecution programs, hospital trauma units and home-based health services for the disabled.
Still, Rep. Jim Evans, D-Jackson, spoke with disdain about how slow the process seemed to be going in addressing either the budget or education when the session opened May 18.
"We had a dog-and-pony show on Momentum (Barbour's economic incentives package), which I didn't see as having very much momentum," Evans said. "We just got through with the military assistance bill. According to the call, we can't address education because Barbour is playing a game of chicken with it. He's got it on a string and keeping it just out of reach."
Senate Education Committee Chairman Mike Chaney, R-Vicksburg, told reporters May 20 that education funding will be addressed, however. "I think we will get to it eventually, and it will be something we can live with."
Chaney said also that he knew of no single senator who was not for funding education. Chaney told reporters that the Legislature needed to know for sure how much money was available before the pie got cut, however.
Oleta Fitzgerald, executive director of the Children's Defense Fund, was more suspicious of the delay and said the state has never "willingly funded the education of the poor or black people." Fitzgerald called upon the governor to move more quickly with funding.
"It was only after the 1954 Supreme Court decision that we got any semblance of an education commitment to poor and minority students. The Legislature made an attempt in the late 1980s to provide resources for a Level 3 school out of a Level 5 system, but it never was fully funded, so it never really had the resources to reach Level 3. Now (Barbour is) talking about rolling back money, so what is he saying? … It seems to me a direct attack on that same class of people that the state never fully wanted to deal with in the first place," Fitzgerald said.
House Speaker Billy McCoy, D-Rienzi, said many of the issues addressed May 19 could have been addressed May 18 if Barbour had only opened them up for debate sooner.
"Barbour called me last night (May 18) and told me that he wanted to open the budget, but today all we tackled were these other issues. We could have done any of this yesterday but because the governor wants to do this in a piecemeal fashion, we're adding on hours to the process," McCoy said.
On May 20 Barbour's office released a statement noting that the governor was expanding the special session call to deal with the appropriations part of the budget to fund FY 06. Education is included in the issue.
The statement warned, however, that lawmakers should not even consider trying to raise new money to pay for the state's needs: "It is important that every Legislator know the amount available to spend is $4,585,559,267 and that all appropriation bills must fit within this number," Barbour stated.
"The Constitution requires us to pass a balanced budget and to do so we must work out our differences within the limits of this number and the total of all the appropriation bills must not exceed it. I encourage Legislators to spend the weekend considering the best apportionment of these funds," the governor said.
Previous Comments
ID

64582

Comment

Ok, I admit I am no expert on this sugject; so, someone please help me out with this. When it comes to budgeting for education, I am fairly vocal - although, I have not kept up with this area as much as I should. My mother is a special education teacher for the city of Jackson school system. She has over 30 years of teaching experience, a masters in special education, and has worked for the State Board of Education in the Special Education division. With this being said, I am outraged that she makes a little as she does! When family issues required her to relocate back to Mississippi 12 years ago (from GA), she had to take a $15,000 pay cut! Not only is she not paid what she is worth, the classes are increasingly getting larger, there are not adequate text materials for students, and teachers are having to rely on thier own money for basic class materials. And we wonder why we are so low in comparison to the nation? Why would anyone WANT to teach here? We are loosing extremely talented staff, many teachers do not survive this system more than a few years, and other states are offering sign on bonuses to attract new teachers. What is Mississippi doing? Wasting a golden opportunity. The state has enough money to constantly give legislators yearly raises, but we don't have enough money to make sure our children don't have to share text books?????? Talk about mis-guided priorities! Okay, I will step down from my soap box for a moment. Rachel

Author

dreamtraveler430

Date

2005-05-27T09:24:55-06:00
More like this story
More stories by this author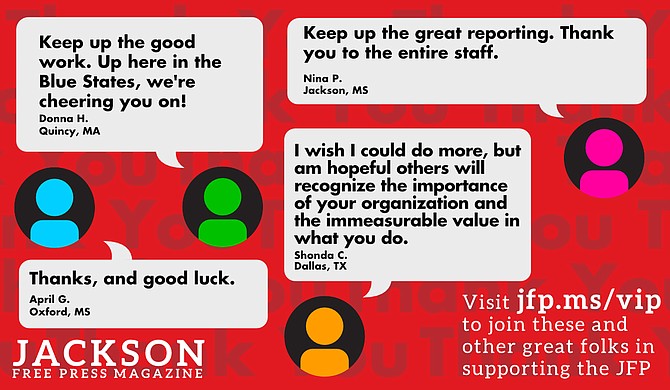 Thanks to all our new JFP VIPs!
COVID-19 has closed down the main sources of the JFP's revenue -- concerts, festivals, fundraisers, restaurants and bars. If everyone reading this article gives $5 or more, we should be able to continue publishing through the crisis. Please pay what you can to keep us reporting and publishing.