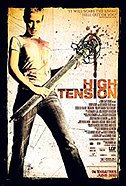 The advertisements for "High Tension," a low-budget, rather arty French thriller that has inexplicably garnered a wide U.S. theatrical release, bill it as one of the year's most intense and uncompromising film experiences. In this aim, director Alexandre Aja has succeeded, technically, having crafted an occasionally suspenseful and overwhelmingly graphic account of a murderous rampage in the French countryside. However, while the word-of-mouth attached to this import since its appearances at film festivals suggested that it might inject new energy into the exhausted "slasher" genre, Aja has created little more than a formulaic horror story with one of the most laughable twist endings in history.
After an effective, intriguing prologue set in a mental hospital, "High Tension" flashes back to a road trip between two young women. In need of a quiet study spot while on vacation from school, college friends Marie and Alex retreat to the isolated farmhouse owned by Alex's family. On their first night there, a serial killer enters the house and brutally murders everyone except Alex, whom he chains up in the back of his truck, and Marie, who evades the overalls-wearing psycho by hiding under her bed during the carnage. Unable to call the police and with no neighbors to alert, Marie realizes that her friend almost certainly won't survive whatever intentions the killer has with her, and she manages to sneak into the truck with Alex just before it drives off. Determined to save her friend while keeping her existence unknown to the killer, Marie makes one risky, bizarre decision after another as "High Tension" careens toward its bloody final battle and absurd conclusion.
The film has been clumsily dubbed into English for its American release, though a considerable amount of dialogue remains in its original French, with English subtitles (the reason for this dubbing/subtitling hybrid is as baffling as its presence is distracting). Additionally, roughly a minute of gore has reportedly been excised from this version, after the original cut was assigned an NC-17 rating by the MPAA. Though neither of these alterations, clearly made for commercial purposes, should be considered acceptable for any film, in "High Tension" they are far less egregious offenses than the ones its screenplay ultimately commits.
Featuring content so extreme that it's likely to make even the most seasoned horror fan squirm, "High Tension" is probably far too violent for most moviegoers. Its pervasive level of gore, comparable perhaps only to that of "The Passion of the Christ," is intended to add to its realistic portrait of a very dire circumstance, but it feels more like a mask for the impotence of other aspects of the film. Aja seems to forget that the most effective entries in this genre actually feature very little blood.
Aja's direction, taut and stylish throughout, is undercut by the silliness of the story he has filmed. It's difficult to judge the quality of the performances because the dubbing renders much of the dialogue flat and unemotional.
Until the final scenes, when Aja smugly unleashes the movie's big twist like an absurdly perfect poker hand, "High Tension" is a well-shot, fairly engaging plunge into the macabre, one that—despite its almost offensively derivative plot (the first two-thirds virtually plagiarize the story of a Dean Koontz novel, "Intensity," and Aja certainly borrows liberally from his American counterparts in this genre)—actually works pretty well.
The final revelation, however, instantly creates so many holes in the film's narrative that it nearly renders it completely nonsensical. With it, Aja holds his audience in cinematic contempt, asking that they (if they even understand "High Tension" anymore by the time the credits roll) accept too much with too little corroboration. It's a cheat, and the clues Aja apparently thinks he drops elsewhere in the film to justify such implausibility only confirm that he's been playing with a stacked deck all along.
More stories by this author
Support our reporting -- Become a JFP VIP.
The news business has changed dramatically in the past year, and we need your help more than ever to keep bringing you important stories about Jackson and the Metro. Become a JFP VIP with an annual membership or you can Sign up as a monthly supporter. Thanks for anything you can do to empower our journalism!