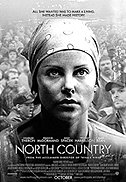 A fictionalized account of an actual 1984 court case that revolutionized sexual harassment law and exposed the misogyny of Minnesota's mining industry, "North Country" is a stunning, must-see drama marked by understated, focused direction and assured, award-worthy performances. Directed by New Zealander Niki Caro, who exploded onto the film scene two years ago with the soulful, unforgettable "Whale Rider," "North Country" is an example of that rare film that takes a story that could have been too formulaic—courtroom dramas and female oppression tales are fairly well-worn cinematic territory—or sentimental (only a couple of times does Caro pull on the audience's heartstrings, and she means business when she does), and crafts it into something layered, powerful and thought-provoking.
At the heart of "North Country" is Josey Aimes (Charlize Theron, "Monster"), a mother who, after leaving her abusive husband, finds herself in need of a steady job and some quick cash in rural 1980s Minnesota. Her friend Glory (Frances McDormand, "Fargo"), a truck driver at the local iron mill, convinces Josey to take a job in the well-paying but male-dominated industry. From Josey's first day, she and the other female workers (a small group significantly outnumbered by the men) are subjected to unspeakable derision and harassment. Almost immediately, Caro begins cutting forward to some sort of court proceedings (it becomes clear that the mine is being sued for the treatment of female workers), with an emotional Josey on the witness stand.
"North Country" thus flashes forward and backward among three distinct time periods: Josey's tumultuous high school years as a pregnant teenager, loved by her confused mother (Sissy Spacek, "In the Bedroom") and loathed by her austere father (Richard Jenkins, "Intolerable Cruelty"); Josey's employment in the mine and the accompanying sexual harassment; and the eventual court case she wages against the mine's managers with her lawyer Bill White (Woody Harrelson, "The People Vs. Larry Flynt"). The bulk of the film, however, is devoted to the middle time period, with Caro unflinching in her depiction of the emotional and physical abuse endured by the women, who are unwilling to speak up (they accuse Josey of lying when she finally does so) because they are afraid of losing their jobs.
An array of powerhouse performances from an impressive ensemble cast highlight "North Country." Theron, who pocketed a richly deserved Best Actress Academy Award last year for her extraordinary portrayal of serial murderer Aileen Wuornos in "Monster," is likely to find herself nominated again for her work in "North Country." Everything about Theron's performance—her effortlessly applied Minnesota accent, her willingness to completely deglamorize herself, her convincing communication of vulnerability, sadness and rage—is faultless and remarkable. In their supporting roles, fellow Oscar winners McDormand and Spacek are typically superb, although McDormand's character, who develops Lou Gehrig's Disease, threatens to become more sympathetic than Josey, and Spacek is underused. One of the film's most triumphant performances belongs to Jenkins as Josey's stern father, also an employee of the mine, who is astonishing in his few scenes.
Though certainly one of the year's most accomplished motion pictures, "North Country" is not without its flaws. Although the film does address the very real problem of sexual harassment in the workplace with genuine dramatic depth, there are times when the film does not ring true. A couple of key scenes, such as a confrontation between Josey and one of her harassers' wives at a hockey game and a late-night basement conversation between Glory's husband and Josey's son, are blatantly contrived and lack credibility. The film is virtually devoid of humor (only a few moments will elicit any sort of laughter); while the subject matter is very heavy, it seems unreasonable for the story to be so cold and joyless. And the ending, which feels rushed and anticlimactic, denies the audience the actual conclusion of Josey's case.
Running over two hours, "North Country" is a long film, but it's never boring.
More like this story
More stories by this author
Like independent media outlets around the world, the Jackson Free Press works hard to produce important content on a limited budget. We'd love your help! Become a JFP VIP member today and/or donate to our journalism fund. Thanks for considering a JFP VIP membership or one-time support.