Tempers flared for the first real time on the floor of the Mississippi House of Representatives May 26 as lawmakers argued over an amendment by Rep. Bennett Malone, D-Carthage, to strike all bond measures from Gov. Haley Barbour's Momentum Mississippi incentives package for businesses and keep only Momentum Mississippi—the part that the governor wants. Fueled by the tempers of representatives like Steve Holland, D-Plantersville, and others, the House voted to block the amendment and sent the bill on its way, lugging an additional $98 million in other projects, from $56 million for Northrop Grumman shipyard in Pascagoula to a $900,000 lake in Alcorn County. The bill and its additions total $123 million in bond projects.
The Senate balked at the sizable baggage it carried and opted to hold the initiative for consideration in a third special session rumored to begin this week.
'Pet Projects'
Barbour criticized the House for tacking on millions in "pet projects," and said the state constitution doesn't allow consideration of any issue in a special session other than those set by the governor, repeating that the special session call only allowed consideration of "Momentum Mississippi" bond legislation.
"The taxpayers have just been forced to pay off Mississippi Beef Processors, a $40 million fiasco encouraged by House leaders with no oversight, and we're not going back to that kind of process," Barbour said.
Rep. Bobby Moak, D-Bogue Chitto, warned during the debate, however, that had the House allowed the amendment to stand without additions, House members could "say goodbye to their own projects because they'll never be listened to again."
Senate Finance Chairman Tommy Robertson, R-Moss Point, and Lt. Gov. Amy Tuck are eager to get the Momentum Mississippi incentive out of the Legislature and across the governor's desk.
Many pro-business leaders fervently want to see the initiative become a reality, touting it as a means to make the state more competitive among its southern neighbors. The initiative contains three recommendations from Blueprint Mississippi, a nearly $500,000 study released by members of the private sector in 2004 and met with approval by Barbour.
What is 'Momentum'?
Momentum Mississippi will make available up to $200,000 for supervisors and mayors to supply incentives to relocate smaller companies, with a staff between 20 to 150 individuals. Applications must be submitted to MBA and meet the qualifications. The initiative also supplies up to $150,000 per program for infrastructure like sewer and water. The third recommendation sculled from Blueprint Mississippi extends incentives to existing businesses for reinvestment in equipment to make aging manufacturing plants more productive. The plan also makes available money to businesses for the purpose of re-educating employees or new recruits.
Mississippi Economic Council President Blake Wilson praises the initiative for also providing incentives to "attract data-processing type operations."
"Right now we're geared only to attract industrial projects, but that would allow us to get into data-type industries," Wilson said. "Today, many of these operations are getting transferred ... to Tennessee and Texas because they have incentives, and the Internet takes away the need to be next to a major metro area. Some of Mississippi's own college towns could be good locations."
While most legislators have no outright beef with the concepts behind Momentum Mississippi, the tug-of-war nature of state politics has wedged itself firmly into the initiative.
Holland said the initiative is not a bad idea, but "it's not exactly rocket science, either."
"It's just giving the governor the authority to take all the programs that exist now and put them into one (program) and allow him his discretion to decide which one is the most preeminent economic development project. My problem with it is that I think that's the Legislature's prerogative," Holland said.
"We've got the Mississippi Development Authority now, and we established various programs that have worked wonderfully for many years … but the Legislature's had the prerogative for years to decide on economic development projects, and I don't want to give that totally to the governor. I don't want to give the damn governor nothing. I don't even like governors."
'Not a Good Idea'
Rep. Robert Johnson, D-Natchez, said he regards any incentive project that requires state money with suspicion.
"I'm a businessman with a law practice, and I remember when I got a loan for opening up my business having to explain to the banker why he should risk his money on me. I didn't go to the state or the federal government. I went to the bank. Whenever people talk about the virtues of a business idea that has to be funded by the state government my concern is that if it's such a good idea why do they need money from us," Johnson said during the May 26 session. "Why do we need Momentum Mississippi or any funding for a beef plant or for anything if it's a good idea? I'll tell you why: because it's not a good idea."
Wilson warns that regardless of whether or not Mississippi passes a more business-friendly round of incentives, other states around us already are, and are rapidly stacking the cards against Mississippi for future development.
"North Carolina's in the process of updating its incentives. Nebraska is updating theirs as well," he said. "Standing still in this business means slipping backwards, and the train is going to pass us by if we don't get this done. We're not going to be able to compete."
Rep. John Mayo, D-Clarksdale, said he and lawmakers were getting plenty of pressure from the business community to pass the Momentum package, but added that he wished their priorities extended to other programs as well.
"We are getting a lot of pressure from local business persons to pass the governor's momentum Mississippi bill to borrow money to make available to industry," Mayo said. "I still wish these local businessmen would pressure the governor to fully fund education to the point of raising taxes to do it."
Watch jacksonfreepress.com for legislative updates between print editions.
Previous Comments
ID

64586

Comment

Beef plant fiasco: The Clarion-Ledger responds today to Barbour's statements of late (including in Adam's story above) blaming this mess completely on House leasders, and abdicating responsibility himself: The failed Mississippi Beef Processors is long closed and the public debt is now paid, but the political mooing is far from over. In fact, Gov. Haley Barbour can now join the herd. During a Thursday press conference, Barbour announced that the state paid off a $34 million state-guaranteed loan for the plant. Barbour used the occasion to heap as much blame as possible on the state House of Representatives and the administration of his predecessor for the failure of the $55 million beef plant at Oakland. "Today I am signing legislation to pay the cost of a bad economic development attempt." Barbour said. "Mississippi Beef Processors, a creation of the legislative process led by the current House leadership, is costing taxpayers $40 million." But on Oct. 13, 2004, Barbour sent a letter to Mississippi Beef Processors owner/operator Richard Hall ó now the target of a joint federal-state investigation ó congratulating Hall on the opening of the plant, praising its "positive impact on Yalobusha County" and offering assistance. "Because industries such as Mississippi Beef Processors, LLC are the key to economic growth in the state, the Mississippi Development Authority offers continuing support to you as a Mississippi business . . . if my office can assist you in any way, please let me know," Barbour's letter gushed. Good for them for pulling this old letter to put Barbour's in better perspective.

Author

DonnaLadd

Date

2005-06-04T08:42:00-06:00
ID

64587

Comment

BTW, if you're not up on the beef-plant fiasco, Google the Clarion-Ledger stories. As far as I can tell, they've done a good job on this story, which is a bit outside our geographic purview. Any other thoughts on it from knowledgeable bloggers would be interesting to help Jackson folks put it into context. The whole things strikes me a royal, bipartisan f*ck-up from what I've seen so far, but I'm open to suggestion. ;-) Clarion-Ledger story

Author

DonnaLadd

Date

2005-06-04T08:50:33-06:00
ID

64588

Comment

Here's the rest of that quote from Barbour's press release the other day. I guess his own support for the beef-plant corporate welfare has gone on down the memory hole: Governor Haley Barbour today signed a bill that pays off the State's debt for the now-defunct Mississippi Beef Processors plant, and called lawmakers back for a third special session on June 28 to pass Momentum Mississippi, a plan to update Mississippi's economic development programs. "Today I am signing legislation to pay the cost of a bad attempt at economic development. Mississippi Beef Processors, a creation of a legislative process led by the current House leadership, is costing the taxpayers $40 million," said Governor Barbour. "The last administration got snookered on Mississippi Beef Processors, and the Legislature ended up buying a pig in a poke. We're not going to have that kind of good ole boy logrolling any more. We're not going to trade beef for pork."

Author

DonnaLadd

Date

2005-06-04T10:41:30-06:00
ID

64589

Comment

Note these comments today from Dem head Wayne Dowdy about Lester Spell's party switch, the beef-plant mess and Barbour: Spell's conversion comes in the midst of a state and federal investigation into the failed Mississippi Beef Processors plant in Oakland that left taxpayers footing most of the $55 million the state invested. The state just paid off the $35 million, state-guaranteed loan used to build the plant with proceeds from a $100 million tax settlement with MCI. The plant closed Nov. 17, only three months after it opened, putting 400 people out of work. "I smell some odor coming from Lester's meat processing plant and Haley Barbour's office," state Democratic Chairman Wayne Dowdy said Friday night after learning of Spell's party switch. Spell, chairman of the Land Water Timber Resource Board, wrote a letter in February defending the board's July 2001 decision to issue a $5 million grant to Mississippi Beef Processors President Richard N. Hall Jr., who later defaulted on a $35 million state-backed loan for the plant. Both Hall and his wife, Jill, are part of the investigation. The Land Water and Timber Resources Board also is being audited. "I wonder if Haley Barbour will continue to attack Lester now about his meat processing plant," Dowdy said. "We'll see." Something does seem a bit stinky in the state of Mississippi, eh?

Author

DonnaLadd

Date

2005-06-04T10:56:55-06:00
ID

64590

Comment

Good Marshall Ramsey today about Barbour's beef-plant hypocrisy.

Author

DonnaLadd

Date

2005-06-06T12:10:18-06:00
More like this story
More stories by this author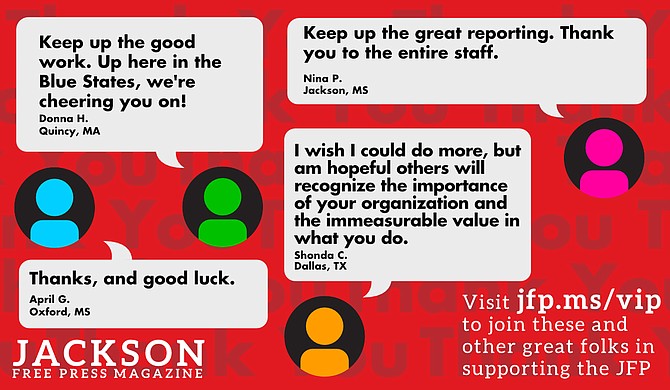 Thanks to all our new JFP VIPs!
COVID-19 has closed down the main sources of the JFP's revenue -- concerts, festivals, fundraisers, restaurants and bars. If everyone reading this article gives $5 or more, we should be able to continue publishing through the crisis. Please pay what you can to keep us reporting and publishing.