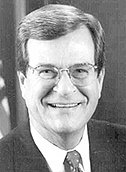 Within weeks of passing a resolution to apologize for lynching, the U.S. Senate is moving to help solve old civil rights cases. U.S. Sens. Jim Talent, R-Mo., and Chris Dodd, D-Conn., recently announced strong support for their Unsolved Civil Rights Crime Act (S. 1369) with 22 cosponsors, including Dodd and Talent, already backing the legislation.
"The blatant failure for decades to bring Emmett Till's murderers to justice was and is a national disgrace," Talent said in a released statement. "The idea for this legislation grew out of the Emmett Till case and discussions I had with Alvin Sykes, a civil rights leader in Kansas City and president of the Emmett Till Justice Campaign. It became clear that we needed to creat an office to investigate unsolved murders that occurred in the era before there was vigorous enforcement of federal law."
The bill seeks to create an office within the U.S. Department of Justice to investigate and prosecute Civil Rights-era murders. The Talent-Dodd proposal would create the Unsolved Crimes Section, an office within the Civil Rights Division of the Department of Justice to focus specifically on unsolved civil rights-era murders. The bill would authorize up to $5 million annually for the new Section.
Co-sponsored by a wide variety of personalities from Hillary Clinton, D-N.Y., to Lindsey Graham, R-S.C., the bill has attracted universal approval.
"I think the reason we've seen this kind of support right away is due to the power of the idea," said a statement from Talent on his Web site. "…We need to aggressively investigate current civil rights cases, but we should also dedicate separate resources to investigate civil rights-era murders like the Emmett Till case. … We need to unearth the truth and do justice because there can not be healing without the truth."
Crimes committed during the civil rights era have been repeatedly popping to the top of Mississippi news as age-old wrongs find justice after decades. In 1994, a Mississippi jury in Hinds County convicted self-proclaimed white supremacist Byron De La Beckwith for the 1963 ambush killing of NAACP field secretary Medgar Evers in Jackson, Mississippi. This year a jury convicted Edgar Ray Killen of helping to orchestrate the 1964 killings of James Chaney, Andrew Goodman and Michael Schwerner. And the Henry Dee-Charles Moore case (in Meadville, detailed the last JFP) is an example Talent has used to gain support for this bill.
Mississippi Sens. Thad Cochran and Trent Lott have also jumped onboard, fully supporting the act. Their support was announced weeks after both men refused to co-sponsor a Senate resolution that apologized for the Senate's failure to do anything to stop lynchings that resulted in the deaths of thousands.
Lott had offered no explanation, while Cochran had told the press that he had no power over what the Senate did before he became a part of it.
Press secretaries for both senators deny that this recent support is an attempt to save face.
"Anybody who knows Cochran knows this is not the case," said Jenny Manley, press secretary for Cochran. "He was a co-sponsor on this from the very beginning. This is something that actually does something, and he thinks it's a good idea."
"With regard to the lynching legislation that was brought up, unless someone has a time machine there's no way to go back and change lynching," said Lee Youngblood, press secretary for Lott. "But this recent thing is substantive legislation in the here and now that can help authorities today pursue these cases. This is a substantive piece of legislation as opposed to something that really can't impact the world we live in today."
John Aravosis, editor of Americablog.com and a political analyst in Washington, D.C., commended both senators for their recent support, but did so with reservations.
"We're not going to kick them when they're doing the right thing, but having said that, they did the wrong thing a several weeks ago," said Aravosis. "They refused to make a clear statement opposing lynching, which was bizarre, and even after it became a furor, they still refused to come out and support the resolution. I'm glad the senators think history is wiped clean from before the day they arrived in the Senate. Frankly, those are the kinds of comments that make one wonder if this isn't all about racism. It makes you wonder what's really motivating them."
Previous Comments
ID

64634

Comment

Motivation is a sticky wicket, it's extremely difficut to prove. You may make your own judgement on what a person's motivation is, but trying to pin them down on it when they finally do the right thing is likely to accomplish little more than give them a platform of affronted martydom to stand on while you end up sounding like you're whining. When those in power do the right thing for the wrong reasons (like being backed in a corner by their previous foolishness), the best thing to do is run with it. Don't forget who they are (keep eyes in the back of your head while running with it), but don't complain. Just say "Thanks, you did the right thing!" and sprint down the path they opened for you before another roadblock appears. These two finally did the right thing, and I say good on them for it; what we need to do now is hold them to it. Do we have some cold cases for them, too! The Charles Moore and Henry Dee lynching is on the official radar now, and we have some other cases where conspirators and murderers are still alive, and we need to get them in the radar sights, too. The big Jackson cold case comes to mind - Phillip Gibbs and James Green . Even though two were killed and fifteen injured, what happened at a black college in Jackson, MS hardly made a ripple in the flood of media coverage of the deaths at Kent State, a white college in Ohio, little more than a week earlier. There is quite a good coverage and excellent photos of the Jackson State mess on the Kent State website.

Author

C.W.

Date

2005-07-28T08:44:25-06:00
ID

64635

Comment

I think the Clarion Ledger editorial staff had an Aha! moment. (1 plus 1 equals TWO!) One of today's editorials said: Lampton's and Harper's investigations follow last month's successful state prosecution of Edgar Ray Killen for the manslaughter of three civil rights workers in Neshoba County in 1964. They also underscore the need for a cold case unit in the U.S. Justice Department, which U.S. Sens. Thad Cochran and Trent Lott are sponsoring a bill to fund. Now, there's what I've been thinking - Cochran and Lott's public committment to a cold case unit plus the Dee/Moore Coalition . . . a match made in heaven. I'm glad the C/L guys finally thought of it - and not only thought of it, but mentioned the two in one lovely paragraph.

Author

C.W.

Date

2005-07-28T19:25:57-06:00
More like this story
More stories by this author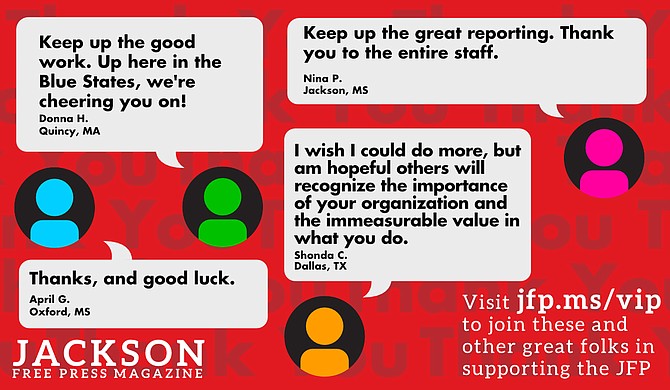 Thanks to all our new JFP VIPs!
COVID-19 has closed down the main sources of the JFP's revenue -- concerts, festivals, fundraisers, restaurants and bars. If everyone reading this article gives $5 or more, we should be able to continue publishing through the crisis. Please pay what you can to keep us reporting and publishing.