Why are your vegetables at your local grocery store so cheap? It may well be because the farmer that grew your vegetables was able to hire cheap help via immigrants—some of the 100,000 undocumented "aliens" living in the state today. But many of those immigrants are having trouble getting to work—because they cannot legally drive in the state of Mississippi.
A subcommittee of the Mississippi House Transportation Committee gathered Monday after the day's session let out to discuss HB 937, "The Driver's License Bill." This piece of legislation would allow non-U.S. residents to apply for a non-resident Mississippi driver's license, get tested and photographed, and if they pass, obtain a driver's license and auto insurance. The bill, presented by Rep. Jim Evans, D-Jackson, has more than 30 co-sponsors. Tennessee already has such a law.
The meeting had voices from both sides—the Mississippi Immigrants Rights Alliance and the opposition, which included some members from the State Highway Department and Homeland Security. The advocates for the bill referred to the workers in this state that clean your hotels, raise your chickens and cultivate your fields as people who are currently "undocumented;" meanwhile, the opposition and many other lawmakers at the Capitol are referring to these people as "illegal aliens" in their bills and conversations.
Advocates for the measure, such as Sister Jean of the local Catholic diocese and local attorney Patricia Ice, pounded out the positives of passing such a bill. The heart of this issue lies at the point where most people think that a Social Security number is a form of identification. While it is often used that way today, both attorney Ice and Ed Worthington of Homeland Security, representing opposing sides, agreed that "Social Security was not created for that purpose." Ice and Worthington also agreed that many of the state's current statutes surrounding this issue are contradictory.
Worthington said, "It certainly is a problem if you want to give these people a driver's license. Think about it. You're filling out an application saying you are here illegally if you don't have the other documents, and who's going to do that? It's a Catch-22."
Bill Chandler from the MIRA points out some advantages of passing HB 937. "Unlicensed drivers who haven't been tested are a potential danger to everyone on the road. Since they will obviously drive to work or to school, and they are allowed to go to higher education institutions by law, then wouldn't you feel better knowing they had passed a driving test?" His organization also claims: "Unlicensed drivers cause insurance rates to rise and are more hazardous. This bill would enable more drivers to be licensed and insured."
Lastly, MIRA points out in their documents: "Unlicensed drivers are not subject to background checks. This bill could mean the difference between apprehending a dangerous criminal or simply letting them go."
The bill should be approaching the floor soon.
Previous Comments
ID

64442

Comment

i know that with the 'best of' stuff going on, this story might not get much in the way of comments, but i think i have a problem with this bill. it seems to me that if someone is in this country illegally, they are not paying the taxes that we pay for the schools they attend and the upkeep of the roads they drive on. therefore, why should they be allowed to attend those schools and obtain licenses to drive on those roads IF THEY ARE IN THIS COUNTRY ILLEGALLY. i have absolutely no problem with them being in this country in the first place, but the rights and privileges being discussed here should be reserved for those of legal status. what needs to happen first, before we start giving away these rights, is to change the immigration policies and somehow allow them to become legal residents. if they were legally residing in this country, and in mississippi, then it would be a given that they could attend schools, obtain driver's licenses, and partake of any other right or privilege that the rest of us have. i have no problem with extending legal status to anyone who wants to be here, but until they are legal, they should not be enjoying the rights that those of us who are enjoy and fund.

Author

ben

Date

2005-01-28T14:30:24-06:00
ID

64443

Comment

On the one hand, I agree with you ben. On the other, I feel like we need to provide some services and legal protection for illegal residents. Otherwise, we end up with a population of people who can be treated inhumanely and otherwise exploited. All the issues around illegal immigration are complex, since they ultimately deal with one set of people (residents) vs another set of people (illegal immigrants) - and trying to treat them all fairly and humanely. The driver's license thing is very odd. I'd have to ponder all sides before I came to a conclusion. But, didn't MS at one point have a tax on the sale of black market liquor? Maybe we should stand by our heritage of bizarr-o legislation.

Author

kate

Date

2005-01-29T10:38:17-06:00
ID

64444

Comment

"all the issues..are complex." that is for sure. it's almost like the offshore/ outsource problem. there is work that businesses want done as cheaply as possible, they hire 'illegals' and yet give them no protection here. they are here because they have found work, and if it undercuts the wage rate, well. you're right, it's complex. but they work, they deserve respect and equal treatment. Ok, I may be wrong, let's ask some experts. I had no idea MS has so many 'illegals.'

Author

sunshine

Date

2005-01-31T16:01:33-06:00
ID

64445

Comment

Just a note...I wrote the article...and if you can't believe there are 100,000 undocumented residents in this state...you wouldn't believe how many are in the entire US...try 8,000,000. That's right--a whopping 8 million. Crazy huh?

Author

Brett Potter

Date

2005-01-31T16:52:10-06:00
ID

64446

Comment

thanks Brett, yes it's crazy. they are here because someone employs them, else why. so, where are those, expletive, employers when workers need . oh, the term slave labor just popped into my head , but that's not quite the story. I don't know. I do know the border situation is very bad. don't know much else. Ms. does not have a border, but ..from Texas? Fla? other borders, other countries. but, Brett, how exactly do you feel about illegals, it was not clear. sorry if I missed it. most of us don't know..

Author

sunshine

Date

2005-01-31T17:26:54-06:00
More like this story
More stories by this author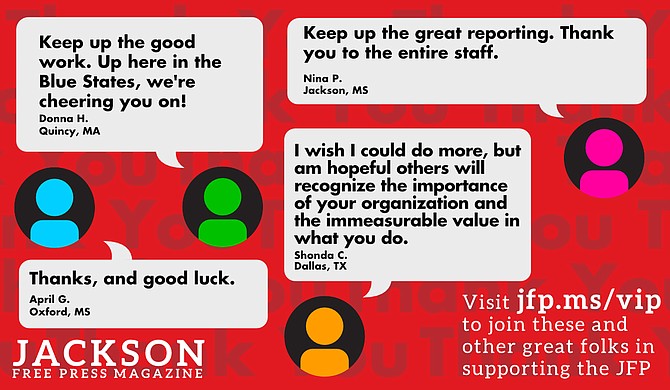 Thanks to all our new JFP VIPs!
COVID-19 has closed down the main sources of the JFP's revenue -- concerts, festivals, fundraisers, restaurants and bars. If everyone reading this article gives $5 or more, we should be able to continue publishing through the crisis. Please pay what you can to keep us reporting and publishing.