This year, the lawmakers at Mississippi's Capitol have had time to do great things such as reforming the juvenile-justice system and settling some Medicaid issues. They have also spent many hours rubbing elbows with B.B. King and Faith Hill, criticizing Jim Barksdale's offer of $50 million for education (Gov. Haley Barbour's chief of staff called it a "bribe"), naming a state reptile and declaring that the Magnolia state does not need new streams of revenue—especially in the form of a tobacco tax.
Barbour has spent so much time in D.C. that he had to call a special session from there during a regular session—the first ever in this state's history—even as he's having a $300,000 renovation done to his mansion downtown.
But why haven't the governor and legislators had time to come to terms with the $3.8 billion state budget—their main responsibility? This is the first time in Mississippi history that a regular legislative session has ended without a budget—yet another first for the Barbour administration.
As a result, many lawmakers will have to return for a special session before the new fiscal year starts on July 1.
According to a statement by John Arledge, Barbour's deputy chief of staff, "Barbour has no plans to announce a special session in the next few weeks." Legislators are calling May an ideal month because reports on April's tax collections will hint at future revenues. But what about the law that says school districts have to let teachers know by April 15 if they will rehire them, and what about state agencies that could face cuts, too?
Rep. Jim Evans, D-Jackson, said that Barbour will take his time calling the session. "The governor's office doesn't take any of those deadlines such as April 15 seriously," Evans said. "I do, but they made it clear that they do not. The budget should have already been set. They will wait until after April 15, so the schools will make cuts. That's all he wanted in the first place, and it will be easier to bring a budget. We can't afford to lose any more good teachers, though; we need to let them know their standing now so those that are out in limbo won't go out and get jobs elsewhere."
Only Barbour can call a special session, and he gets to set the agenda—one appropriations bill at a time. Special sessions cost $34,942 a day. Neither Lt. Gov. Amy Tuck nor House Speaker Billy McCoy, D-Rienzi, has commented on knowing when Barbour would call a session.
After 12 weeks of bickering, the two chambers couldn't agree primarily because of the public schools' request for more than $2 billion in funding. The House tried to get close, within $25 million, of their request, but the governor and his Senate were reluctant toward K-12 funding.
In the final week of negotiations, the Senate agreed to spend about $112 million more on K-12 education than the Legislative Budget Recommendation, compared to the House's offer of $143 million more. The state can be sued by the federal government if it does not "adequately" fund public education.
Previous Comments
ID

64563

Comment

There is another reason why Babar's waiting until May or later to call special session(s). He is most likely going to call a series of sessions, each one dedicated to addressing a particular part of the state's budget or a specific group of agencies. One of the things he is hoping to do is get to the K-12 education budget well after school has been dismissed for the year. GOP thinking: Without kids in school, parents are less focused on education issues. Teachers are less organized outside the school/district organization. The Rotund One is hoping there will be less pressure on his clones in the Senate.

Author

GDIModerate

Date

2005-04-14T07:48:08-06:00
ID

64564

Comment

Let's not forget that the legislature did tackle the issue of unregulated and unlicensed hair weaving in Mississippi during this session. Do not accuse these people of not dealing with the important issues. Meanwhile, the state supported public university that I work for cannot set its own budget due to the fact that the state has not announced its education appropriations for the year. Next year's tuition structure cannot be set, hiring has been frozen, and we cannot firmly commit to scholarship funding. Who needs education anyway? Right Mr. Governor? Distinguished members?

Author

Count No Account

Date

2005-04-14T08:22:19-06:00
ID

64565

Comment

I wouldn't belittle the hair-weaving issue. It's important, economically, to a lot of people in the black community. Not saying the Legislature is stellar on this, mind youójust that the issue in itself isn't trivial.

Author

DonnaLadd

Date

2005-04-14T09:33:19-06:00
ID

64566

Comment

haha I just realized the whole Babar thing...like Babar the elephant...LOL That is very clever of you GDI.

Author

Brett Potter

Date

2005-04-15T02:57:29-06:00
ID

64567

Comment

Babar is getting his wish: cuts have commenced. Jackson Public Schools has announced 60 teaching position cuts along with clerical and support staff reductions. The district will also have to eliminate the Juvenile Detention Center School. Now how can the Rotund One soften that blow? These kids are already on the outer edge of risk and your going to take away any semblance of a normal education for them on top of it. That's going to help make productive citizens out of them!

Author

GDIModerate

Date

2005-04-15T07:04:14-06:00
ID

64568

Comment

Here are just a few credits for Babar and Boys. From the Hattiesburg area. From Jones and Smith counties. From Natchez. And from right here at home. Babar's ears must be wigglin to beat the band.

Author

GDIModerate

Date

2005-04-15T08:01:44-06:00
ID

64569

Comment

Why do folks always put the Govenors mansion renovations in their soundbits? For heavens sake its being done with private funding, and its got so little to do with this governor- he is nothing more than a temporary resident in that building- which I think most of us agree is a good thing. And I honestly think that delaying the special session will make it easier for the legislators to base budget decisions on more concrete revenue numbers. Maybe it will help these do nothings at least make better decisions.

Author

bluedog

Date

2005-04-20T14:09:28-06:00
More stories by this author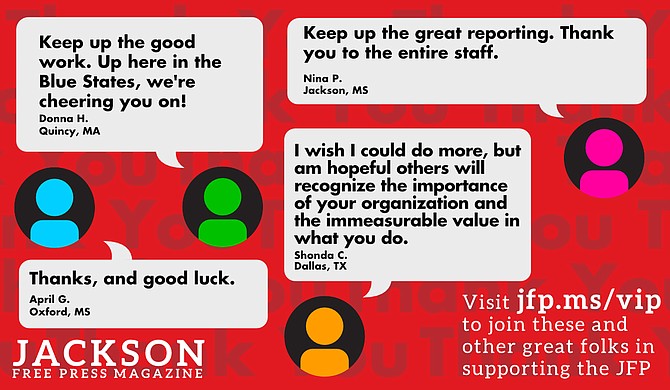 Thanks to all our new JFP VIPs!
COVID-19 has closed down the main sources of the JFP's revenue -- concerts, festivals, fundraisers, restaurants and bars. If everyone reading this article gives $5 or more, we should be able to continue publishing through the crisis. Please pay what you can to keep us reporting and publishing.