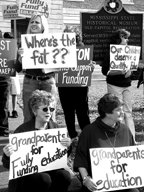 Gov. Haley Barbour's "Mississippi Education Reform Act of 2005," SB 2504, finally passed in the House of Representatives in early March, after living in the shadow of a looming Medicaid crisis. But the bill may be something quite different from Barbour's vision now that the Mississippi House has made considerable changes; there's a good chance the Senate will shoot it down before it even has a chance to reach that small stack on Barbour's desk.
In multiple press conferences, Barbour has trumpeted his Education Reform program with the moniker "Upgrade." SB 2504 focuses on improvements for high-performing schools, including more freedom from state oversight for those schools.
However, some Mississippians who support Mississippi's current law—the Mississippi Adequate Education Program, or "MAEP"—feel like education is on its way to a critical downgrade, if the governor's plan passes without the state finding a way to fully fund MAEP this year.
With a heavily amended SB 2504 headed back to the Senate for conference negotiations, some observers wonder if the Legislature is headed for yet another special-session showdown. MAEP, meanwhile, which is funded through an appropriations bill, is currently in conference, as the House passed an education budget that was $180 million higher than the Senate's version, while still $25 million short of adequate funding.
HOW MUCH IS ENOUGH?
The Mississippi Adequate Education Program was passed by the Legislature in 1996 to move state funding of public school education from "minimally" funded to "adequately" funded by 2003. In a state where districts were historically woefully unequal, full funding of MAEP is designed to ensure that every Mississippi child, regardless of where he or she lives, or his or her race, is afforded an adequate educational opportunity, as defined by the State Accountability System. This program was designed to reallocate resources at the state level, moving some dollars from wealthier schools districts to poorer districts to fund the resources they need—including teachers, textbooks, instructional supplies, special ed, vocational ed, and gifted programs.
During the 2003 session, the Legislature took a strong stance on the support of public education through the early and full funding of MAEP—which represented the first year MAEP has been fully funded since its inception. In 2004, MAEP was under-funded by $45 million, and 2005 looks to be headed down a similar path, unless the Senate—which currently under-funds MAEP by over $200 million—moves much closer to the House's appropriations bill.
Susan McGehee, principal of Gloster Elementary in Amite County, said: "As one who works in the school systems, let me say it is absolutely essential for the future of this state that MAEP be funded. That's not providing extras—that's just the necessities. That is what is needed in the schools—what is adequate. It doesn't relate to funding above and beyond what is needed. To not fund this would be detrimental to both the children and the state."
Gloster Elementary is a K-8 school, evaluated as a "Level 3" school under the federal No Child Left Behind standards. This school, like so many other rural schools in the state, will be faced with hardships if MAEP is not fully funded. In fact, McGehee has already had to make some tough decisions at her school recently.
"If MAEP isn't fully funded this year, there would have to be fewer teachers," McGehee said. "Class sizes are increasing because of a lack of funds. Teachers are having to be released, and that's not good, especially for levels one, two and three schools. Jamming those classrooms full is not what you want to do, but that's what I'm having to do in my school. I'm having to let two teachers go this year. I'm having to discontinue the grades 5-8 [physical education] teacher because ... it was either cutting that or an academic subject. So I chose to cut [physical education]."
McGehee and other principals point out how expensive textbooks are, and how fewer can be bought without MAEP funding. If districts can't afford textbooks for every child, some may be forced to share books, meaning they can't be taken home as easily and a student's preparedness may drop.
TIME IS OF THE ESSENCE
Since one of the elements of Senate Bill 2504 is to give local districts more flexibility in setting opening and closing dates for each 180-day school year, Dr. Sam Bounds, director of the Mississippi Association of School Superintendents, said administrators all over the state have discussed several options to consider if they are under-funded. These include cutting bus routes, eliminating extracurricular activities such as sports, band and chorus, cutting middle school gifted programs, and extending the school day while cutting classes back to four days a week.
MAEP funding is a time-sensitive issue. For example, in the Jackson Public Schools, Deputy Superintendent Ron Sellers said: "Knowing out budget is a timeliness matter. We have to notify teachers by April 15th whether or not we can rehire them. If we don't notify them by that date, we have to retain them."
"If we can't fully fund the legislative mandates we currently have in our state, then we need to find sources of revenue. Shorting the state in education is shorting the state in the long run," Sellers added.
Susan Womack, the executive director of Parents for Public Schools in Jackson, agreed. "I understand that there are such limited funds available, but I think the answers to that are to find other revenue streams so that we can fund education adequately. I think the tobacco tax is a good solution. It's at least a good place to start to increase our revenue. I think we have gotten to the point now where we can't ignore the fact that we have to have more revenue," she said.
'THAT DAMNED SALARY INCREASE'
Funding MAEP isn't the only budgetary hurdle for education, as the Legislature also faces the need to fund an 8-percent teacher pay raise that was passed into law during the 2000 legislative session. This is the fourth year of a five-year plan to raise the state teachers' salaries to a comparable national average. Mississippi currently ranks 49th in the country for average teacher pay.
"The 8 percent is a whole separate animal than the MAEP funding. To shortchange either one of them would set us back on much of the progress that this state has made in education," Sellers said.
Jackson Public Schools Grant Writer Don Slabach agrees. "We can't separate the 8 percent pay raise and the MAEP because if you don't give the full 8 percent pay raise, then you lose teachers to other states and retirement. Then, we are losing, overall, in the area of education," he said.
One factor that has led to confusion is Barbour's insistence in press releases and Web materials that the teacher pay raise is an "8 percent across-the-board pay raise," when it is not. "It's not an 8 percent across the board, but an average based on experience and credentials," Sellers said. "One other qualm is that teachers with 30 years of experience aren't getting the full portion of the raise, while those with 25 years are."
Senate Education Committee Chairman Mike Chaney, R-Vicksburg, tried to explain how the dilemma came about. "The governor is trying to live up to a campaign promise to keep the pay raise intact. He didn't realize the effect of the pay raise without fully funding MAEP," he told the JFP.
"I, personally, think we should delay the 8 percent pay raise a few months to save money," Chaney said. "That savings would ensure some funding of the MAEP formula and would give us time and money to pay the increase in insurance of $30 million that would not have to come out teacher's salaries."
Womack sees Chaney's suggestion as a possibility. She says, "I've heard about delaying the teacher pay raise, and there might be some type of compromise that could be reached there. When you are facing a crisis of 37 schools operating in a deficit, I think there are teachers that would agree that we should do what we need to do."
Chaney has been highly criticized in local media for referring to the pay raise issue as "that damn salary increase" for teachers. He has also been accused of trying to remove the pay raise completely this year.
He told the JFP that he was misquoted: "First of all, I said 'if it wasn't for the damned pay raise, not 'damn salary increase' because it is damned from the start when you don't have the money to give folks. When we put the pay raise into legislation a few years ago we gave it had a trigger saying that if the economy grew 5 percent we would implement it, but it hasn't grown. When Musgrove was governor, he called a special session to take the 5 percent growth trigger off, and now we are paying for it. He claimed that the economy would grow 5 percent over the next 4 years ... which it didn't do."
(The same 5 percent trigger applies to the Medicaid bill that was passed last week, saying if the trigger was reached, general revenues in the state would be used to replenish funds in the Tobacco Trust Fund. Some were critical of this, claiming the money would never be paid back.)
The pay raise will cost the state approximately $98 million. The catch that many people don't understand is that the local districts have to come up with the money out of their budget to increase the teachers' other benefits. Districts claim that if they don't get full funding for MAEP then they can't possibly afford increased teacher benefits.
TO 'UPGRADE' OR NOT
When SB 2504 came to the House, they packed it with changes and removed some of the Senate's much-discussed provisions. One item removed was an exemption from requiring that high-performing schools have librarians. This was part of the Home Rule plan that allows schools more freedom to govern themselves and eliminates "unnecessary" obligations. Even though the House killed the exemption, some people remain upset that such a clause would make its way into a measure on education reform. Even Chaney, the bill's original author, said he agrees with the House on that decision.
Principal McGehee was appalled at the gesture. "I think it is important for librarians to be in the schools. I find that exemption to be ridiculous. Librarians are essential to the schools and accelerating their reading programs," she said.
The House also removed an item in the bill that wanted line itemization of MAEP appropriations for three categories: classroom instruction (including teacher salaries), administrative costs and ancillary items (such as counselors, librarians, plant and maintenance, etc.). According to Deputy Superintendent Sellers: "This was troublesome because on one hand, the bill was saying it wants to free things up with Home Rule and give school districts more flexibility. On the other hand, the bill would have locked up funds and the districts wouldn't have the ability to tweak their spending as they need to throughout the year." Luckily, this section was removed.
In addition, the House removed a clause for the creation of the Mississippi Virtual High School online courses and programs. Many of the House members felt that an online course could not do the justice that a teacher could in teaching a child certain things.
Chaney disagrees. "We need to implement the Mississippi Virtual High School fairly quick," he said. "It will fill the void to teach children where there are no teachers. You teach them via long distance or by the Internet. For example, if a school doesn't have a physics teacher then you can take that class online."
Opponents to this virtual classroom approach say that if schools were properly funded and teachers' salaries were raised as promised, then there would be no need for such a program because schools would not have the needed teachers or resources.
MENTORING … SOMEDAY
The House also pushed back the date on pay provisions for mentor teachers and higher pay for teachers at schools with good and improving test scores. The provision allotted $589,000 for this mentoring program. More than 1,000 mentors are to be put in place all over the state to help new teachers in their early years of teaching and to help with disciplinary problems in middle schools. However, the House pushed this program back a year.
Womack from Parents for Public Schools said, "The mentor program is obviously one of the things that is needed, but in the crisis we have now, there are some things we are going to have to sacrifice for now."
Some House members have wondered where the $589,000 for mentors will come from, given that the governor doesn't believe he can fully fund MAEP. (Meanwhile, the suggestion from some at the Capitol is that the Senate wants to change the date back.)
Three items seem relatively uncontroversial. The first is the addition of more Advanced Placement courses in high schools. These courses allow advanced high school students to study for tests that allow them to earn credit at most colleges. The second item is the expansion of "dual enrollment" classes for high school students. This would allow them to take classes at a community college or university while maintaining a high school curriculum, provided that all coursework be dually credited through both high school units and upper education degree credits. The last is Home Rule. Many people support limited Home Rule.
"We would like Home Rule for the entire district—that way we can be more innovative and progressive," Sellers said.
House Education Chairman Rep. Cecil Brown, D-Jackson, said: "I'm in favor of Home Rule. I think if a school has demonstrated that it can manage itself successfully, then it should be given a little more freedom. I also like the dual enrollment and AP policies."
SIMPLE ADDITION
The House discussed this bill for more than two hours when it hit the floor the first week of March. Some of their additions to the bill are expected to be churned out when the bill goes back into final negotiations in the Senate, but some may well stick.
One of the changes that is likely to be dropped is an amendment by Rep. Omeria Scott, D-Laurel. She proposed that "Level 3" and lower school districts should put boys and girls in separate classrooms and require that all students wear uniforms. Her measure also says that lower-ranking schools should promote programs that encourage parents to keep their children from watching television, talking on the telephone or listening to "nasty" music for at least four hours a day, on school nights. (The amendment didn't exactly define what "nasty" music is.)
Rep. Billy Broomfield, D-Moss Point, got the House to pass a "No-Pass, No-Play" provision that says middle school and high school students would need at least a 2.0 grade point average to compete in sports.
Broomfield claimed that when he was in high school, he wrestled with his grades but brought them up so his mother and coach would let him play sports. "Why get rewarded the pleasure of extracurricular activities when you don't perform well in the classroom?" he said.
Chaney said he plans to nix that provision when the Senate takes up the bill again. "I'm for removing the "No-Pass, No-Play" portion of the bill. That needs to be taken out. We have no place in that. That's why we have the Mississippi High School Athletic Association. They take care of that," he said.
Others against the provision say that sports promote a sense of confidence and self-discipline that is above what exists in a classroom and that those who aren't as book-smart need that extra boost to succeed later in life.
The final addition to the bill was proposed by Rep. John Reeves, R-Jackson. Reeves talked early in the session about getting healthier snacks in the vending machines such as juice and milk, instead of sodas. The House passed an amendment that would require every school to better educate children about good nutrition.
Meantime, as the JFP goes to press, another protest is occurring on what supporters are calling "Education Funding Day" at the Capitol, on Tuesday, March 22, a call for full funding of education.
SCHOOLS IN DEFICIT
State education officials recently added 14 more school districts to a prior list of 23 that are predicted to be short the money needed to cover a projected MAEP budget deficit. Here's the entire list:
Amite County, Amory, Benoit,
Benton County, Calhoun County, Claiborne County, Clarksdale, Cleveland, Clinton, Columbia, Columbus, Copiah County,
Enterprise, Franklin County, George County, Greenville, Hazlehurst, Holmes County,
Indianola, Jefferson Davis County, Jones County, Kemper County, Kosciusko, Lauderdale County, Long Beach, Marion County, McComb, Neshoba County, North Bolivar, Prentiss County, Simpson County, South Delta,
Sunflower County, Walthall
County, Webster County, West Jasper and Yazoo City.
Source: State Department of Education
JFP INDEX:
IMPACT OF MAEP UNDERFUNDING IN JPS
• Failure to fully fund MAEP for 2004-05 resulted in a funding
shortfall of $3,350,885 for JPS this past year.
• The mandated teacher pay raise added approximately $2 million
more in JPS salaries and fringe benefits.
• The MAEP shortfall combined with the increased fringe benefits
related to the teacher pay raise was equivalent to a $5,000,000-plus
cut in funding to Jackson Public Schools.
• If the Legislature's current approach to funding holds up, JPS would likely have to cut between 152 and 165 teachers out of the 60 schools in the district in order to keep from operating at a deficit. This is because the district has to cover the benefits that go along with the teacher pay raise along with the $5 million-plus projected shortfall in MAEP funding for the district.
More like this story
More stories by this author