After weeks of holding out on crime statistics, Jackson Police Chief Shirlene Anderson handed over two-week-old COMSTAT reports to city council members at the Dec. 20 council meeting. Anderson's initial defense for withholding the numbers was that the figures did not give an accurate portrayal of crime in the city.
"At the end of the day the bottom line is (that) people have to be made to feel safe. It's not about what the numbers say. It's one simple question, 'Do you feel safe?' and we've got a lot of work to do," Melton told WAPT.
Passing out the numbers, Anderson insisted that the crime statistics still were not an accurate inventory of crime in the city. "COMSTAT doesn't address some of the major issues we face," Anderson said. "These numbers still don't report how many narcotics arrests or felonies by employees we've had. It doesn't talk about prostitution. It doesn't capture the whole picture… this report is redundant," Anderson said.
Anderson then virtually juggled hand grenades when she made a statement about crime and used the word "perception" to describe the public's inaccurate view of it.
"The percentage of crime (in Jackson) is not bad, but every time you look in the media that's the perception: that there isn't any good in this city, that everything here is some type of criminal element. So, therefore, other parts of the state call Jackson the murder capital of the state. The police department is trying to change that, and I don't know how to convey it to you all," Anderson said.
Ward 1 council member Ben Allen told Anderson that he didn't want to hear the word 'perception' ever again.
"We don't want to hear our leaders say 'perception' in terms of crime. We raised so much stink about it last time. The reason we got these COMSTAT reports was because people want to see their leadership leaving their guts on the field, no matter what the issue is. I don't want to be in the situation like it was six years ago when we had people kicking in doors in Northeast Jackson, we had people getting arrested and back out on the street the same day, and we had some people in leadership acting like it was just a perception," Allen said.
The Clarion-Ledger set off public outcry and years of furious editorials against former Chief Robert Moore for statements reported by the paper in 2003 that the perception of crime in the city was worse than reality. Critics used The Clarion-Ledger quotes extensively to depict the administration and Moore as insensitive to the public's feelings on crime, even though JPD statistics revealed Jackson crime to be at its second lowest rate in 24 years, earlier this year.
Moore maintained that his "perception" statements printed by The Clarion-Ledger in 2003 were "manufactured" by the reporter.
"That perception statement was erroneous in the first place. It was simply a misnomer, and if that was the only thing I can be accused of saying, then I've got it pretty damn well made," Moore told the JFP in May. In fact, Moore had warned about media "perceptions fueling too much fear," but was quoted out of context.
After addressing the council, Anderson invited council members and the public to a JPD staff meeting in the Jackson Police Department building the next day. Council President Marshand Crisler attended, joined by only a handful of Jackson residents who could respond on short notice. The meeting, lasting less than an hour, allowed precinct commanders to give progress reports to Anderson on burglaries, car thefts and other crimes in their respective territories.
Crisler said the meeting, though not identical to COMSTAT meetings under the last administration, was a positive move.
"The new administration is trying to get a handle on things, and they may not be as sharp as the previous administration, but that's an unfair comparison. The data provided this morning seem to be very similar to the data when COMSTAT first came out," Crisler said, adding that Anderson's technique in addressing precinct commanders at the meeting may not have been as aggressive as police chiefs before her. "It doesn't suit Anderson's style to be in your face, but I believe that, behind the scenes, she's holding the officers accountable."
Crisler said he hoped the COMSTAT reports from Anderson's office would keep arriving consistently.
"You can't give me this report last night and then two months have to come back and say 'where's the report?' We have to get these on a weekly basis; that way the credibility can be established," he said.
Moore's COMSTAT meetings occurred on a weekly basis. Anderson, who refers to the meetings as "staff meetings," said she does not yet plan to hold the meetings every week.
Mayor Frank Melton, has long been a board member of police watchdog group the Metro Crime Commission, which later became SafeCity Watch, and still features Melton on the board in an "emeritus" capacity. The group adamantly supported the use of the COMSTAT numbers. Still, Melton defended Anderson's decision, telling WAPT news that the numbers conveyed an inaccurate perception of crime.
Previous Comments
ID

64869

Comment

I don't know whether to see poetic justice in this, or feel bad for Chief Anderson for being put in a position where she obviously has to acknowledge the perception problem but can't because of the campaign her boss ran. Now she's in the difficult position of trying to deal with the perception issue without mentioning the perception issue. Rough waters ahead. Cheers, TH

Author

Tom Head

Date

2005-12-29T04:29:34-06:00
ID

64870

Comment

Oh Pleaseeee! Someone should tell her the "perception" vs "reality" issue about crime was the beginning of the end for Mayor Johnson. Johnson did not begin releasing crime stats until late in his second term. I can see her point--but the reality of Comstat is that the crime stats are supposed to be used by the Police Department to determine where criminal activity is prelevent (during the very recent past) and to move more resources into those areas. Most cities that have been successful in reducing crime use this strategy. I certain

Author

realtime

Date

2005-12-31T16:37:51-06:00
ID

64871

Comment

Sorry, I submitted too soon. Was about to comment that I certainly hope we are not starting over by eliminating the recommendations of the Maple - Linder study. They seemed to be good common sense things like community policing, involving the public in effective crime reporting, etc.

Author

realtime

Date

2005-12-31T16:41:55-06:00
ID

64872

Comment

realtime, a clarification: the city started releasing *weekly* crime stats late in the second term. They were submitting as much as the city is now throughout, from what I understand. Secondly, you're right: the Comstat figures are a completely different annimal than the quarterly FBI numbers. This is the information that assists *everyone* in community policing, including businesses and residents in knowing what is happening where in "real time," as it were. It is a very smart recommendation of Maple-Linger, and it is mind-boggling that many of the same people who called for this to happen so adamantly are now backtracking because they will cover for anything Mr. Melton does, or does not do. We need a multi-faceted approachn to crime information and community policing: an education of the media and the public about clearance rates and the difference between justifiable homicide and why they're not considered homicides (read the Ledger archives and some quotes by so-called crime experts to see what I mean here), at the same time that we have full disclosure of all current crime numbers. I had this same conversation (argument) with Chief Moore, and he soon started releasing the weekly crime numbers. Not taking credit, but just sayin'. Now this administration is trying to build a fortress around itself, seemingly thinking that if they hide enough, then no one will/can criticize them and their handful of loud apologists will cover their asses. As we all know, however, from talking to people in the community, that's not working. The administration is looking like it's trying to hide information from the public, and their loudest apologists are just looking likie puppy dogs who can't, or won't, think for themselves. But it is remarkable to watch them do some of the very same things they so angrily accused the last mayor/chief of doing -- and then expecting SafeCity to cover their asses. The people are too smart for that, though, which they will learn in due time.

Author

DonnaLadd

Date

2005-12-31T17:14:38-06:00
ID

64873

Comment

LINDER. sorry about the typo.

Author

DonnaLadd

Date

2005-12-31T17:18:32-06:00
ID

64874

Comment

Yes, I agree. It is weird to observe Melton trying to pull the same old rabbit out of the hat trick. I have upmost belief in the common man. The people who are experiencing crime in their neighborhoods will not be fooled for a minute. They were promised results and they deserve nothing less. Frankly I am advocating a consolidated Jackson-Hinds County government. Eliminate the reduncy, hire a City Manager and let the Sheriff sort it all out. At least two of the Hinds County Supervisors have districts that are entirely within the City of Jackson.

Author

realtime

Date

2005-12-31T18:03:24-06:00
More like this story
More stories by this author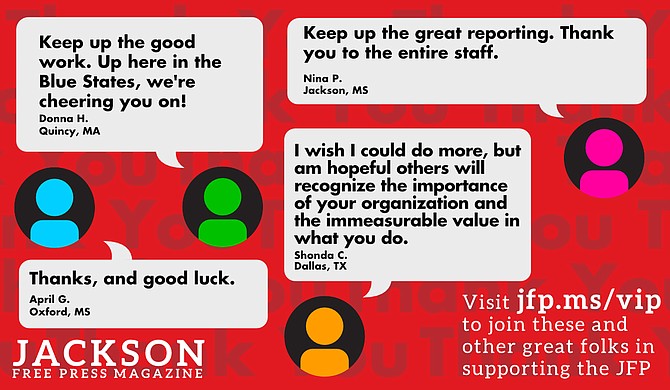 Thanks to all our new JFP VIPs!
COVID-19 has closed down the main sources of the JFP's revenue -- concerts, festivals, fundraisers, restaurants and bars. If everyone reading this article gives $5 or more, we should be able to continue publishing through the crisis. Please pay what you can to keep us reporting and publishing.