Rarely mentioned in the ongoing lawsuit between Mayor Frank Melton and former Lt. Col. Robert Pierce is the role of The Clarion-Ledger.
Pierce, a retired Mississippi Bureau of Narcotics pilot, is suing Melton for damages for a fraudulent MBN memo that the then MBN director leaked to the newspaper, which alleged that Pierce had illegally transferred MBN property. Pierce has sought damages ever since State Auditor Phil Bryant found last spring that the allegations were overwhelmingly bogus. In 2003 Pierce sued Melton in Lauderdale County Circuit Court for leaking the memo; earlier this year he sued The Clarion-Ledger in Federal Court after the auditor's report was released.
After the mayor admitted in September to lying to the Lauderdale County Circuit Court in written depositions, Judge Robert Bailey granted default judgment against him. With the automatic forfeiture of the case, however, comes a more high-stakes battle between Melton and The Clarion-Ledger, as various defendants look to protect themselves from expensive damages that will now inevitably be paid to plaintiff Robert Pierce.
Melton's insurer, Allstate Insurance Co. is already arguing that Melton breached his own policy when he lied to the court; thus, Allstate should not have to cough up protection on Melton's two $300,000 policies and one $1,000,000 policy, it says. Now The Clarion-Ledger is also trying to distance itself from any legal accountability.
Unlike in earlier depositions, Melton now argues that although he indeed leaked the memo, he did so with the understanding that Clarion-Ledger reporter Ana Radelat was to keep the document secret until she "checked it out" for accuracy. Pierce is also suing Radelat, as well as Clarion-Ledger Metro Editor Grace Simmons, who has long covered and edited stories about Melton.
Attorneys for The Clarion-Ledger deny the existence of an oral agreement, saying Melton's second story "is no more truthful than his first one."
Still, attorneys for Pierce have pounced on Melton's claim, saying that if indeed he had an oral agreement, or a spoken contract, with The Clarion-Ledger, then that makes Pierce a third-party beneficiary—even though he didn't even know about the contract.
Phelps Dunbar, attorneys for The Clarion-Ledger, argue that the "contract" between Melton and the newspaper was "at most, a moral obligation, and not a basis of a legally enforceable contract," and that a moral obligation "does not give rise to any express or implied contractual duty."
The newspaper's attorneys cite a Minnesota Supreme Court decision that the law should not "impose contractual obligations when reporters make a promise of confidentiality—which is properly viewed as a moral obligation—in exchange for information."
They argue that in Cohen v. Cowles Media Co., the court ruled that "the law does not make binding every exchange of promises … The parties understand that the reporter's promise of anonymity is given as a moral commitment, but a moral obligation alone will not support a contract."
Pierce's attorney, Mike Farrell, said the argument would set a bad precedent for the business of news writing should the Federal Court decide to uphold it.
"The Clarion-Ledger lawyers found some oddball decision out of the Supreme Court of Minnesota that says when reporters grant confidentiality they don't really mean for it to be legally binding. What they're saying is, 'we can promise, but we don't really mean to keep it.' If they stop and think about what they're saying, it kind of demeans the news-writing profession," Farrell said.
Mississippi State University mass communications professor John Ford said such a ruling could deter whistleblowers. "You could tell me whatever you want to tell me, but if I know a case just went through stripping away a reporter's moral obligation to a source, then I would tell you the absolute minimum I had to and then stop, and I think that's what most people would do," Ford said.
Previous Comments
ID

64847

Comment

How much more will it take for the city to wake up and realize the real person that we (the citizens) elected to serve us? The mayor has talked out of both sides of his mouth on almost every issue. His arrogance has finally caught up with him. You cannot do people the way that he has done the citizens of Jackson, and the citizens of the state of Mississippi. He has lied on a state level and he has lied on a municipal level. He promised to clean up the state as MBN Director. Now one must wonder did he do it by following the law or by making it up as he went along. He promised to clean up the city of Jackson. Instead has mad a huge mess of things while the criminal element has not even slowed down. His promise to solve the crime problem within 90 days was a dumb thing to say. Mayor, please just support the police department. Mayor, listen to the will of the fire department. Mayor, don't try and make the other city employees afraid that you will take their jobs. How many times has anyone actually seen him put in a full day at city hall? While he wants to wear a badge and a bulletproff badge that says "POLICE" on it, other things are falling by the wayside. Look in the mirror man....you may your own worst enemy.

Author

lance

Date

2005-12-14T21:04:59-06:00
ID

64848

Comment

Error!!! The correct word is "bulletproof vest".

Author

lance

Date

2005-12-14T21:07:07-06:00
ID

64849

Comment

Today, in a big Clarion-Ledger story about Sen. Trent Lott, Ana Radelat of the "Clarion-Ledger Washington Bureau" wrote the following story: Will powerful senator seek another term? Republicans and Democrats in Miss., Washington brace for answer By Ana Radelat The Clarion-Ledger Washington Bureau WASHINGTON — Republicans and Democrats in Washington and Mississippi are eager to learn whether Sen. Trent Lott wants another six-year term, as his retirement could help throw control of the Senate up for grabs and mean a loss of political clout for his home state. Now, isn't it true that The Clarion-Ledger keeps referring to Ms. Radelat in stories about the MBN lawsuit—in which she, metro editor Grace Simmons, the paper and Gannett are being sued—as a "Gannett" reporter, seemingly trying to get away from admitting that she is the Clarion-Ledger Washington Bureau reporter. If so, the evidence of what they consider her isn't very hidden, is it? Also, recall that they are not reporting their own lawsuit, but they are referring to her in stories about the one against Melton in which they have no choice but to reveal that he gave the memo to their Washington reporter. They're just not talking about the other other one. And, you know, if it's not reported in that paper, it's just not happening. Ahem.

Author

DonnaLadd

Date

2006-01-08T11:09:03-06:00
More like this story
More stories by this author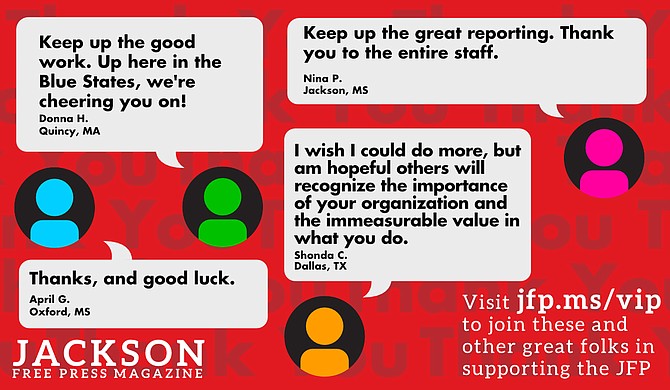 Thanks to all our new JFP VIPs!
COVID-19 has closed down the main sources of the JFP's revenue -- concerts, festivals, fundraisers, restaurants and bars. If everyone reading this article gives $5 or more, we should be able to continue publishing through the crisis. Please pay what you can to keep us reporting and publishing.