I saw this letter to the editor in the CL today about the origins of Christmas. There was some debate about certain retailers using the phrase "Merry Christmas" in their seasonal ads. This is obviously a Christian association, so some have turned to using "Season's Greetings" or "Happy Holidays". Christians are upset about the removal of the word "Christmas" from ads.
The other five letters to the editor spoke of boycotting any retailer in the area who refused to use the term "Merry Christmas" in their ads because they were removing "Christ" from the Christmas season....the obvious entire REASON for the season.
Ms. Kegley then gives them the figurative finger...and does it in a way that makes me think she even bakes cookies, kisses her kids, and is the one neighbor that will pick up your papers when you are on vacation. And, she does it all while dancing naked under the solstice moon.
Christmas came to be associated with it when the pope was having trouble "converting" pagans to Christianity. The pagans did not want to give up their enjoyable winter solstice holiday.
So here we are, hundreds of years later, observing Christmas with what are mostly pagan traditions and customs. The "world" is not trying to steal Christmas from Christians. Rather, it is Christians who have tried to steal the winter solstice celebration (by whatever name it went) from the world.
Happy Holidays to all! And Merry Christmas to the Christians!

Here's to you, Ms. Kegley ... "Happy Freakin' Holidays".
Can I come over to your house on the 21st?
Previous Comments
ID

103851

Comment

Christians are upset about the removal of the word "Christmas" from ads. I'd prefer to say some Christians are upset, because this Christian isn't that picky. I know the real meaning of Christmas, and I try to celebrate it as such, but I think it would be selfish to pretend that no other holidays exist in December and demand that everyone else follow me to this same land of make-believe. I've heard "Happy Holidays" and "Season's Greetings" (to me, the fancy one) my whole life, and so have most people. I don't what their Bible says, but MY Bible says that he who wins souls must be wise. If you want to convert someone, you don't do it by shoving your opinion down his/her throat. Besides, we have much bigger issues to deal with. Will all the hurricane victims, soldiers' families and homeless people be comforted this holiday season? Whatever happened to peace and good will, people? That should be what is up for debate, not a greeting. Hey, God deserves his props, but I think He had something much bigger in mind than what greeting to use. So, trim your trees, spin your dreidels, light you kinaras, and start your fast...and HAPPY HOLIDAYS! Na na na na na...

Author

LatashaWillis

Date

2005-12-10T18:54:18-06:00
ID

103852

Comment

I don't what their Bible says, I mean I don't KNOW what their Bible says. Slow down, woman...

Author

LatashaWillis

Date

2005-12-10T18:56:34-06:00
ID

103853

Comment

Ali, saw those today and my jaw dropped. I don't get it. Some interesting facts about Xmas as it relates to Christianity: - The Pilgrims outlawed Christmas. They also refused to use the 1611 King James Bible. - Jesus' birth is by most historical accounts during the Spring or Summer. - Many Christians celebrated Xmas during January (Epiphany) while many others celebrated on varied dates throughout the year. - The Dec 25 date more accurately follows pagan customs associated with the Sun more than likely adopted by the Mithrains. - Some were jailed for celebrating Xmas in England because it was illegal during the Cromwellian era. It was considered heresy (most likely for its pagan attachments). - Up to 1870, anyone missing work on Christmas Day would be fired if living in Boston. - Alabama was the first state to make Xmas a legal holiday (guess you could consider it the buckle of the Bible Belt for that deed). - The three wise men were not Jewish or Christian. It is believed they were astrologers and practicers of Zoroastrianism. Of course, it all goes way beyond that as the letter to the editor described. It was the primary manner in which the Church adopted the pagan practices and made them their own. Not only was this because many that adopted Christianity practiced them already (think of it as celebrating Kwanzaa or a Jewish holiday with your neighbor or being reared a pagan and having that understanding), it was the only way to collapse the opposing religions. While I don't celebrate Xmas or the many other religious holidays during this season, I certainly recognize the solstice aspect annually... No, I don't dance around fires and chant (unless I've had too much tequila) but I do take note and remember how important this time of year was to our ancestors from Native Americans to Norsemen that understood our Earth's cycles far more than many of us do today. By the way, a solstice party is far less stuffy than a typical Xmas party... I think it has something to do with the pagan aspect. And there's no secret Santa to deal with either. Just bring a log, candle, or good vibe and it's a celebration everyone can enjoy. Hmmm... I may have to throw a holiday party after all.

Author

kaust

Date

2005-12-10T22:47:56-06:00
ID

103854

Comment

Merry Saturnalia! The real reason for the "Saving Christmas" schtick: Giving the Religious Right a well-timed gift from Santa to build up support among the Republican base in hopes of a happy New Year. A happy November, especially. Cheers, TH

Author

Tom Head

Date

2005-12-10T22:56:40-06:00
ID

103855

Comment

Oh, and for the last five years: No Christmas stamps. I used Hanukkah stamps in 2000, Hanukkah and Ramadan stamps in 2001 and 2002, Hanukkah stamps again in 2003 and 2004, and this year, it's just "Love" stamps. Sometimes I use Christmas cards, but let's get real: It's not the only winter festival. Besides, I like to think there's a little more to even the idea of Christmas than reaffirming the Virgin Birth and so on. I go to church for that, and call me an old-fashioned free market capitalist, but I think churches still do a more efficient job of administering religion than the government does. Funny how so many folks want to privatize everything except that which they hold most dear--that they feel comfortable entrusting to the government. Riiiiight. Cheers, TH

Author

Tom Head

Date

2005-12-10T23:00:39-06:00
ID

103856

Comment

BTW2- I do say Merry Christmas when in doubt, because the vast majority of Mississippians celebrate Christmas and those who don't are unlikely to be offended by the gesture. I've also been known to say happy Hanukkah or happy Solstice (especially, but not exclusively, to pagans). I almost never say happy Kwanzaa because it sounds condescending coming from a white person, but Kwanzaa was created to function as a cultural rather than religious holiday anyway, and it has been my experience that most people who celebrate Kwanzaa also celebrate religious holidays--usually Christmas, sometimes Solstice, occasionally the nearest Muslim holiday (Eid al-Fitr had been falling in December, but I think it came early this year). Cheers, TH

Author

Tom Head

Date

2005-12-10T23:05:52-06:00
ID

103857

Comment

Hey Tom, I won't get offended if you tell me "Happy Kwanzaa". Of course, I can only speak for myself. I celebrate Christmas and I also acknowledge Kwanzaa, although I haven't had the chance to participate in an actual celebration. However, I did make a big Kwanzaa poster last year that I hung up in front of the house, and I plan to rehang it this year if it is still in pretty good shape. I may have my own Karamu this year - I'll have to check to see if I still have any fried okra in the deep freezer, and if I can talk my godmother into making a sweet potato pie, I just might be able to pull it off.

Author

LatashaWillis

Date

2005-12-11T00:43:47-06:00
ID

103858

Comment

I think everyone should just understand that this is a part of the year that is somewhat a "holiday" for most EVERYONE. Get over it...if someone offers you a "Merry Christmas" take it for what it is...a wish of good cheer. Hell, if someone says "Happy Holidays" take it in the same way. People do most things with a good heart...I grew up saying "Merry Christmas" and I'm not, well, anything except for someone who really likes to get presents...so, please, if I accidentally say "Merry Christmas" please understand it was meant as a GOOD THING. ;) Its not like I rolled up, poked you in the eye and screamed "Eat Me" or something.... :)

Author

Lori G

Date

2005-12-11T14:11:23-06:00
ID

103859

Comment

You can tell I find the whole debate amusing. Not that I usually find it amusing when people are fighting for religious rights...because that can get downright scary at times. But, when people get up in arms about what's on the BANNERS at the WAL-MART instead of getting upset that people are DYING in other countries ...okay, I'm gonna stop now. Its Sunday and I don't want to yell...day of rest and all that stuff, you know.

Author

Lori G

Date

2005-12-11T14:14:29-06:00
ID

103860

Comment

BTW, my birthday is on the first day of winter this year. I don't know what's worse - being born right before Christmas or having a birthday on the day with the least amount of sunlight.

Author

LatashaWillis

Date

2005-12-11T17:16:17-06:00
ID

103861

Comment

Here's a link to an interview with an Orthodox rabbi about this debate.

Author

LatashaWillis

Date

2005-12-11T19:05:39-06:00
ID

103862

Comment

l.w., thanks for the link. however, after some discussion with my coworkers & friends (all Jews), we think it's important to stress that Rabbi Hirschfield's article is a touch misleading. YES, Chanukah is a post-biblical holiday, but it is not a major RELIGIOUS holiday. i think i am correct in assuming that when he claims it to be major, that he means by scope of observance. more Jews tend to celebrate (try to make the distinction between celebrate and observe) Passover and Chanukah than any other Jewish holiday, even in Chanukah's minor status in the scheme of religious observance. there is a 3-line portion in post-biblical text that notes when and how Chanukah is to be observed.

Author

nyoung

Date

2005-12-12T13:12:20-06:00
ID

103863

Comment

Gud Yule!!

Author

whateveryouwant

Date

2005-12-12T17:34:21-06:00
ID

103864

Comment

Thanks, nyoung. My goal for posting the link was just to compare points of view rather than state something as fact. Of course, as a Gentile, I am no expert. Hope I didn't offend anyone.

Author

LatashaWillis

Date

2005-12-12T18:56:06-06:00
ID

103865

Comment

...expert in Judaism, that is...

Author

LatashaWillis

Date

2005-12-12T18:58:12-06:00
ID

103866

Comment

L.W., I think you did fine! The bit about Hanukkah comes from 1 and 2 Maccabees, which are extrabiblical in the Jewish and Protestant traditions, but not in the Roman Catholic tradition, which considers them part of the Old Testament. In Judaism, the story of Judas Maccabeus, et. al. is critical because it marks escape from a particularly brutal oppressor, followed by the only real period of Jewish independence until 1948. The story has certainly been accepted in the Jewish tradition even if the texts are not regarded as canonical. But Hanukkah was not widely celebrated by most until Jews assimilated more into U.S. and European culture, at which point some sort of festival near Christmas made sense, so folks took a second look at Hanukkah. Cheers, TH

Author

Tom Head

Date

2005-12-12T19:02:12-06:00
ID

103867

Comment

1 and 2 Maccabees - I've heard of those. I have a copy of the Apocrypha on my PC as a reference tool. I think I'll go back and read those books - after I find my CD on this pig sty called a desk.

Author

LatashaWillis

Date

2005-12-12T21:23:13-06:00
ID

103868

Comment

Yes, Merry Freakin' Christmas! As far as banners in Wal-Mart, etc. goes - as long as they are businesses (not our government) they can put up whatever signs they want. It's what makes America beautiful. I must say that I would have fear of my house being burned down if I put a "God Is Not Real" sign in my yard - a neighbor is displaying a "Jesus Is Alive" sign this year.... So from now on when I hear "Merry Christmas" I'll start responding with "I think you're confused, but have a nice December anyway." Ware

Author

Ware Hodo

Date

2005-12-13T08:33:23-06:00
ID

103869

Comment

So from now on when I hear "Merry Christmas" I'll start responding with "I think you're confused, but have a nice December anyway." This made me laugh and laugh...

Author

Lori G

Date

2005-12-13T09:00:17-06:00
ID

103870

Comment

I kinda hate honoring this whole O'Reilly publicity stunt with any kind of attention, but I did want to share this this letter to the Ledge today that sets the world straight about the mistaken idea that Christimas traditions have anything to do with pagan traditions. Christmas has no pagan connections "Christmas really a pagan tradition" reads the heading to a letter published Dec. 10 in your paper. I would argue that this is not true. The date of Dec. 25 is the by-product of a reasoned attempt by early Christians to fix the date of Christ's death and has nothing to do with pagan festivals. Also, has it dawned on anyone out there that it is entirely possible to use both "Merry Christmas" and "Happy Holidays" -- not to mention "Happy Hanukkah," "Happy Kwanzaa," "Cheery Solstice" -- or any other holiday greeting one wants to use. It's truly no one's business -- especially a self-righteous talk-show host who doesn't exactly set a good example for moral living. All I'm saying. There are other issues that need brain cells much more than this one. ;-)

Author

DonnaLadd

Date

2005-12-16T11:54:54-06:00
ID

103871

Comment

I agree. I read that letter in the Ledge this morning and just thought "Okay, someone doesn't READ AT ALL and obviously isn't ashamed of that." Its just another tag line, another empty "fight", another call to arms", another whatever it is that O'Reilly does to keep people constipated and angry.

Author

Lori G

Date

2005-12-16T11:58:05-06:00
ID

103872

Comment

IT'S CALLED FUNDRAISING.... It's not a "fight" or a "call to arms"... It is fundraising -- plain and simple.

Author

kaust

Date

2005-12-16T13:47:41-06:00
ID

103873

Comment

Well, I stand corrected. ;)

Author

Lori G

Date

2005-12-16T14:33:48-06:00
More like this story
More stories by this author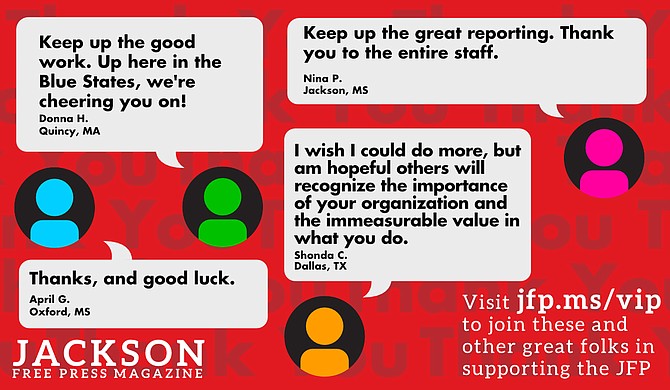 Thanks to all our new JFP VIPs!
COVID-19 has closed down the main sources of the JFP's revenue -- concerts, festivals, fundraisers, restaurants and bars. If everyone reading this article gives $5 or more, we should be able to continue publishing through the crisis. Please pay what you can to keep us reporting and publishing.