Champagne corks were popping at Bravo the evening of June 3, even as some diners were sobered by the day's events. That afternoon, the Mississippi House of Representatives had suddenly, and rather unexpectedly, accepted Senate tort-reform language, voting to send the legislation, HB 13, to Gov. Haley Barbour. The bill features major pro-industry tort reform, including $1 million damage caps for business liability—even for extreme negligence that leads to loss of limbs and disfigurements.
"I am pleased," said Rep. Jim Barnett, R-Brookhaven. "There is no perfect bill that comes out of the Legislature, but it's the best thing we have now, not only from the medical malpractice standpoint, but for product liability and for the business world out there that needed tort reform so badly."
Rep. Ed Blackmon, D-Canton, ended up supporting concurring with the Senate language rather than inviting conference—a stark contrast to the week before when he said no caps, no matter what, and the House had refused to send the Senate a bill containing the extreme tort reforms that Barbour was demanding. But many in the House seemed to return from Memorial Day home visits ready to cave in.
"It was inevitable," Blackmon said. "There was unrelenting pressure on members by special interests, as well as Republicans under the direction of the executive branch." He pointed to "misinformation and implied threats" aimed at members who voted against damage caps. "We thought we had done everything we could possibly do to mollify the efforts of those interest groups to take over the civil justice system."
Some members complained that HB 13 was worse than it could have been. "It was the worst bill that has passed the House probably ever, only the Sovereignty Commission establishment was equal to this in damage it will do to the state and the people," said Rep. Jim Evans, D-Hinds. "This does destruction to whites and blacks equally. It's a damnable piece of legislation that should never have seen the light, pushed by corporate greed."
Barbour issued a statement that made it sound like "lawsuit abuse"—seemingly, any lawsuit brought by a victim, regardless of merit and severity of injury—would now disappear as easily as it had appeared in his campaign materials last fall. It was headlined: "Governor Haley Barbour Praises Legislature for Ending Lawsuit Abuse."
Evans, though, said he and a couple dozen other legislators were angry at the House leadership and Blackmon because they had been assured that if they signed onto the bill that it would only be sent to conference committee where true compromise could be achieved. "What the chairman did was a betrayal to members who signed on that bill, who spent whole careers fighting this subject to protect the benefits of the people, to protect the civil justice system that has served us for over 200 years," Evans said, standing outside the Capitol Friday afternoon. He said concurring with the bill betrayed both white Democrats and Black Caucus members who understand the true significance of the legislation and the harm it will do to everyday Mississippians. "It was a betrayal of Judas proportions," Evans said, adding that he and other members plan to challenge the decision in court.
In the end, Blackmon said, he just couldn't get the votes—in part because the people did not know what was really happening at the Capitol. "The media was complicit in the whole process in that they did not have a fair and balanced representation of facts in their reporting; it was skewed toward special interests trying to take over the judicial system." He said he would work to "try to gain it back": "In the long run, citizens may be able to take it back," he said.
What The Bill Does
The "tort reform" bill that passed the House actually contained language inserted by the Senate, using a "strike all" amendment. The original House bill included caps but also had insurance reform, with language that was essentially similar to previous Senate bills, except that the non-economic damage cap for general liability was $1 million. Other provisions:
• The cap for malpractice non-economic damages ("pain and suffering") is a flat $500,000; 2002 legislation had included an "escalator" to increase the amount over the next decade.
• The bill includes a cap on punitive damages (for gross negligence) for both general liability and medical malpractice. The cap is based on the net worth of the business—the punitive damages can't be more than 2 percent of the company's net worth and is capped at $20 million for any company worth over $1 billion. (Including, say, a company worth $100 billion.)
• The bill has an "innocent seller" provision that protects the seller of a product from liability for a manufacturer defect; it also has a section that protects a property owner from liability when a contractor harms someone while performing professional duties.
• The bill includes a "joint and several" section that makes liability "several" only, so that a defendant only pays damages in proportion to the defendant's level of fault. (If you're 25 percent at fault, you pay 25 percent of the damages.) Previously, defendants with more ability to pay could be forced to pay a larger percentage of the damages.
• The bill includes a section that outlines new ways that a person can be excused or postponed from jury service and how jurors on long trials can be compensated.
• In some instances, patients who have alleged harm by a medical worker's negligence can be present at the proceedings that determine whether the practitioner's license will be affected. This is arguably the Senate's only compromise aside from the $1 million cap.
More like this story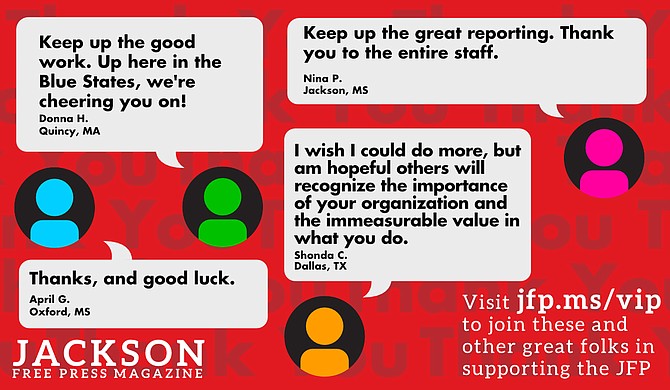 Thanks to all our new JFP VIPs!
COVID-19 has closed down the main sources of the JFP's revenue -- concerts, festivals, fundraisers, restaurants and bars. If everyone reading this article gives $5 or more, we should be able to continue publishing through the crisis. Please pay what you can to keep us reporting and publishing.