"Take the first step in faith. You don't have to see the whole staircase, just take the first step." —Dr. Martin Luther King Jr.
Every night at midnight, during the darkest hours of the Civil Rights Movement, Monroe Jackson took a step in faith when he ventured into Cicero, Ill., the overtly racist, all-white Chicago suburb, to get to work. Hoeffken Bakery, where Monroe plugged away as a dishwasher, was just one block from Marquette Park where the Rev. Martin Luther King Jr. led a march against racial discrimination in housing in 1966. It was one block from where white racist counter demonstrators hurled rubble at Dr. King, and one block from where the neo-Nazis eventually set up headquarters.
An invisible line of demarcation tried to separate blacks and whites in that Chicago suburb, but the bakery where Jackson worked the graveyard shift was several blocks beyond that marker. Anything west of Western Avenue was considered Cicero, a terminally inhospitable area for blacks. Slack-witted, bowed-up white men hurled glass bottles at Jackson as he sat waiting at the bus stop. "I was young, and my nerves were like steel, but if God hadn't been on my side, the doughnut man wouldn't be here today," Jackson says now.
Chicago is far afield from where Jackson began life in 1957 on a farm in Lexington, Miss. "You see this?" Jackson says, tapping on the glass covering a time-worn print of cotton fields. "My whole life was chopping cotton, picking cotton, driving tractors." He cultivated the fields six mornings and seven evenings per week for $5 a day. He picked and chopped barefoot, because his shoes were saved for church-going. "Sometimes the dirt would get so hot, only way you could stand it was to kick the dirt back with your feet to get to a cool spot."
Still a rawboned teenager, Jackson left Holmes County in 1972 for the promised land of Chicago. He quickly answered an ad in the paper for something called a porter. An eighth-grade dropout, Jackson had no use for fancy words like porter. "Don't call me a porter—don't sugarcoat it—I was a dishwasher." Old Raymond Hoeffken was looking for a brawny man with a strong back to wash copious cake pans, colossal kettles and 80-quart mixing bowls for 14 bakers. Jackson pleaded for a chance, refusing any pay if Hoeffken was not satisfied. Soon, Jackson was flipping pots and pans into the bins like basketballs through hoops, undaunted by the harsh, back-breaking work. "Having an inside job was heaven to me," Jacksoon says with a chuckle.
One day, Hoeffken told Jackson he was going to teach him how to bake. "It took me months to learn to make one little ole bitty rose— do you hear me?" Monroe's passion booms through as he animatedly grabs my hands to demonstrate Hoefkken's method for rolling hunks of dough into malleable, polished orbs.
The other bakers balked at having a black baker on the bench, even resorting to recipe sabotage. But bigotry was not recompensed at Hoeffken's Bakery. Jackson baked for Hoeffken until the day the old man died. When he passed, Hoeffken bequeathed Jackson all his cherished recipes. "He treated me better than my own father. Can you believe that? Do you hear me?"
Soon Jackson brought those recipes home to Mississippi, establishing his own shop on Medgar Evers Boulevard eight years ago. He took another step in faith when he paid $6,000 for his prized doughnut shop sign. It is arguably the finest signage ever conceived, with a caricature of Jackson peering out through the hole of a giant doughnut that frames his smiling face. The caricature dances about in orange striped shorts and tan lace-up shoes with a platter of Jackson's doughnuts. "God and I have a vision for this company. That sign may be sitting in front of a shack, but I'm looking at the big picture. You won't see that same logo anywhere else. I paid a lawyer $1,100 to copyright it all the way to the Alabama line. That's a sign with a vision."
Jackson is resplendent in white, from his striking starched skull cap to his tailored bleached trousers, and with gleaming white teeth to match. But it is Jackson's Holey Trinity—the doughnut, the cinnamon roll and the twist, that will bring you to your knees, induce visions of angels singing and feed your hungry soul. You see, Monroe Jackson is not just a doughnut maker…he's not just a master baker …. he's an artisan. Jackson's doughnuts are airy, yet substantive, slightly chewy with a moist, creamy texture on the inside and a sweet crispness on the outside. Rather than a sickly sweet, oily taste, Jackson's doughnuts have the home-baked flavor of vanilla and wild yeast, a little like fried brioche. While most doughnut glazes are no more than a profusion of gooey, gelatinous sugar plaster, Jackson's glaze is a translucent sheet of sweetness. He even marvels at his own work. "Look at those," he says while wheeling out a rack of freshly made doughnuts. "Have you ever seen anything like it?"
Jackson loves showing off his product, including the diverse assortment of cakes he rustles up. On one visit, he whipped out his photo album so he could crow about his cakes a bit. Caramel cakes; German chocolate cakes; multi-tiered white wedding cakes; flat chocolate groom cakes; big, bouncing boob cakes; phallic cakes (which "really take too much time to fool with"); and his crowning accomplishment, strawberry cheesecakes. His celebrated strawberry cheesecake is made with 20 fresh strawberries, sliced roasted almonds, homemade strawberry glaze and real-butter butter-cream icing. I admired the cheesecake photo, then giggled over a cake that read, "Happy Birthday Big Mom from Big Daddy." On the last page was a man eating a cinnamon roll sandwich. Monroe explained that he just had to have a picture of it, because he knew no one would ever believe it. "Two big ole cinnamon rolls at one time. Can you believe that?"
Jackson is the soul of discretion with his recipes and techniques. Monroe Jackson Jr., 17, doles out doughnuts every morning before school, but he won't be making them any time soon. He has not yet reached the age where he may be entrusted with the family formulas. As shrouded in mystery as the sanctified Holy Trinity, Jackson's recipes remain an enigma. Jackson did divulge one dark secret regarding his 3 a.m. morning ritual: "When that doughnut comes out of the fryer, I put a little piece of fried salami on top…there's nothing like it. Or wanna try something really good? Try puttin' a little of that cheese with the red rind on top. You won't believe how good it is."
In a world where mediocre commercial doughnuts have become the standard, Jackson dares to defy. "Krispy Kreme can't touch my product." Now, I wouldn't kick a Krispy Kreme out of bed, but I have to agree with Jackson. His are better. A lot better.
The best thing about Jackson's doughnuts is that there are no regrets after you finish that last meaty morsel. A commercially made, sugary oilcake may be good going down, but you're not gonna respect yourself afterward. If you're anything like me, you'll wonder why you ever thought that frenzied moment of instant gratification was worth it. With Jackson's doughnuts, there is no such shame. No post-cognitive dissonance. Only sighs, maybe even a moan, with lots of dreamin' about the next time. They may be a little dangerous, but those bad boys are irresistible.
Jackson can't resist dreaming about the future of his humble little doughnut shop. "America is about everything big—but there's lots of Mom & Pop stores that have the best food that don't have the money to let people know about it. I can do elephant ears, Napoleons, éclairs, bagels, DO YOU HEAR ME? Whole wheat, rye, pumpernickel, that braided bread, where's me a piece of dough, I'll braid it for you right now." He fleetingly looks for an errant scrap of dough to no avail. "God and I are doing this wonderful product in this ole run-down house. People said it wouldn't work, but here I am eight years later. If I could find someone that wasn't lazy, that cared about the product, I would expand my business. We could make a million dollars. Do you hear me?"
If you want to sample Jackson's divinely inspired doughnuts, it is located at 6310 North Medgar Evers Blvd. From 220, take a right off the Flora, Yazoo City Exit, going toward Yazoo City. Go a couple of blocks, and you'll see the little yellow house on the right hand side. But don't try to visit Monroe's from 9:30 a.m. to 1 p.m., because that is when he is running his doughnut route. For warm cinnamon rolls and doughnuts, go around 7 a.m. For warm twists, go around 8:45. Hours of operation: Monday - Saturday, 6:45 a.m. – 9:30 a.m.; reopen 1 p.m. – 6 p.m. Telephone: 981-3208.
More stories by this author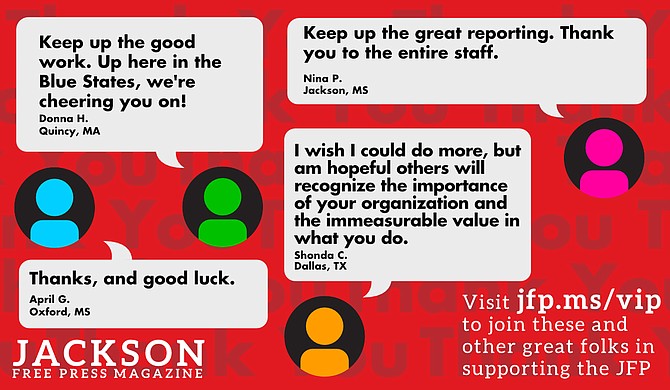 Thanks to all our new JFP VIPs!
COVID-19 has closed down the main sources of the JFP's revenue -- concerts, festivals, fundraisers, restaurants and bars. If everyone reading this article gives $5 or more, we should be able to continue publishing through the crisis. Please pay what you can to keep us reporting and publishing.