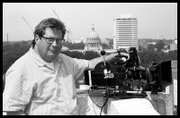 The sunset-tinged gray wall has a blush that mirrors my own at being caught crying over a movie in public. I'm in the office of Dollarhide Films on the top floor of the Lamar Life building that overlooks the governor's mansion on Capitol Street. I sit next to filmmaker Jim Dollarhide, watching the Academy Award-nominated "Lalee's Kin: A Legacy of Cotton," a documentary that premiered Sept. 18 on HBO. The film, which won the Sundance cinematography award last year, depicts the trials of a poor African-American great-grandmother, Lalee Wallace, in the Mississippi Delta, a region only half-a-step removed from slavery. Dollarhide knows the film is likely to prickle some neck hairs in his home state: "There are a lot of people who aren't going to like this at all."
Dollarhide, 50, scurries around the table, adjusting the color and darkness on the 12-inch television. Settling his small frame into the seat next to mine, he recounts his time in Tallahatchie County shooting "Lalee's Kin" for New York-based Maysles Films. Dollarhide says he was honored to work with the production company started in the 1960s by Albert and the late David Maysles. The Maysles brothers pioneered "direct cinema," the use of handheld cameras and lightweight sound equipment to encourage intimacy and spontaneity.
The filmmaker eagerly points out his shots, the screen reflecting in his Buddy Holly-like glasses. He lays claim to about one-fifth of the footage, all the landscape and a few of the key sequences, such as when Lalee receives notice that one of her two living sons has been taken back to jail. She breaks down and cries, singing snatches of hymns and praising Jesus. (Maybe Dollarhide should have a fifth of the Sundance cinematography award sitting on his mantle at his Lake Cavalier home.) He recalls working on this scene in Lalee's run-down "new" mobile home. "It was so damn hot in there it was fogging up my lens. I was just hoping it came out," he says.
Dollarhide is a native Jacksonian, and was the school photographer at Murrah High School in the late 1960s. A few years later he helped his friend, Sergio Fernandez, make a commercial for WJDX and found his life's work. "I had to make films," he says.
Soon, he started accumulating awards for his work with local advertising agencies. Hungarian-born Vilmos Zsigmond (Oscar winner for "Close Encounters of the Third Kind") and Mark Riddell ("The Reivers" and "On Golden Pond") contacted Dollarhide for help scouting locations for a movie about floods. This meeting spawned a long-distance mentorship.
Dollarhide, who has also documented the rise of the Sweet Potato Queens (Cinemax is interested), is always in the right place at the right time, leading his ex-wife, Katherine, to call him the "luckiest motherf**ker I know." His 1994 film "Harmonies: A Mississippi Overture" won a Golden Hugo in the Chicago International Film Festival and Best Director in the 1995 International Monitor Awards. Soon the Maysles brothers asked Dollarhide to help shoot "Lalee's Kin."
This year, Dollarhide won the contract to shoot the national anti-tobacco television campaigns "R.A.T" and "Question It," which are funded out of the 1997 $20-million tobacco settlement. Dollarhide called the anti-tobacco campaign the "biggest job of my career." When "Lalee's Kin" debuted, he was on location filming scenes for a new investigative HBO documentary, topic thus far undisclosed. "I told the production company that I didn't care where we were or what kind of room they put me in, as long as it had HBO," he says.
Note: Corrections appended Oct. 8, 2002.
More like this story
More stories by this author