Department of Revenue Commissioner Chris Graham broke down the state budget for the committee. Graham explained how the grocery tax only affects food, and not other popular items usually purchased in a grocery store. Photo courtesy Governor's Office
Stories this photo appears in: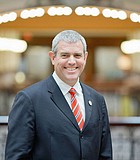 Politics
Speaker Gunn Wants Reform That Benefits Wealthiest, Costs Others More
Just as the realities of a fourth wave of COVID-19 sunk into the state, and just miles from a field hospital set up in the garage of the Mississippi hospital ...