Rapper Yung Jewelz is celebrating a birthday and the debut of her first album, MVP: Moods, Vices and Problems, which debuted April 22. Photo courtesy Mdub
Stories this photo appears in: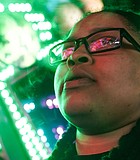 Person of the Day
Rapper Yung Jewelz, aka the Paid Hipster, defines herself as a versatile artist, a rapper you can play on your good and bad days. Whether going to the club or ...