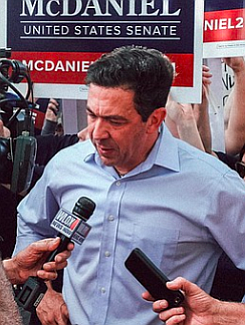 Staff for U.S. Senate hopeful Chris McDaniel blames a "corrupt" system for the trackers the Senate campaigns are seeing leading up to the elections. They blame the Republican establishment for the trickery. Photo by Ashton Pittman
Stories this photo appears in:
Politics
A tracker apparently working for the right-wing America Rising PAC impersonated a Jackson Free Press reporter at a campaign event Friday, campaign staff for Democratic U.S. Senate candidate Mike Espy ...