U.S. Sen. Cory Booker said he came to Mississippi knowing that he will not agree with a southern Democrat like Espy on everything. But, he said he believes that Espy has the "spirit of goodness and kindness and decency" that he believes is needed in Washington. Photo by Ashton Pittman
Stories this photo appears in: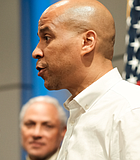 Politics
"That is the star that I see rising in the South," U.S. Sen. Cory Booker said of former U.S. Secretary of Agriculture Mike Espy. "That is the hope that this ...