Chief Lee Vance spoke at the ceremony for fallen police officers.
Stories this photo appears in: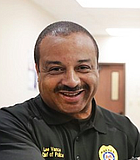 City & County
Jackson Police Chief Lee Vance suddenly announced his retirement effective in a about a week after 30 years on the force.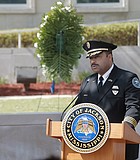 City & County
Family members of fallen Jackson Police Department officers placed roses on the memorial site outside of JPD headquarters in downtown Jackson yesterday, and were presented with potted peace lilies, a ...