JACKSON — Family members of fallen Jackson Police Department officers placed roses on the memorial site outside of JPD headquarters in downtown Jackson yesterday, and were presented with potted peace lilies, a flower that represents innocence, harmony and purity after death.
"All of these brave men gave their lives for the citizens that we seek to serve," said Jackson Police Chief Lee Vance. "All were great heroes who died way too early."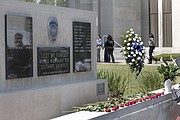 Family members of the fallen attended, as well as officers from the Hinds County Sheriff's Department, Mississippi Department of Wildlife and Fisheries, and the Jackson Fire Department. Since 1893, 17 JPD officers have been killed while serving on the force.
"Aside from commemorating these heroic individuals, aside from giving honor and respect to their survivors, it brings to mind for me how we who remain here should think about how we treat each other day in and day out. We don't know when it's actually going to be the last time that we talk to each other," Vance said.
Mayor Tony Yarber echoed the chief's sentiments about treating each other with kindness and fairness and thanked the officer's families for sharing their loved ones with the city.
"We are obligated to love each other, to see each other through tough times, to know that the only way that things get better is when we decide to love each other until they get better," Yarber said. "To the families, thank you for loving us, and thank you for allowing us this opportunity to love you. Most of all, thank you for sharing your loved ones with us."
Florence resident Jennifer Jacob said that hearing of her husband's death was one of the worst days of her life, but she made it through with prayer and her family. Her husband, Officer Bruce Daniel Jacob, was killed on patrol when he was struck by a vehicle after picking up debris on the highway. He had served with JPD for five years. He was 35.
"It's very important that he is remembered, that he is not forgotten for his sacrifice," Jacob said.
"It's hasn't been easy, but with God's help, we've made it this far."
Email Deputy News Editor Maya Miller crime tips and story ideas at [email protected]. Follow her on Twitter @mayalmiller.
More stories by this author
Support our reporting -- Follow the MFP.