In ancient Greece, athletes who cheated in the Olympics had to pay heavy fines that went toward erecting bronze statues of Zeus meant to publicly shame the cheaters, among other consequences. Photo courtesy Flickr/Jeantil
Stories this photo appears in: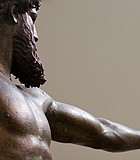 Bryan's Rant
At times, it seems like cheating and sports go together like peanut butter and jelly. The sports world has had more than a few examples of this lately.