Tornado damage in Richland off Highway 49.
Stories this photo appears in:
City & County
There's never a slow news week in Jackson, Miss., and last week was no exception. Here are the local stories JFP reporters brought you in case you missed them.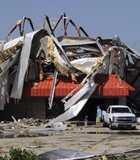 State
This account was taken during the storm event that swept across Mississippi, Alabama and the southern U.S. on April 28.