Editor's note: This account was taken during the storm event that swept across Mississippi, Alabama and the southern U.S. on April 28.
I'm in an Apple Store at the Summit in Birmingham as I type this. Approximately 45 minutes before my appointment at the Genius Bar to repair my failed hard drive, I decided to check Twitter, since it gave me a notification about multiple people retweeting something.
"#thankyoukeenum"
I didn't know what that meant. So, searching for some context, I scroll through my news feed.
I found a picture of my hometown of Tupelo, about half a mile from my grandmother's place of residence.
I call her house. No answer.
I call my mother. No answer.
I call one of her co-workers. No answer.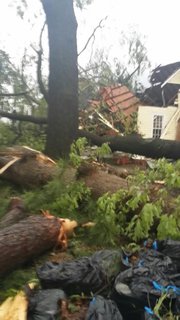 I call another one. No answer.
It's setting in that this may be real.
Call my friend Chase. No answer.
Call my cousin. No answer.
Call a family friend. No answer.
My left brain tells me that the power and phone lines are probably down, but that's no comfort. A family friend of mine calls back and reports that everyone is OK. Happy, I try to get back into contact with my mother, but she doesn't answer. 
I go back to investigating. Vanelli's, perhaps the most popular restaurant in Tupelo, is gone. The Shell station where I always dropped off a family friend is gone. The Texaco station a family friend used to own is gone. Outback Steakhouse is gone.
I find a http://t.co/2lg2Uj66kh">Deadspin link of our local Emmy-winning meteorologist, Matt Laubhan, evacuating the studio on live television.
This is real. This is happening.
I keep finding images of my hometown with buildings destroyed in places I see all the time. Every new view hurts. Every word of commentary hurts.
Waiting for my appointment at the Apple Store, it still hurts. I have to wipe my eyes.
I get a call from my mother, saying that she's OK and Gran is OK, but she can't get to our house due to downed trees.
Inside the Apple Store, the biggest issue is that my hard drive is gone, and I'll have to pay a bit to be able to recover everything from the past three years of my life. In the scheme of things, this no longer matters. Not even in my last week of school.
I'm having to check national news outlets for something so close to home, because of power outages.
Matt Laubhan is now broadcasting using his iPhone, thoroughly amusing everyone on Twitter. Had he not needed to prepare for an oncoming tornado in Tupelo earlier, I might have also been amused by his use of technology.
The Apple Store is lively, but I find myself quivering, watching footage of a tornado ripping through the All-America City. Nobody here seems to know or care about what's happening. They don't have a reason to, but it's really startling on this day.
Tupelo was once devastated by one of the deadliest tornadoes in U.S. history, for those that don't know. In 1936, an F5 tornado killed more than 215 people. This event helped spawn my longtime fear of tornadoes, which haunted me during the springtime until high school, when an actual tornado hit and only damaged a single building.
Back to Twitter. Starkville is in line to be hit by a tornado. Louisville is in much worse condition than Tupelo, as I see "catastrophic" damage reported from Robbie Faulk.
The Louisville tornado hit a hospital. Nature's relentlessness really comes into perspective.
Everyone in Starkville is bracing for impact. Friends, colleagues and co-workers are all heading for cover. Meanwhile, I'm 160 miles away, refreshing Twitter for updates.
This is hopeless.
Pictures pop up on the Internet of pieces of buildings falling from the sky in Starkville. These used to be buildings in Louisville, 29 miles away.
I'm told to stay in Birmingham for the night by my parents and friends. I agree and contact a friend here, but it's not what I want to do. I want to go home, for once.
The images don't stop flowing.
It's getting dark in Birmingham, as the sun sets, and the storms draw nearer. My computer is still not ready.
It doesn't end. Reports of tornadoes in Jackson, Columbus, Canton and another in Louisville.
Though the same storm is predicted to hit the Birmingham area, I'm not worried about myself or my surroundings. All I can think about is people in my home state who have lost homes, businesses and livelihoods.
But in an Apple Store in Vestavia Hills, Ala., the music is groovy, and people are socializing. I am out of place.
I keep scrolling through search results for "Tupelo" on Twitter, finding a startling photo.
This is my yard.
I'm able to see my house on Twitter before I hear word on it from my own family.
My house is over 100 years old. It's survived everything weather has thrown at it, including the 1936 storm that obliterated most of the town.
Like clockwork, my mother calls, and I tell her I saw the picture. She's been by the scene.
"It's not good," she said. "There's a lot of damage. I'm not sure if it's OK enough to repair or not."
At this point, the Apple Store is closed. I'm still inside, waiting on my computer to be brought out. A couple of other customers are getting their issues solved.
It's unfathomable, really. Everything can change so quickly. It's just not prudent to believe you're untouchable to danger.
I'm back in the Apple Store.
To catch up, the guy repairing my computer came out and simply told me they did not know what was wrong with my computer. They tried to keep working on it with a new hard drive, but it failed several times. I had been told to wait just 20 to 25 more minutes at 4:15. This was at 7:45.
I leave the store to meet up with my friend, Hayden, who goes to Samford. He is still working at Carabba's, where I buy him dinner as we anticipated the next round of storms.
Walking out from Carabba's, the tornado sirens are blaring. The sky is white with lightning every few seconds. There are no other people around as we head to our cars in the parking lot.
"Watch out for zombies," Hayden says. I laugh it off, but then realize that this is basically the apocalypse. I call a friend as we drive home, and we make it to Samford before it started raining.
Soon after arrival, we take shelter in the laundry room located in the basement of Luther Hall. Nobody is really worried, including myself. We wait after an extension of a tornado warning is sent out, after a tornado hits Bessemer, on the southwest side of Birmingham.
Soon enough, it is all over, and everything dissipates. Hayden and I spend the rest of the night watching what we could find on television, including "Next of Kin," a movie in which Patrick Swayze and Liam Neeson are brothers. And hillbillies. And skilled at bow and arrow.
I wake up the next morning to several missed calls from my parents. I call my dad back, and don't even recognize his voice. I've never heard him that worried.
"Did you hear about John?" he asks. I said no, to which he replied, "He was killed in Tuscaloosa last night in the storms."
John Servati was a very close friend of mine growing up. We were in every class from first to third grade together. I invited him over several times to spend the night. He was one of my best friends.
John died in a storm shelter in Tuscaloosa, trying to protect his girlfriend. He died a hero.
I call my mother back, as she is moving furniture out of our house. My room is apparently OK, but the whole front of our house is caved in. She sends me pictures.
"Had I been at home in bed, I'd have been killed," she says.
Later, I get an alert that several friends of mine from Tupelo had retweeted a post from SportsCenter. My heart sinks again: "John Servati, a junior swimmer & dean's list student at Alabama, died Monday after a tornado struck Tuscaloosa."
As I find a workstation, I can't shake the chill.
John Mayer's "Heart of Life" starts playing in the Apple Store. I used to always use this song as a way of telling myself that things will always be OK. I still believe that. The circumstances may be bad, but they could be a lot worse.
Heading home now.
Shaw Adcock is a student sportswriter for the Starkville Free Press.
Support our reporting -- Become a JFP VIP.
The news business has changed dramatically in the past year, and we need your help more than ever to keep bringing you important stories about Jackson and the Metro. Become a JFP VIP with an annual membership or you can Sign up as a monthly supporter. Thanks for anything you can do to empower our journalism!