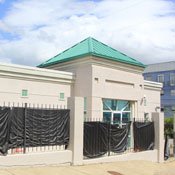 House Bill 1390 would require doctors who practice at abortion clinics, like the Jackson Women's Health Organization, to get admitting privileges at a local hospital.
Stories this photo appears in:
Capitol
An anti-abortion "heartbeat bill" died in committee Tuesday, but this might not be the last we see of it.
Health Care
With personhood legislation finally out of the spotlight, lawmakers are taking aim at smaller anti-abortion issues, like placing new restrictions on abortion providers.