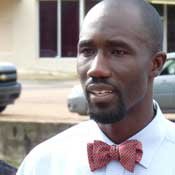 Ward 6 Councilman says Jacksonians must be courageous enough to get their heads out of the sand and fix the city's problems.
Stories this photo appears in:
Education
Jackson has been "teetering between lucky and learning" for the last 20 years, Ward 6 Councilman Tony Yarber said at Friday Forum this morning. The city has problems, but is ...
Biz Roundup
The Jackson City Council planning committee refused to approve a new strip mall in south Jackson yesterday.
Read the proposed JATRAN changes (PDF)
Development
Read TCI-MS's PowerPoint presentation (PDF, 146 KB)
Development
The Jackson City Council is focusing on south Jackson development by addressing concerns about rent-to-own leases and approving the city's purchase of property at Metrocenter Mall.
Crime
Support is growing on Jackson City Council for establishing civilian review of the Jackson Police Department, but the form that review will take is still uncertain.