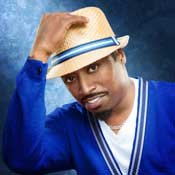 Actor and stand-up comedian Eddie Griffin performs at the BeanSprout Benefit July 8.
Stories this photo appears in:
Tonight, we suggest you get your fundraising on. You have a choice of three events to attend. The American Cancer Society's Jamaica Me Crazy beach party begins at 7 p.m. ...
Culture
Eddie Griffin has come a long way from choreographing Chiefs games in his hometown of Kansas City, Mo., at 16. What began as a dare to tell jokes at a ...