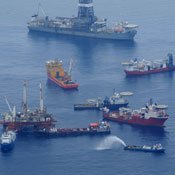 Attorneys general representing Gulf Coast states are asking that a federal judge oversee BP's process for paying damages related to last year's massive oil spill.
Stories this photo appears in:
Justice
Mississippi Attorney General Jim Hood asked a federal judge last week to oversee Gulf Coast Claims Facility pay-outs to individuals the 2010 BP oil spill disaster injured.
BP Engineers are preparing to perform a "static kill" operation to permanently seal the blown-out Deepwater Horizon well, The Sun Herald reported today.
The plane's engine roars as it idles on the runway last Wednesday, July 14. The four propellers on the Army National Guard's C-130 blasted waves of suffocatingly humid Mississippi July ...
Oil Spill
Thousands of small dead fish have washed up on shore in Gulfport, The Sun Herald reported today.
The U.S. Interior Department issued a new offshore drilling moratorium yesterday that will be in effect until Nov. 30.
Rought weather caused by Hurricane Alex, the season's first hurricane-strength storm in the Gulf of Mexico, is impeding cleanup efforts on the Coast, reports ABC News. Alex is headed for ...
Oil Spill
Earlier this month, ProPublica published an FAQ that attempted to explain what's known about how the Deepwater Horizon spill happened, whether it could've been prevented,and who's on the hook for ...