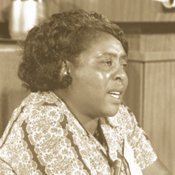 Fannie Lou Hamer
Stories this photo appears in:
Justice
Last Sunday, my partner, Todd Stauffer, and I set off on another of our weekend road trips that take us wherever we end up. This time, we landed in Ruleville, ...
The Veterans of the Mississippi Civil Rights Movement confirmed this morning that a fire destroyed the Fannie Lou Hamer home in Ruleville, Miss., New Years Day. There are no details, ...