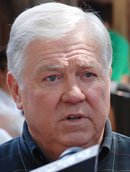 The Jackson Free Press reported in 2008 that Gov. Haley Barbour had given relief to a string of men who brutally killed wives and girlfriends. The national media is starting to notice.
Stories this photo appears in:
Domestic Violence
In his column today, New York Times columnist Bob Herbert writes again about the need for Gov. Haley Barbour to free the Scott Sisters, who are serving life sentences for ...
[Verbatim] Jackson, Mississippi - Governor Haley Barbour will deliver his sixth State of the State address at 6 p.m. Tuesday, January 13, in the House Chambers at the State Capitol. ...
Politics
[Verbatim]Jackson, Mississippi) – Mississippi Governor Haley Barbour will hold a press conference on Tuesday, November 18, to discuss his Executive Budget Recommendation for Fiscal Year 2010. The press conference will ...
Politics
[Verbatim statement] (JACKSON, Mississippi)— Governor Haley Barbour asked legislators and state agency directors to find ways to cut spending this year and in Fiscal Year 2010 as a result of ...