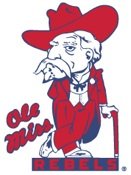 The Ole Miss community will vote on a new mascot to replace Colonel Rebel this week.
Stories this photo appears in:
A House bill that proposes to reinstate former Ole Miss mascot Colonel Rebel and require the university to play the controversial "From Dixie With Love" fight song during football games ...
Faith
Polls opened at 8 a.m. this morning for University of Mississippi alumni, students, faculty and season ticket holders to vote on a new school mascot.
With Colonel Reb officially voted down as the school's mascot in February, the University of Mississippi is gathering votes on 11 alternate choices through Monday, July 5. The options, just ...