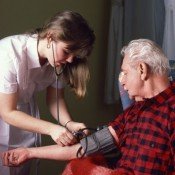 Critics say the Mississippi Division of Medicaid runs the risk of federal sanctions for requiring that beneficiaries be homebound before qualifying for Medicaid home-care.
Stories this photo appears in:
State health advocates are appealing to the federal Center for Medicare and Medicaid Services with concerns that the Mississippi Division of Medicaid is discouraging eligible disabled beneficiaries from seeking Medicaid ...
[Verbatim from Mississippi Hospital Association President Sam Cameron]
Because of the Governor's refusal to call a Special Session of the Mississippi Legislature, it appears the Division of Medicaid will cease to exist after midnight on June 30, 2009. ...