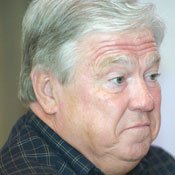 Former Reagan Solicitor General Charles Fried characterized Gov. Haley Barbour's threats to sue the federal government over the health care bill as either "deeply ignorant" or "grandstanding."
Stories this photo appears in:
Health Care
It's the "liberal media elite" that is to blame for passage of the health-care bill, according to Gov. Haley Barbour. Speaking on ABC's "This Week" yesterday, Barbour insinuated that media ...
Leslie Bowlin lay in wait for his young victim, watching her roommates leave their shared apartment in the Canterbury Townhouses in Starkville one by one for the Christmas break. When ...
Gov. Haley Barbour will announce a further round of budget cuts by Monday, he said today to business leaders at the Mississippi Economic Council's "Capitol Day." Barbour said that the ...