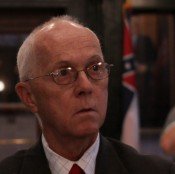 Rep. Cecil Brown will lead a public education rally tomorrow at the Capitol.
Stories this photo appears in:
Education
House Education Committee Chairman Cecil Brown, D-Jackson, will lead a rally in support of education funding tomorrow in the rotunda of the state Capitol at 11 a.m. The rally comes ...
Education
General classroom goals for high-school students, in Mississippi and elsewhere, emphasize pushing kids toward four-year college degrees. Some Magnolia state lawmakers are now looking at introducing a career-track curriculum for ...
Capitol
The state budget negotiations were like a summer blockbuster: expensive, full of strong language, boring and too long. Gov. Haley Barbour played a starring role, and like any diva, he ...