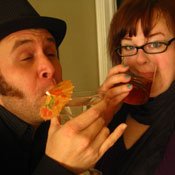 Stories this photo appears in:
Drink
He Drank, She Drank
A guy and a girl walk into a bar... No, not like that! These two liquor-loving socialites review some of their favorite drinks and favorite recipes.
Drink
Follow the opinions (and amusement) of two connoisseurs of fine liquor and spirits.
Drink
I like girlie drinks. There, I said it. I'm not ashamed of it, either. Sweet? Yep. Fruity? The more, the better. And if you buy me a chocolatini, then I'll ...