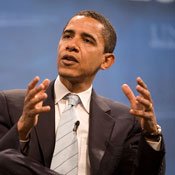 President Barack Obama will sign new hate crime legislation into law today.
Stories this photo appears in:
Crime
In a ceremony today at the White House, President Barack Obama will sign a bill into law that has been in the works for more than a decade. The bill ...
The Norwegian Nobel Committee has awarded the 2009 Nobel Peace Prize to President Barack Obama "for his extraordinary efforts to strengthen international diplomacy and cooperation between peoples. The Committee has ...
Politics
There are several gathering around Jackson, day and night. Click here for a list on the JFP events calendar (and you can add your own!). Feel free to post about ...
Education
The Daily Mississippian at Ole Miss reported a disturbing response to the Barack Obama presidential victory on Tuesday night:
Politics
Just in from the Associated Press:
Politics
Well, that's done. Well done, Obama. Well done.